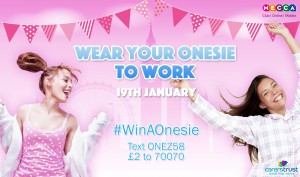 Today is Blue Monday, the gloomiest day of the whole year.  Christmas is long gone, new year is over and Valentines Day is just around the corner. To top it all off our resolutions have been tossed by the wayside, we still haven't shifted that holiday weight and the weather outside is Baltic! No wonder we all just want to pull the duvet back over our heads.
Well, here at Mecca we're trying to brighten up this rubbish day (week? month?) by encouraging you to have a giggle with your mates and head out in your onesie! Staying in your pjs means that you don't have to worry about what you're going to wear and is one less thing to stress about! Comfort is definitely king, especially after all those chocs we guzzled at Christmas. As well as being snug as bug in a rug you can do some good too. Simply text ONEZ58 £2 to 70070 to donate £2 to The Carers Trust, our selected charity.
Don't worry if you don't have a onesie though, we're giving you the chance to win one. We have three to give away.
How to win a onesie!
Twitter competition:
How to enter on Twitter:
1) RT our #WinAOnesie post and follow @MeccaBingo.
2) Tweet us a picture of you in your onesie or pyjamas
3) You must tag your photo #WinAOnesie.
4) Don't forget to donate to The Carers Trust by texting ONEZ58 £2 to 70070
Facebook Competition:
1) Like and share our #WinAOnesie post.
2) Post a photo of you in your favourite onesie or pyjamas.
3) Don't forget to donate to The Carers Trust by texting ONEZ58 £2 to 70070.
Terms and Conditions
1) Competition closes at 11.59pm Sunday 25th January 2015. Any entries received after this time will not be counted.
2) 3 winners will be selected at random from all entries and notified via the social network they entered on by Wednesday, 28th January.
3) Shared images must be your own.
4) We reserve the right to report images on selected Mecca Bingo social channels.
5) All prizes must be claimed on or before Wednesday 4th February 2015.
 6) For full T&Cs click here: http://bit.ly/XHhogj