We think it's fair to say that most people, while growing up, had a favourite teddy to spoon and cuddle, to love and admire. But you might have trouble making friends – or keeping old ones for that matter – if they find out you still talk to your favourite teddy, profess your love for it and carry it everywhere you go.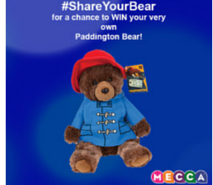 As social norms suggest, we can't freely, while searching for the latest Lego set release, walk down the street singing One Direction's Steal My Girl at the top of our lungs while holding Paddington Bear snug without being judged. However, barring an array of shocked and mystified glances being sprayed your way, what's really stopping you?
What are your thoughts? Are you embarrassed about your teddy collection or do you display them with pride for everyone to see?
We think it's about time everyone starts shouting out loud and proud about their teddy bears. Let's save our teddies from the dark, dank closets they've probably been trapped in for years and embrace them like we did during our youth.
With Paddington being released in theatres today, what better time to free your favourite teddy?
We don't think they'll come to life like Mark Wahlberg's Ted, but a bit of fresh air can't hurt their chances. We'd say a bit of Vitamin D would go a long way to restoring your teddy's character, but we're not banking on the sun's cooperation.
To celebrate the release of Paddington, we are excited to give away 40 Paddington Bears on Twitter and Instagram and, possibly, add a member to your teddy bear family.
And don't worry, Paddington Bear will not affect your household harmony nor is he needy in nature. He arrived on English soil over 50 years ago wearing only his world renowned hat and, after a tough Peruvian upbringing, will be over the moon at the prospect of a warm hug and a welcoming family.
Oh, and if you really want to make an impression on the new addition to the family have a jar of marmalade at the ready.
How to win a Paddington Bear!
Twitter competition:
How to enter on Twitter:
1) RT and follow @MeccaBingo by 11:59pm on Sunday, 7th December.
2) 25 winners will be selected at random and notified via Twitter on Wednesday, 10th December.
3) All prizes must be claimed on or before Tuesday, 16th December
4) Oh, and don't forget to support Paddington Bear by going to watch the film!
Instagram Competition:
1)      Like our #ShareYourBear Paddington Bear post from 28th November or 3rd December
2)      Follow @MeccaBingo and post a photo of your favourite teddy on Instagram by 11:59pm on Sunday, 7th December
3)      You must tag your photo with #ShareYourBear and #Paddington
4)      15 winners will be selected at random and notified via Instagram on Wednesday, 10th December.
5)      Share images must be your own
6)      We reserve the right to report images on selected Mecca Bingo social channels
7) All prizes must be claimed on or before Tuesday, 16th December
For full T&Cs click here: http://bit.ly/XHhogj