We MISSED You!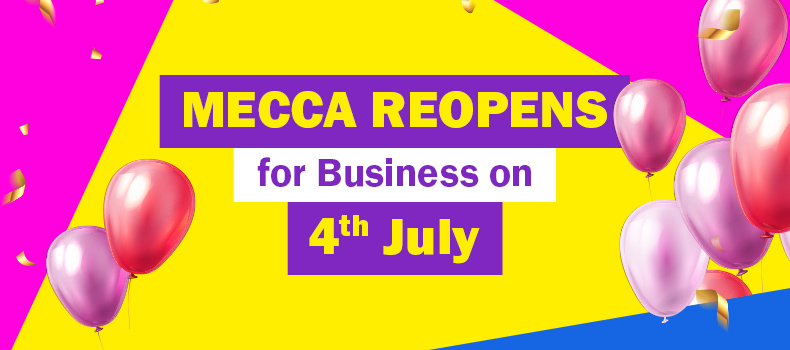 We're back! We missed you! And, we're so excited to see you again!
Since March, we have been working behind the scenes to make sure we're bringing back the Mecca fun as safely as possible. First things first, we just want to chat you through what we have planned for when we open:
We will have to ask all of you to adhere to the Government's social distancing guidelines both inside and outside our clubs, but don't worry our clubs are big enough to make sure you can maintain a safe distance. When in doubt, just picture George Clooney lying on the floor between you and the person next to you and you're all good! To help you keep a safe distance some seats and slot machines might not be in use, but we will have handy signs to show you which ones are available.
We have also increased our cleaning routines and will be cleaning as we go, going above and beyond even Mrs Hinch's standards. Please support us by regularly washing your hands or using the hand sanitiser provided in the clubs.
We will go contactless, so you can pay, play and order your food using your mobile, MAX screen or contactless payment card, but don't worry, we will still be accepting cash if you prefer.
In addition to our measures, our staff have undergone extensive training to bring you the Mecca-tastic experience you missed as safely as possible. And, they can't wait to catch up with all of you lovely people!
Remember to be kind. Some things might take a little longer and will be different from what we're all used to, but we're sure we will make it all work together and bring back the usual Mecca fun to our clubs.
We're taking a phased approach to the opening of our clubs, to make sure everything runs as smoothly as possible! Check your local club's Facebook page for the latest updates on when your club will reopen. We can't wait to be #MeccaTogether again!
Can't wait to see you x
The list of clubs opening on 4th are as follows (we will let you know about others once we have details)
Acocks Green
Birkenhead
Blackpool Talbot Road
Bolton Moor Lane
Brierley Hill
Chester
Chesterfield
Dagenham
Eltham Hill
Gateshead
Harlow
Hartlepool
Hayes
Hull Clough Road
Knotty Ash
Leeds Cross Gates Road
Leeds Mayfair
Luton Skimpot Road
Norwich Aylsham Road
Nottingham Beeston
Oldbury
Oldham
Rochdale
Romford
Rosehill
Sheffield Flat Street
Southend
Stevenage
St Helens
Stockton Chandlers Wharf
Sunderland
Thanet-Ramsgate
Wakefield
Wednesbury
Wood Green