Catch the Cash – Winners Week 1
Well, it's finally December and we've got another reason why it's the most wonderful time of the year: Lisa and Craig are BACK with a brand-new evening show, Friday Night Live, as part of our Catch the Cash for Christmas game! We've got a month of star-studded line-ups, incredible prizes and of course, loads and loads of fun.
Week 1 kicked off fabulously with special guests Kate Thornton and Tamzin Outhwaite, who chatted to our lovely hosts about what they've been getting up to in lockdown (from home-schooling the kids to shooting TV shows via Zoom) before helping our lucky winners pocket loads of cash and cool prizes. If you didn't have time to watch the fun-filled live stream on Friday, or if you just want to re-live the fun all over again, then we've put together a mini catch-up of everything that went down.
The show began with Lisa chatting to our Tamzin and Kate dream team about their lockdown escapades, including Tamzin's new show, how home-schooling the kids is a "hot hell", what they've been watching in lockdown (I hate Suzie, I May Destroy You and Broadchurch), and finally, how Tamzin has been practicing for the Catch the Cash game… We'll let you decide if it paid off!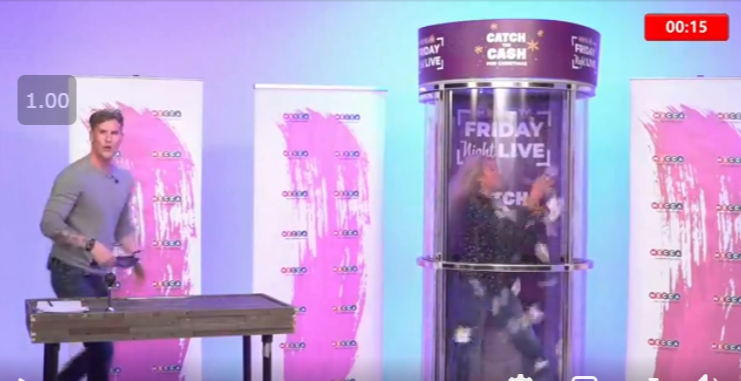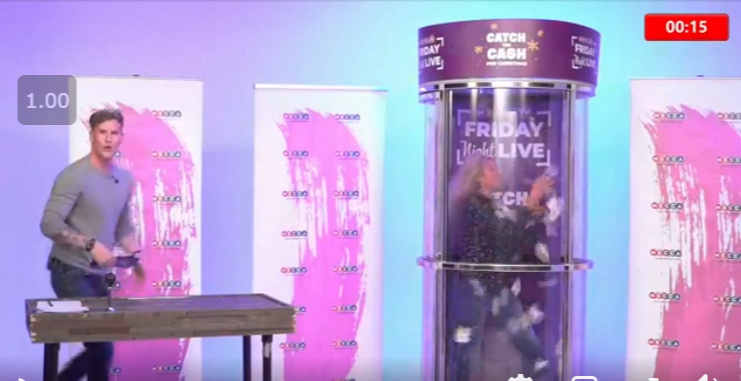 The pair also answered questions from our lovely bingo players. In particular, they told Lisa what they'd learnt from home-schooling, with Tamzin realising "that my kids have no respect for me at all" (we're sure some of you can relate to that) and Kate saying that she "couldn't have got through it without the love and support of Google". Amen to that.
Of course, as this is a Mecca live stream there were also more prizes than you could shake a stick at! There were plenty of tombola winners, Kate helped three lucky prize draw winners win cash by guessing the pictures in the You Say It, We Play It game and Tamzin put her practice to use with our Catch the Cash Machine. She had some, ahem, questionable methods for catching the cash – including stuffing it in her bra and down her jeans, but it seemed to work! The horn also went off mid-show which meant everyone playing in the Main Event room at that exact moment won a share of £1,000. If that's not a reason to join in the fun next week, then we don't know what is.
Now, drum roll please… Here's a list of all our lucky winners and the incredible prizes they won:
| Chat Name | Prize |
| --- | --- |
| becca2809 | Won £3,800 with Catch the Cash |
| mummaj1 | Won £3,800 with Catch the Cash |
| Sweet_Cucumber | Won £7,800 with Catch the Cash |
| suenste1 | £100 |
| traceynowins | £100 |
| grananne31 | Stream Package for a year |
| yum123456 | Bingo for a year |
| _fatgeeza12_ | ipad |
| DR1204 | iphone |
| diesel777 | Stream Package for a year |
| Chat Name | Prize |
| --- | --- |
| ABSR199 | Smart TV |
| shell2014 | Bingo for a year |
| XXTHEJOURNEYXX | Mecca Me Over |
| jewels216 | You Say it We Pay It |
| mrsL2019 | You Say it We Pay It |
| mazzey877 | You Say it We Pay It |
| REDPANDA64 | Catch the Cash |
| Tigerprawn | Catch the Cash |
| nikkio88 | Catch the cash |
If you want to see your name on that list next week, then there's only one way to do it. Open up our daily Catch the Cash free and premium boxes as not only could you win £1,000 cash every day, but you'll also have the chance to appear on next week's Friday Night Live show – where even more celebs will be helping you to Catch the Cash through all of our exciting interactive games live on the show.
So, there you have it. Ready to join us next Friday for even more fun, games and prizes? We can't wait to see you there!