Mecca goes Mega: Play all 90-ball bingo rooms at once!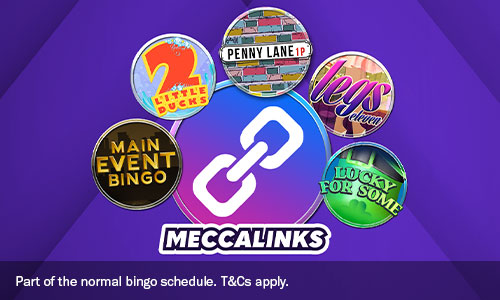 Some days, the hardest decision of your day will be which biscuit to have with your cuppa and for others, it will be which Bingo room to play in. So, for those days when you've decided on a custard cream, but you can't decide on the Bingo room, why not play in every single one of our 90-ball bingo rooms all at once? Play big and win big with Mecca Links Bingo!
What is it?
Mecca Links is a special game that connects every single one of our 90-ball bingo rooms in one huge linked up room. Of course, this means that the prizes are joined up too, so you could win massive prizes from £500, up to an incredible £2,000 in every game!. T&Cs Apply.
How do I play?
The game takes place on the hour, every hour, from 5pm until 10pm every single day. You can pick and choose when works best for you in the evening, settle in and take a chance on our jackpot prize. Get ready to play just before the time of your choice, go to the 'Specials' tab under Bingo if you're a little early or just click Let's Play here just go straight to the lobby.
We can't wait to see you there!
Share your thoughts
Did you win the jackpot prize? Or was it just a bit of extra fun and suspense to play such a big game? Let us know in the comments below.
Keep it Fun