Q&A with our latest Big Winner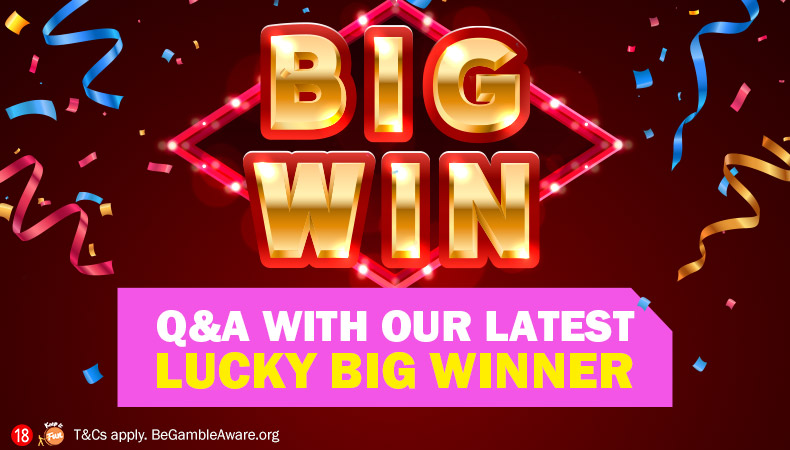 What would you do if you won £28,000? Book the holiday of a lifetime, share your winnings with friends and family, maybe buy a new car? Well, our latest lucky winner from Oldbury can now do just that! We caught up with her to see just how she plans to spend her winnings and how it has affected her family's life.
Did you ever think you were going to win big?
Nope, always hoped but never expected it. I had pre booked tickets and forgot all about them until about 1am.
How long have you been playing with us?
I've been playing a few years. Never been to an actual club but have always played online.
Are you going to make any holiday plans? And if so, where?
I would love to go to Madrid to see my granddaughter who lives out there.
What is one thing can't you wait to do with the money?
The Bathroom is definitely getting redone which I've wanted doing for years, and would also like to get double glazing.
How did you / will you celebrate?
We sort of did on Saturday when I went to my daughters for a curry and a few drinks.
Is there anything else you would like to mention?
My Husband has been diagnosed with bowel cancer recently and so this has been a rubbish couple of months for us.
From all of us at Mecca Bingo, we truly wish your husband a speedy recovery and we are so glad that we can call you a big winner. We really hope that this win has made a positive difference to your lives.
If you fancy being the next big winner to feature here on the Mecca Bingo Blog, then don't forget that we have daily jackpot slot games, such as Dynamite Riches and Rainbow Jackpots, where huge jackpot wins are dropped every single day – with over £2.6m won on these in 2019 alone! Or if you're more of a bingo player, then look out for the crown symbol on bingo games which means you could take home a Premiere Jackpot of up to £30,000! Good luck and happy Bingo-ing.