What Happened in Week Seven of Bake Off?
This week, we enjoyed the sweetness of Dessert Week, where bakers took on vintage delicacies – but it's fair to say there were a fair share of slip ups!
Keep reading to find out how it went.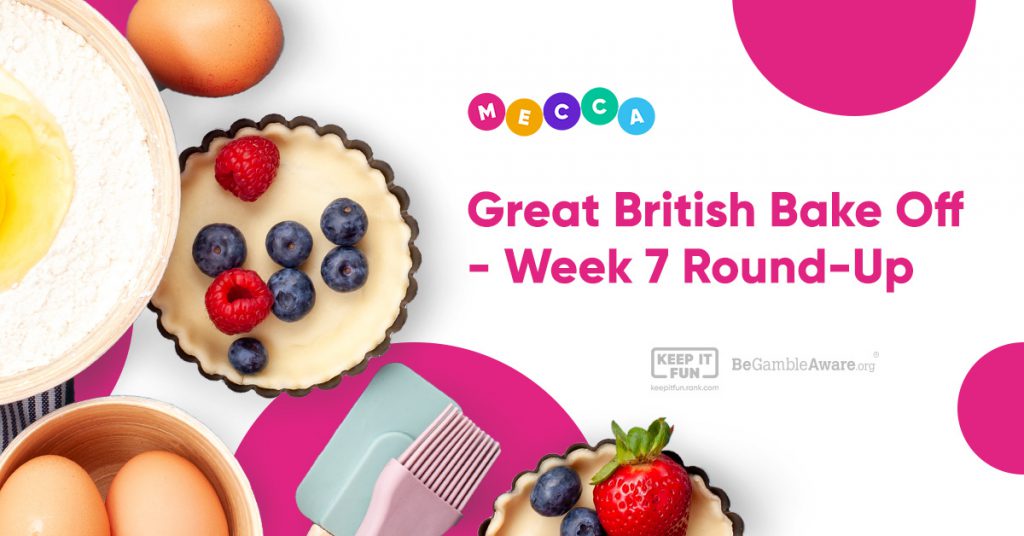 Signature Bake – Crème Caramels
Alison and Noel came prepared with their own spoons, as bakers were asked to make 8 exquisite crème caramels.
Dan incorporated Thai green curry inspired flavours, which initially startled the judges, but after having a taste, Prue said they were "near perfect". Tasha decided to use rosemary flavours, and they were described as a "swimming pool of sweetness", and Paul also said the flavour was "lacking in direction". Matty decided to make 12 in case he makes any mistakes, which wasn't a bad idea, but he had to remake his caramel twice so the pressure was on! He infused his caramel with chai flavours, which the judges absolutely loved – they were just slightly overbaked though.
Saku's watalappan crème caramels were inspired by her mum, which the judges said, "looked perfect" (they really did!), but they found them to be a little too sweet. Josh's crème caramels were inspired by his nan, and he included butterfly decorations in her honour, which was such a sweet sentiment. Despite being slightly overbaked, he was commended for his flavours. Cristy's orange crème caramels were unfortunately too solid and had boiled inside. Oh dear!
The bakers removing their caramels from the moulds undoubtedly nerve-wracking! However, it was quite satisfying seeing the successfully-made caramels come out perfectly, and in the words of Tasha and Saku – "wibbly wobbly".
Winners: Dan
Could do better: Cristy
Technical Challenge – Orange and Ginger Treacle Puddings
Bakers were asked to make six individual orange and ginger treacle puddings – in just 90 minutes.
The instructions didn't say how long the puddings should be baked for. It should have been 40 minutes, but Cristy and Saku put theirs in for 25 minutes, and Tasha put hers in for 20 minutes.
Let's just say… practically everyone's bakes were raw! Noel described this challenge as a "car crash".
The main critiques were that the bakes were inedible – yikes – because they weren't baked for long enough. They said that Tasha's could be tasted, and they were "not as terrible", which was the only positive comment this challenge. Dan had "some elements of a bake" but "still… terrible". Somehow, Matty's bakes were burnt.
Winners: Tasha was in 1st place
Could do better: Matty came last in 6th place, followed by Saku in 5th place and Cristy in 4th place
Showstopper – Meringue Bombes
Bakers were asked to make meringue bombes encased with a dessert of their choice inside.
Matty's bombe included a pistachio genoise sponge with a strawberry and basil mousse, which looked stunning from the outside, but the dessert inside was messy and judges weren't keen on the taste. Dan decided to bake the entire world with a trifle inside, which Prue was concerned about to begin with, but he absolutely smashed it, and the judges loved the presentation and flavours! Josh made a Wimbledon-themed bombe, which looked amazing, and the judges loved the strawberry and cream flavours.
Saku's beehive-inspired bombe looked wonderful and was filled with passion fruit and pistachio choux puffs – but the bottom of the meringue cracked, and the judges deemed the choux puffs to be flat. Tasha made a plum and ginger meringue bombe, with plum craquelin inside, which stayed intact (despite a scare earlier), and she was complimented on her flavours too. Cristy opted for croquembouche with a raspberry glaze and summer berry filling, which looked spectacular, but the judges really didn't like the dessert inside and said it was messy.
We did see some meringue cracks in the process, which was frustrating!
Winners: Dan, Josh, and Tasha
Could do better: Saku and Cristy
Star Baker
Dan is this week's Star Baker! This seemed like a no-brainer. Aside from the Technical, his Signature and Showstopper were both standouts!
Highlights
During the Showstopper, Paul said, "you let me down" and Saku responded with "please let it go" – ha!
And, despite the Technical being a disaster, and Prue describing it as the worst thing she's ever judged on Bake Off, it was still nice to see some of the bakers take it on the chin and try to see the funny side of things.
Going home
Sadly, we had to say goodbye to Saku. Not only was she a fan-favourite, but she's also created plenty of delightful bakes this series. Her joyful personality will be missed, and of course, her one-liners and clapbacks! Dessert Week just wasn't her week, but she'll be missed!
We hope you enjoyed our review for Week Seven of The Great British Bake Off! Leave a comment below to let us know what you thought of the episode.
While you wait for next week's episode, why not get yourself down to one of our Mecca clubs and unwind with a bingo session? You can also play any of our online games!