A Complete Guide to Bonkers Bingo
What is Bonkers Bingo?
If you haven't already joined the craze then fear not, there are tons of dates in the diary to grab hot tickets to.
Bonkers Bingo is a Mecca Bingo venue-hosted event. It's a fun-fuelled night of bingo (obvs), drinks, food, dance offs, mad games and so much more. With big names to be seen and heard DJing at the Mecca Bingo sites across the UK, it's time to get dressed up to the nines and make an evening of with your best pals!
You name it, Bonkers Bingo has it. Ever wanted a unicorn costume? A space hopper? These, erm, gems are thrown in along with some cash prizes but the clue's in the name. There ain't no party like a Bonkers Bingo party.
---
What makes it so fun?
It's sassy. It's daft. It's a bit of a thrill. Most of all, it's fab entertainment. Think booming beats, yum snacks, shots, dancing and….drum roll….bingo as the main event. This isn't your average bingo game. This is party bingo and believe us, you want to be here, where it's happening. Mecca Bingo runs the best nights out and you'll relive it for ages to come.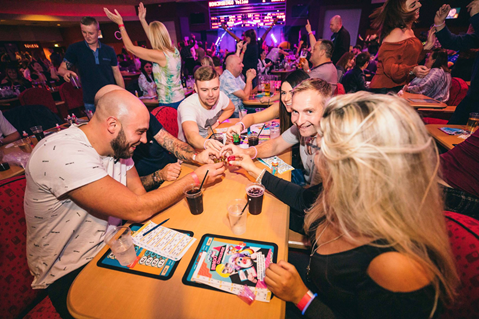 ---
What can you expect at a Bonkers Bingo night?
Well, anything goes. Bring your best Bonkers Bingo game face and watch as the action unfolds. Catch up with your mates (old and new), dance 'til you drop, knock back a glass or two (if you need some Dutch courage) and enjoy the night. There's something for everyone. If it's your first time, welcome! How to play Bonkers Bingo is simples and our hosts explain everything before each game starts so just turn up and you'll soon get to grips with how it works.
It's party bingo time!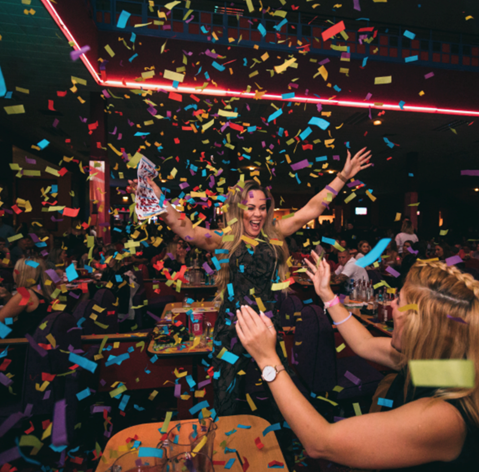 ---
Bonkers Bingo is perfect for you if you….
Number 1: Love a party. Number 2: Love bingo. Number 3: Love free-flowing drinks and food. Number 4: Love music and cringy games. Number 5: Love a bingo party! What's not to love?
---
How do I get tickets?
It's super easy. All you have to do is check your diary for a free weekend then choose where you want to go (Gateshead, Chester or Sheffield float your boat?) from the live events diary page and buy your tickets.
Can't get tickets or fancy joining in the fun at home? Bring the bingo party to your front door, with loads of online bingo games to join at the best UK bingo site.
---
Want to tell us about your fave Bonkers Bingo night?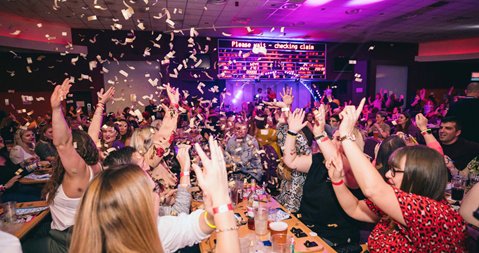 Where was it? Why was it so mad? If you're a Bonkers Bingo virgin, now's the time to kiss and tell. We want all the gory details and when and why you're going back for party bingo! Old timer? Tell us your stories, we dare ya!