Friends that play together, stay together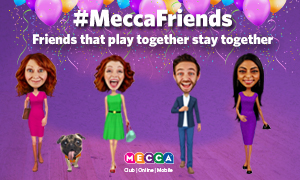 Drumroll please… We're giving you a sneak preview of our fab new #FriendsThatPlay advert – before it hits TV screens tomorrow. So, grab the popcorn, WATCH IT HERE, and tell us what you think!
At Mecca, it's all about friends. As they say 'Friends that play together, stay together' … no matter who you are with or where it is! So with that in mind, we're celebrating friendship in all sorts of exciting ways. Stay tuned!
Oh and did you spot our super cute pug? A star is born!  But we're looking for a name – that's where you come in. Head over to our Mecca Facebook page – we're running a competition to win a GIANT Easter hamper to Name That Pug. We have some fab names already, but if you think you've got what it takes to Name That Pug, get your suggestions in soon, as we'll be announcing our shortlist on Friday 27th March – the best ones go to a vote.