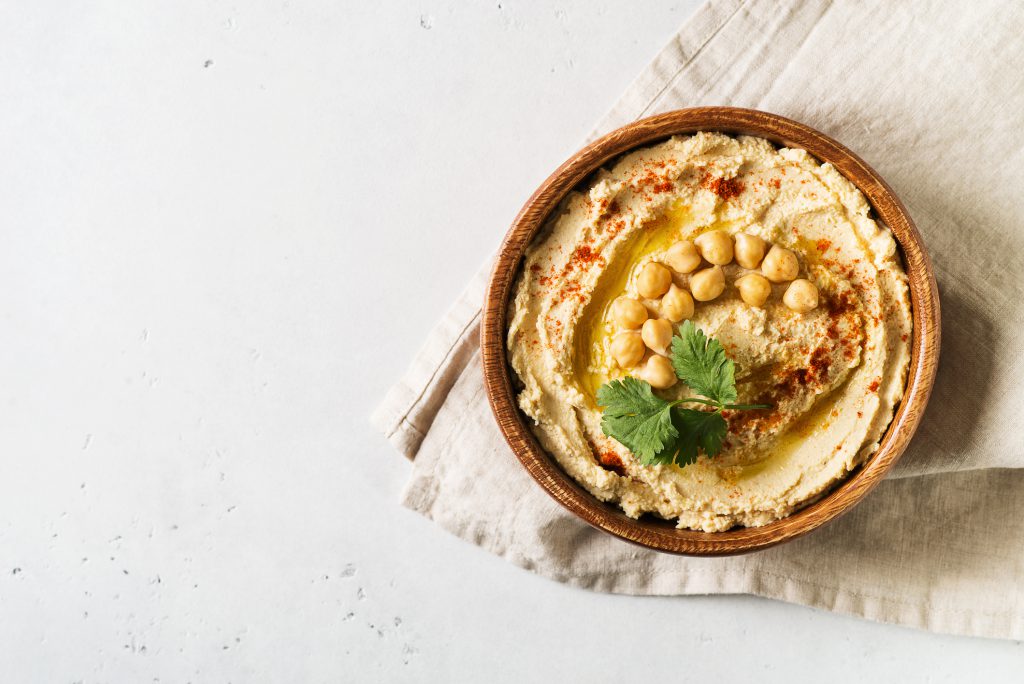 This week we're celebrating one of the world's favourite dips, hummus! Whether it's at a picnic, as a mid-afternoon snack, or as a starter before a meal, this chickpea sensation has been delighting our taste buds for years.
Wednesday 13th May is International Hummus Day, so here at Mecca Bingo we've rounded up everything you need to know about this delicious dip. All hail hummus!
Tasty hummus recipe
Difficulty: Easy peasy
Making your own hummus is easier than you might think. Try this simple recipe for a delicious homemade hummus, and don't be afraid to throw in other ingredients for different flavours.
Ingredients:
400g can of chickpeas
80ml olive oil, extra virgin if possible
2 large garlic cloves, peeled and crushed
1 lemon, juiced, plus ½ the zest
3 tbsp tahini
Method:
Start by draining the can of chickpeas into a colander and rinsing them thoroughly. Then chuck them into a food processor along with 60ml of the olive oil. Blitz this until the mixture is almost smooth, before adding the garlic, tahini, lemon juice and zest.
Blitz this again for around 5 minutes, until it's nice and smooth. If it's looking a little thick, add up to 20ml slowly. Once you're happy, pop the hummus in a bowl and drizzle the remaining olive oil on top.
And there you have it! A delicious homemade hummus in no time. For different flavours, try adding chilli flakes, a chopped red pepper, or paprika to the mix before you blitz it the second time.
Hummus dipping ideas
What's hummus without something lovely to dip in it? Now you've made your own hummus like a BOSS, try out some of these dipping options:
Pitta bread
The original and probably the best, hummus and pitta go together like cheese and wine.
Carrot sticks
Looking to keep it low carb? Chop up some carrots for a healthy snack.
Cucumber sticks
Though not as popular common as its rival the carrot stick, the cucumber stick is still a loyal hummus companion.
Bread sticks
Made to be dipped, bread sticks are nice and long so you can double dip to your heart's content.
Crackers
Usually reserved for cheese, the humble cracker is primed and ready to be loaded with some tasty hummus.
Your finger
This one only really works if it's hummus for one. But if you're out of dipping items this is a potential solution!
Your hummus questions answered
If you've got any burning questions about hummus (who doesn't?) read on. We've got the answers to some of the most pressing hummus questions out there.
Is hummus healthy?
Generally, yes, hummus is healthy. It's low carb and has lots of healthy fats, minerals and vitamins. But as with anything, you still need to use portion control and not overdo it. And watch out for shop-bought hummus with extra ingredients, as they could have a high sugar content.
Can you freeze hummus?
You certainly can freeze hummus! Just put it in an air-tight container and pop it in the freezer. Remember to leave some space in the container, as the hummus will expand slightly when it freezes.
How do you defrost hummus?
The best way to defrost hummus is in the fridge. This will take a while though, so if you're pressed for time you can just leave it out or put the container in room temperature.
How long does homemade hummus last?
You'll be able to enjoy your homemade hummus for around 4 to 7 days, provided it's been kept in the fridge.
Can you make hummus without tahini?
Yes, you don't need tahini to make hummus. But it will lose some of its flavour, so consider adding something else in, like ground cumin or paprika.
Can you make hummus without chickpeas?
Believe it or not, it is possible to make hummus without chickpeas. But you will need a substitute. Cannellini beans are a good replacement, or edamame beans or even lentils. Don't be afraid to experiment!
Share your thoughts with us
Have you got an extra special hummus recipe? Or maybe you like to dip something we haven't tried? Let us know in the comments below and help us celebrate International Hummus Day together!