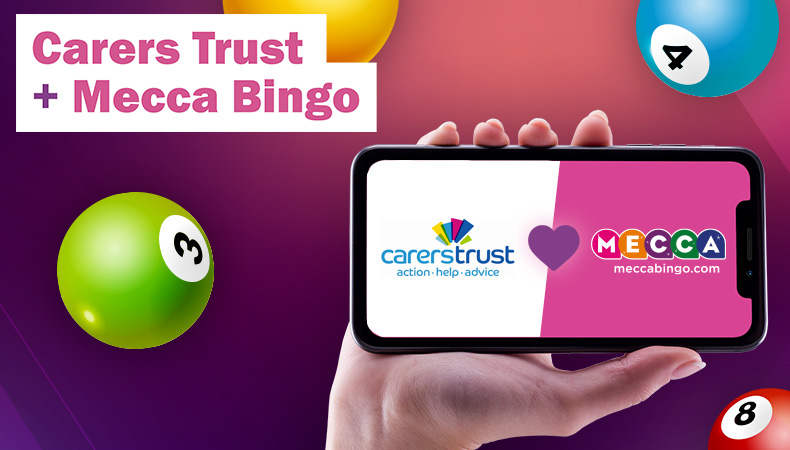 It's at times like these that venerable communities need our help and support; and with the help of charities like Carers Trust, we can reach the people that need our help the most.
Since getting involved with supporting Carers Trust over 6 years ago, Mecca Bingo has managed to raise over a staggering £2.5 million and counting! This has come from generous donations and over 10,000 hours our fabulous staff have given back to the communities supported by Carers Trust. We've done it all: from bake-offs to leg-waxing and head shaving, 24-hour karaoke to marathons, cycling relays and loads more!
But what does the Carers Trust do, and who do they help? Here's a little more on some of the brilliant and vital work done around the clock by Carers Trust.
Who Carers Trust help
Carers Trust was first setup in 2012, with a sole purpose to support anyone caring for dependants or loved ones, unpaid, and often out of absolute necessity. The charity gives carers access to essential services, equipment, training and much needed breaks – everyone deserves time to reset and relax once in a while!
So far, about 11,670 people have directly felt the benefits from the collaborative efforts between Mecca and Carers Trust. In just 6 brilliant years, we've managed to donate enough for:
1,481 carers to be supported through provision of household equipment.
1,304 carers have been able to take a respite break from caring thanks to money raised by the partnership.
809 carers have been helped with transport costs.
317 carers were able to learn brand-new, essential skills.
6,400 carers have attended events funded by the partnership to help carers socialise with likeminded people in similar situations.
1,163 carers have been supported with emergency funding in times of crisis.
196 carers were supported through local funds.
And this is just the beginning!


How YOU can get involved
Now more than ever, Carers Trust and the communities they support need our help. We've helped raise an incredible amount of money so far, but this is just the start. Our incredible staff and players like you are the people that make this magic happen, and there are loads of ways you can contribute to this great cause.
Our Carers Charity Bingo games are part of our regular bingo schedule, every day at 8pm Monday to Saturday and all-day Sunday. You can play our charity bingo games every Sunday, every hour from 8:30am to 11:30pm,  in the following rooms: Two Little Ducks, Main Event, Penny Lane, Legs 11, Lucky for Some. Grab your tickets and jump into the fun, and we'll donate the cash.
And to make a donation, just text 3MECCA to 70085 to give £3, or text 5MECCA to 70085 to give £5. The texts cost £3 or £5 respectively, plus your standard message rate.
Once again, we'd like to extend an enormous thank you to our staff and players for their generosity in both time and donations.
We've got the power to really make a difference and change the lives of unpaid carers for the better. So, what are you waiting for?