Nutty November is almost here… With loads of prizes to go absolutely nuts for!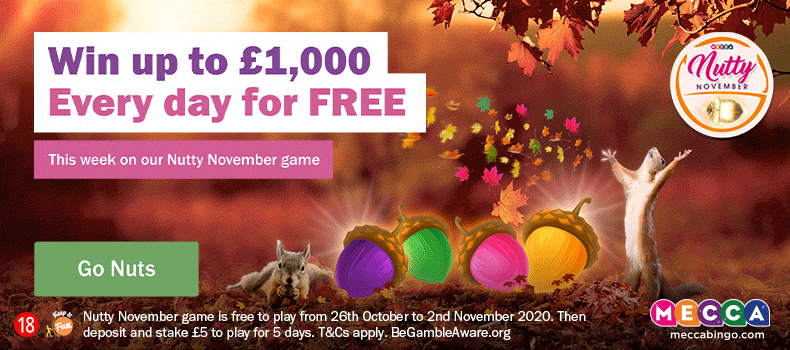 Autumn is well underway, which means crunchy golden leaves, pumpkin-flavoured everything and a Nutty November full of incredible cash prizes on meccabingo.com. Nut bad, eh?
There's plenty on the schedule for the month that you'd pea-nuts to miss out on. For starters, we've got £1,000 to give away every single day for everyone that tries to find the Golden Nut amongst the acorns when you spend a fiver with us. We've also got £10,000 to play for every evening in Golden Nut Bingo which doubles to a whopping £20,000 on Fridays. Your favourite bingo rooms also get a Squirrel-Approved upgrade this month, including BOB and Penny Lane, where you can play for even bigger cash prizes.
As if that wasn't amazing enough, we've also got plenty of double money bingo games buried throughout the schedule and you can get DOUBLE the free spins on our Top of the Slots games.
Now, let's get into the nutty gritty of what you can expect from the month, shall we?
Find the Golden Nut
What TV do squirrels watch? Nut-flix.
The squirrels are back, and they've got £1,000 cash to give away every single day in Nutty November. All you have to do is pick an acorn and you could win the £1,000 Golden Nut top prize, free spins, bonuses, MORE cash prizes or an exclusive £1,000 free bingo session. To prove how nuts we are, the game is FREE to play for the first week and after this you only have to spend £5 for five days of choosing acorns. Just log in and play from 12pm every day.
£10,000 Golden Nuts Bingo
Which flowers do squirrels like best? Forget-me-nuts.
Ready to turn your evenings up a nut-ch? Play for £10,000 every night from 8pm to 10pm with £1,000 Golden nut bingo games at 8pm, 9pm and 10pm nightly and two Power Hours with double money games​. Don't forget to also look out for double money bingo games throughout the bingo schedule through the month. Head to the Main Event from 8pm to play.
​£20,000 Golden Nuts Bingo
What did the dad squirrel tell his kids? A-corny joke!
The money DOUBLES every Friday as you can play for £20,000 with £1,000 Golden Nuts games every 30 minutes. The top prize in all games is at least £400, with extra roll on for more winners. ​Head to the Main Event Room from 7pm to 11pm ​and check out all the cashew could win!
Nutty Penny Bingo
What's a squirrel's favourite day of the week? Fursday!
Spend peanuts on bingo tickets with Nutty Penny Bingo from Thursday to Sunday. We have two £1,000 hour sessions where tickets will only cost you 1p. Play in Penny Lane from 8pm – 9pm and 9pm – 10pm where there are 10 x £100 games in each hour. Go nuts!
Golden Nuts Sessions
What's a popular choice of footwear for squirrels? Cashews.
The squirrels are coming for dinner and they're bringing their £1,000 Golden Nut With them. ​From the 26th October to the 1st November, the 7pm Session will be worth £1,000 with the same fabulous price of £10 – that's 15 bingo games for a tenner!
BOB's Gone Nuts
What do you call a squirrel who runs a bank? A branch manager.
What is it: ​
It's BOB's turn to feel nutty from the 2nd to the 8th of November as he's doubling money on random games throughout the week. ​At least three games per hour from midday to 10pm will be offering double money in BOB Bingo for this week of nutty madness! ​
​We're Nuts for Speed Bingo
Who do squirrels see about their diet? A nutritionist!
The Supersonic bingo room is going super nutty from the 9th to the 15th November. Look out for double money games from midday to 7pm this week with at least four games per hour giving you the chance to win double the prize money.
In a nutshell, this month we really have gone nuts with cash prizes and plenty of ways to win. There's something every day in November so we'd highly rec-almond taking party in those games and sessions that take your fancy. Who knows, you could pocket £1,000 cash!