Office Romances: is it strictly a Strictly Curse?
Since arriving on our screens in 2004, Strictly Come Dancing has become a mainstay of British Saturday night TV, but it's also never been too far away from the headlines.
Outside of the competition itself making the news, there have been a number of high-profile romances, break ups and even divorces connected with the show. Dubbed the "Strictly Curse", it has become somewhat of a cultural phenomenon fuelling speculation across social media and tabloids each year.
With Series 20 back in full swing, Mecca Bingo wanted to ask the British public their thoughts and experiences with office romances and find out whether they blossom in the boardroom as much as they appear to in the ballroom.
We surveyed 2000 people to ask about office romances, and find out whether the Strictly Curse is strictly just a Strictly thing…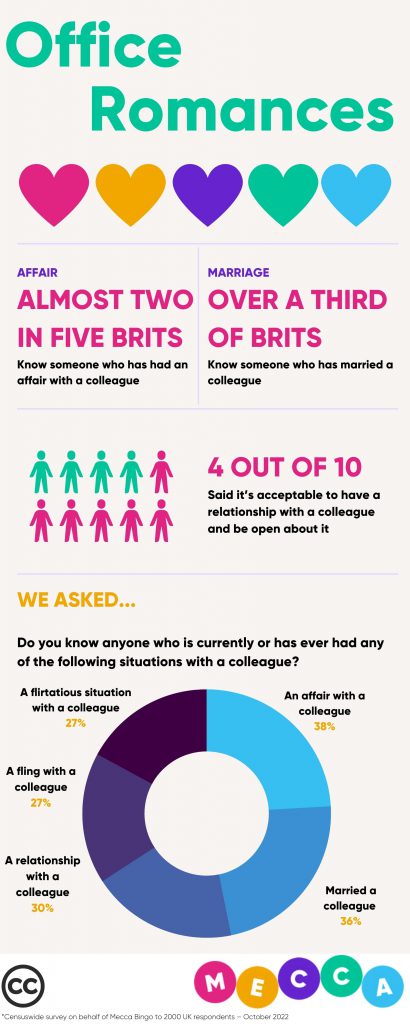 When asked whether they have ever been personally involved in an office romance, nearly a quarter of respondents had met their spouse at work:
28% said they have had a relationship with a colleague
28% said they have flirted with a colleague
24% said they have married a colleague
Speaking on their colleagues rather than themselves, the numbers are a little higher:
38% said they know someone who has had an affair with a colleague
36% said they know someone who has had married a colleague
30% said they know someone who has had a relationship (which has not led to marriage) with a colleague
General attitudes towards office relationships in principle were more favourable than negative, with only 15% saying they thought it was unprofessional to engage in an office romance:
36% said it's acceptable to have a relationship with a colleague and be open about it
15% said it's unprofessional
Interestingly, 9% said they felt that workplace relationships never last
But this isn't necessarily supported by the data, while 19% of people saying their office romance lasted less than a month, there was a fair share of success stories, with 24% of relationships cultivated from the office lasting more than 3 years, and 12% lasting a decade or more:
19% said less than a month
19% said between 1-3 months
6% said between 4-5 months
9% said between 6-11 months
12% said between 1-2 years
7% said between 3-4 years
3% said between 5-6 years
2% said between 7-8 years
3% said between 9-10 years
9% said 11 years +
Regionally, people in Belfast had the highest respondents to have married a colleague
(37%), and have an affair at work (28%):
The cities most likely to marry their colleague:
Belfast (37%)
London (29%)
Birmingham (25%)
Bristol (25%)
Edinburgh (25%)
The cities most likely to have an affair with a colleague:
Belfast (28%)
Birmingham (19%)
Plymouth (17%)
(London 17%)
Leeds and Manchester (16%)
Mecca Bingo spoke to relationship coach Alex Limanówka, who offered her thoughts and advice on workplace relationships:

"If you're engaging in a relationship at work, you should consider the risks and challenges it may pose, some of which you may not even be aware of.
Code of ethics
Some companies have a code of ethics which prohibits some employees from being involved in office romances. This can be the case if a romance is formed between members of the same team, or with a superior.  
Office chat
People in the workplace tend to have limited number of conversational topics, so talk tends to centre around work itself and colleagues. News of an office romance can become a 'hot topic', so make sure you are resilient to the attention and opinions you may receive in the workplace, and bear in mind it will subside in time. 
Bringing private matters into work
It's normal to have conflicts within relationships. But if you work with your partner, you need to make sure that you leave whatever private matters you may have outside of work, you don't want it creeping into job and impacting your work. You need to be self-aware and reasonable with yourself and consider whether you can keep your work life and romantic life separate during moments life this. 
Bringing work into your love life
You need to consider the potential of bringing your work life into your romantic life. There's a risk that some couples are solely connected through their job and work colleagues. For a relationship to survive there needs to be independent friendships and interests outside of work. 
Competition
You need to consider how you would feel knowing that your partner gets a salary raise or a promotion and you miss out. Make sure you deal with competitive instinct, so that your relationship isn't impacted by your partner's success. 
Breaking up
You must take under consideration the possibility that you or your partner may break up. Break ups are always a painful experience, but you need to consider that if this happen you may see your ex daily or be working closely with them. 
Maintaining a healthy relationship is hard work even without the additional challenges associated with a workplace relationship. It's not necessarily a bad idea, but you need to be aware of the risks and weigh up the challenges that come with it.
The average person changes their job every few years, but if you're fortunate with a workplace romance, there's a chance you may end up with a best friend and partner for life."
We hope you found this as interested as we did! Stay in touch with our blog for more and check out our socials here: