Love Island 2022 – Week 1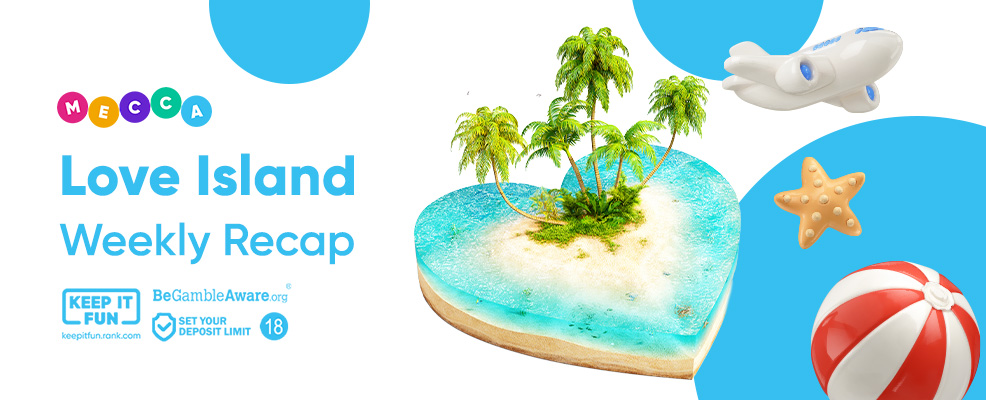 Shut up, Love Island is back and we're so excited! Because really, is it even summer without hearing "I've got a text", "what's your type", "can I pull you for a chat" and "factor 50", not to mention loads more cringy pick-up lines.
For series 8, the OGs of love have returned in a brand-new villa at the foot of a lush hill deep in the Spanish countryside (talk about views for days). IRL couple Laura Whitmore and Iain Stirling are also back hosting the show.
---
New Islanders
As it's the first recap, let's kick off with a proper introduction of our starting line-up.
Here are the girls:
Paige Thorne, 24, is a paramedic from Swansea.
Indiyah Polack, 23, is a hotel waitress from London.
Amber Beckford, 24, is a nanny from London.
Tasha Ghouri, 23, is the first ever deaf contestant. She's a model and dancer from Thirsk.
Gemma Owen, 19 (yes, you read that right!), is an international dressage rider from Chester. If you're wondering if she's related to the Michael Owen, famous English footballer, she is – which explains the twelve horses.
Here are the boys:
Dami Hope, 26, is a senior microbiologist (blimey!) from Dublin.
Liam Llewellyn, 22, is a Masters Student (strength and conditioning) from Newport, South Wales.
Ikenna Ekwonna, 23, is in pharmaceutical sales and hails from Nottingham.
Andrew Le Page, 27, is a real estate agent from Guernsey.
Luca Bish, 23, is a fishmonger from Brighton.
This season also began with a twist, no longer were the girls (or boys) getting the chance to step forward for who they like…The 10 islanders were coupled up by the public – these were the results:
• Paige and Luca
• Indiya and Ikenna
• Tasha and Andrew
• Gemma and Liam
• Amber and Dami
---
Bombshells of the Week
Although Davide Sanclimenti (a 27-year-old business owner from Rome but now in Manchester) was announced in the first batch of islanders, he's technically a bombshell. The Italian Stallion strutted in on night one and stirred things up among the freshly coupled up islanders. He was given the chance to steal one of the other lads' birds and took Gemma away from Liam.
Then, because it's Love Island, two new gorgeous girls joined the villa to shake things up – Ekin-Su Cülcüloğlu a 27-year-old actress from Essex and Afia Tonkmor a 25-year-old lounge host from London. But before even stepping foot inside, they both shared a one-on-one date with newly single Liam (we love an underdog).
---
Couples going steady
Dami and Amber shared a steamy kitchen kiss, and the couple seem to be giving it a proper go. As for the rest, nothing is certain and they're all "getting to know each other".
---
Couples on the rocks
Week 1 kicked off with a little love triangle with Tasha and Andrew (who are coupled up) and Luca. After some bedroom cuddles and a bit of a speedy snogging, the couple decided to slow things down as it's still early days and they didn't want to put all their eggs in one basket (especially with Tasha feeling Luca's vibe…).
But with the two new bombshells making their moves, as well as some interest from Paige, how long will this cool off last?
---
Challenges
It wouldn't be the first night without the saucy ice breaker game – who doesn't love watching strangers sucking fingers, touching feet and re-enacting sex positions? Oscar-worthy content right there.
The first big challenge was of course Baggage Claim, where the villa's residents (and us) got to learn some of the sauciest secrets of their fellow islanders. And uhm, can we talk about Luca spending £1,000 on a first date?!
We then were treated to the infamous beer pong game that didn't involve just drinking but also some sexy dares! Queue the drama… Tasha was shocked that Paige kissed Andrew, but then got back by crawling her way over to Luca, who then returned the favour by kissing Paige.
---
Recouplings
Since writing this, we haven't had a recoupling yet! But we can only assume it's going to be heated (and that's not just from the fire pit).
---
Best Bits
• Indiyah butchering Ikenna's name – the poor man, luckily he wasn't there to hear it!
• And talking about pronunciations, the islanders sure know how to give "Davide" a different spin each time they say it.
• The much-awaited gym sesh between Ekin-Su and Davide… was it worth the hype? We think not! A tad bit cringe if we do say so.
• Football-mad Luca telling Gemma "Well, we'll see if he [your dad] knows what he's talking about [football]", not realising her dad is Michael Owen (what a blunder).
---
What we think will happen next
After Thursday night, we're guessing that Luca is going to be grafting hard with Gemma (after wanting to kiss her on the terrace). Tasha and Andrew will have a chat about what happened in the beer pong game – will they keep crackin' on or call it quits? We'll have to stay tuned to find out!
---
What did you think of the first week in sunny Spain? Drop us a comment below. And don't forget that we'll be back next week with another Love Island recap!