What Happened in Week Eight of Bake Off?
It's Party Week in the tent! Were there any celebratory delicacies or triumphs this week?
Keep reading to find out how it went.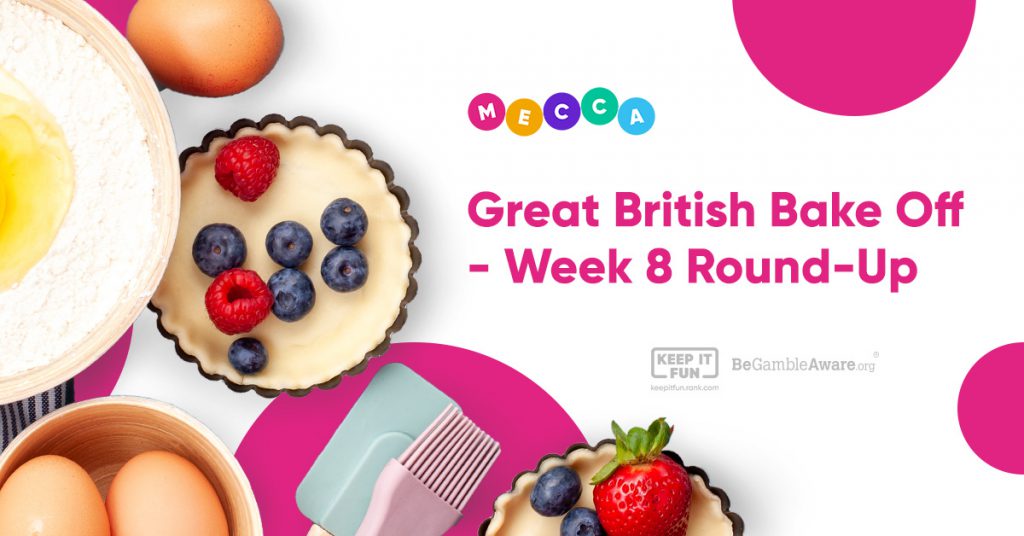 Signature Bake – 12 Sausage Rolls
Bakers took on a British classic this week – delicious sausage rolls! Of course, there were a plethora of innuendos, ha!
Cristy's recipe for her cranberry and sage sausage rolls were from an online Paul Hollywood tutorial, unfortunately they came out soggy and underbaked. In true Dan fashion, he had something unique up his sleeve again – dim-sum inspired sausage rolls, with a soy dip, however the judges just weren't keen on the flavours.
Josh tapped into festive season with turkey and cranberry sausage rolls, which the judges thought were a little dry. Tasha's 'Cider in the Park' sausage rolls were said to have a "heavenly" taste but needed a little longer in the oven. Matty decided to bake classic sausage rolls, which certainly paid off as he got a handshake from Paul – a huge sausage roll lover!
Winners: Matty
Could do better: Cristy
Technical Challenge – Chocolate Caterpillar Cake
Bakers were asked to make a classic chocolate caterpillar cake!
Cristy had to start again halfway through the challenge. Dan had cut the ridges on his caterpillar the wrong way. Matty thought his cake may be a little dry. The pressure was on!
Here's the feedback from the judges. Both Matty and Josh's cakes were too dry. Cristy's cake was described as "slightly all over the place", and Dan's was overmixed and overbaked. But Tasha smashed it this challenge.
Winners: Tasha was in 1st place
Could do better: Dan came last in 5th place, followed by Josh in 4th place and Matty in 3rd place
Showstopper – Anything but Beige Buffet 
Bakers were asked to make an 'Anything but Beige Buffet' with a range of sweet and savoury party snacks.
Dan's pre-historic themed buffet included dinosaur feet curry pies, cake pop stones, and white chocolate dinosaur eggs in chocolate nests. Matty made a sporty buffet, which included a golf course with chocolate and orange cupcakes and crème brulee doughnut basketballs. Prue complimented the different finishes on each bake, and overall, he did quite well!
Cristy's Wonka-themed showstopper included beef and onion patties shaped like sweets, Swiss roll lollipops and lemon meringue pies, which judges felt were "rough and ready". Josh went down the Christmas route again, and it looked stunning! He baked choux buns, macarons, and Christmas puddings. Tasha made a farmyard buffet with choux bun lambs and milk bread pigs, which went down a treat! Her Viennese whirls were underbaked, but her flavours were described as "perfect".
Winners: Josh and Matty
Could do better: Cristy
Star Baker
Matty is this week's Star Baker! It seemed like a close call with Josh, however Matty knocked it out the park this week and deserved the title.
Highlights 
Matty's handshake was certainly a highlight! He's really kicked things up a notch this week. And seeing Alison do a conga line with Daryl (Tasha's BSL interpreter) was hilarious!
Going home
Sadly, we had to say goodbye to Cristy. She's been delightful to watch this series and brought a lovely energy to the tent. We've really enjoyed seeing all her delicious bakes, and her ability to carry on when she's under huge amounts of stress and pressure!
We hope you enjoyed our review for Week Eight of The Great British Bake Off! Leave a comment below to let us know what you thought of the episode.
While you wait for next week's episode, why not get yourself down to one of our Mecca clubs and unwind with a bingo session? You can also play any of our online games!