What Happened in Week 5 of Bake Off?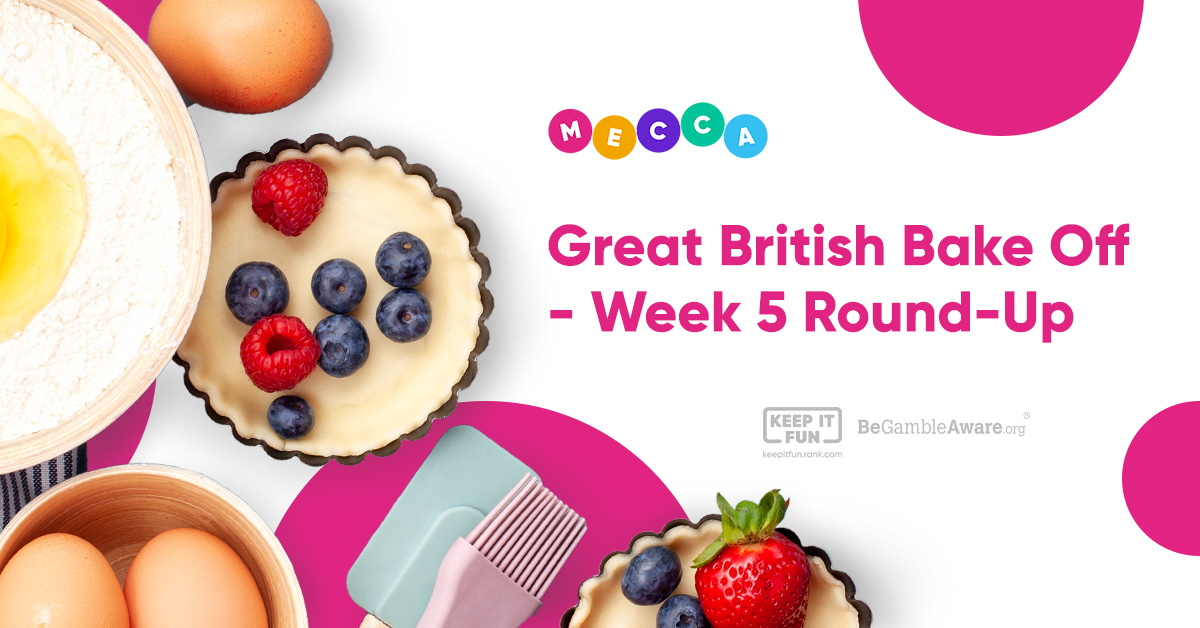 This week was Pastry Week, and it's fair to say there were a few soggy bottoms – and sadly, two bakers left the tent.
Who was on a roll? And, did anyone flake?
Keep reading to find out!
Signature Bake – Hot Water Crust Pastries
Bakers were asked to make 12 individual savoury pastries that look attractive and good enough to eat, just like Alison apparently – ha!
Matty baked Greek Spanakopita, Dana baked French dauphinoise and Cristy baked leek and mushroom pastries. Matty and Dana had a couple of hiccups, but still had great flavours. Cristy seemed nervous whilst baking, but she absolutely wowed the judges! Saku suffered with a soggy bottom, and her face when Paul mentioned this was priceless! Some of Dan's pastries had ripped, Nicky's pastries were thick and undercooked, and Rowan didn't have the best-looking pastries – however, his flavours were a hit.
Winners: Cristy (she got a handshake!)
Could do better: Nicky
Technical Challenge – Dauphinoise Pithivier
Another interesting Technical this week, but it was delicious. And this meant Dana made dauphinoise twice in a row! Dan accidentally grated his finger with the cheese grater and had to start all over again and he got blood all over his first batch of pastry – oh dear!
The main critiques were underbaked pastries and potatoes, and some of the pastries being uneven or flat.
Winners: Dan was in 1st place, followed by Dana in 2nd place, and Tasha in 3rd place
Could do better: Nicky came in last, followed by Josh and Matty
Showstopper – Decorative Sweet Pies
Bakers were asked to make three embellished pies with a rich and sweet pastry. Dana made a honey baklava pie which judges thought was a bit too sweet, Saku named her pie "Pie Chart" (nice and simple), and she was complimented on her fresh aesthetic, but her bakes were a bit raw. Matty's toppings were also a bit raw. Cristy's display was a smash and she didn't get a single criticism! Josh also had positive feedback. Rowan and Nicky both had some wobbles with their pastries, but we can see they tried their best.
Winners: Cristy
Could do better: Rowan and Nicky
Star Baker
Cristy is this week's Star Baker! Her bakes really stood out this week, and we can see she's coming out of her shell a lot more. Maybe this could be the confidence boost she needs to keep going and push herself further!
Highlights 
Cristy's handshake was a highlight – especially as her journey has been slightly rocky so far. Despite some of the blunders this week, it was still nice to see the bakers in good spirits and still having a laugh.
Going home
Sadly, we had to say goodbye to Nicky AND Rowan, as nobody left the tent last week. Both of them didn't quite have the best week, but they've been amazing to watch this series and both have had plenty of stand-out moments, memorable one-liners, and showcased their delightful baking talents.
We hope you enjoyed our review for Week Five of The Great British Bake Off! Leave a comment below to let us know what you thought of the episode. Also find Week 4's review right here!
While you wait for next week's episode, why not get yourself down to one of our Mecca clubs and unwind with a bingo session? You can also play any of our online games!