What Happened in Week 6 of Bake Off?
This week was Botanical week, and it was a celebration of all things floral, spicy, and flavoursome.
Keep reading to find out how it went.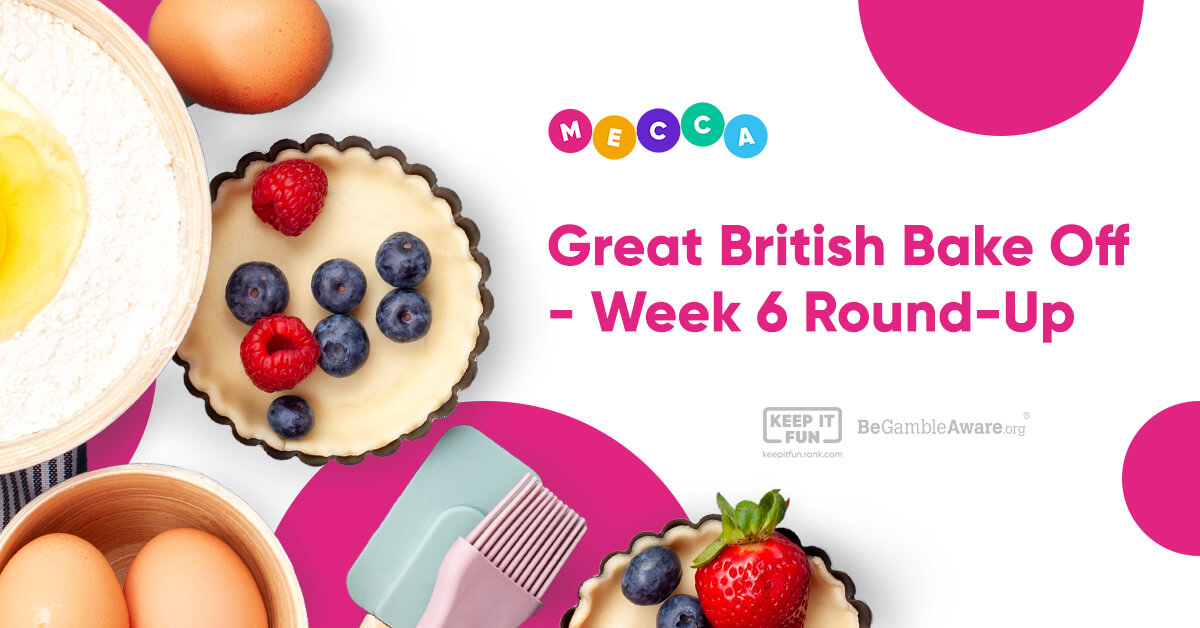 Signature Bake – Spiced Buns
Bakers were asked to make 12 perfect fragranced spiced buns that look identical.
Let's start off with Saku, who's opted for Swedish cinnamon spiced buns infused with cardamom. The judges enjoyed her flavours but pointed out that her bakes were different sizes due to improper calculations on her part. Paul then reminded her that she's an accountant, ha! Tasha tapped into Christmas vibes with Yuletide spiced buns, with doses of mulled wine, which both Paul and Prue absolutely loved! Matty also boozed up his bake and created rum-spiced hot cross buns, which the judges found to be too dense, but it looked amazing.
Josh baked lemon and blueberry spiced buns, and Cristy baked maple, pecan and cinnamon spiced buns, which were described as "absolutely delicious"! Dan and Dana's bakes both received mixed verdicts, the main critiques were the shape and imbalance of flavours.
Winners: Tasha and Cristy
Could do better: Dan and Dana
Technical Challenge – Lemon and Thyme Drizzle Cake
Bakers were asked to create a lemon and thyme drizzle cake in an hour and a half – that's very little thyme to say the least!
Dana hasn't put much thyme in her cake, whereas Cristy has put in a decent amount. Dana then decided to add more. It's fair to say, most of the bakers found this challenge quite tricky.
The main critiques were not enough thyme, untidy icing, and not the right colour for the cake.
Winners: Cristy was in 1st place, followed by Josh in 2nd place, and Dan in 3rd place
Could do better: Tasha came in last, followed by Dana and Saku
Showstopper – Floral Dessert 
Bakers were asked to make beautiful and imaginative floral desserts.
Matty boozed things up again with his blackberry and elderflower floral dessert, which Prue described as "delicious, but it isn't a showstopper". Saku made an earl grey and hibiscus cheesecake, which looked incredible, however, the flavours left judges feeling unimpressed. Cristy's bake included a white chocolate ganache, which broke out of the mould, and she really struggled with this. Bless her! She was in tears, but she persevered and made her mould again, and her dessert ended up keeping her safe. Phew!
Tasha's elderflower and hibiscus floral dessert was described as "absolutely heavenly" and "a triumph"! Dan named his bake "Sunny Meadows" which received great feedback from the judges. Josh's rhubarb, raspberry and hibiscus dessert was a hit and the judges loved it! Dana's bakes looked amazing, however, judges felt it lacked flavour and it was quite stodgy.
Winners: Tasha and Josh
Could do better: Saku, Matty and Dana
Star Baker 
Josh is this week's Star Baker! He's been progressing every week, maybe he could be a finalist in the making? It's nice to see him pushing himself and seeing his unique creations!
Highlights
Saku being asked by Noel to do kick-ups with lemons during the Technical was a hilarious moment that took a small break away from the tension in the challenge!
Even though Cristy struggled with her Showstopper, it was nice to see her come out the other end.
Going home
Sadly, we had to say goodbye to Dana. She's given us plenty of laughs this series! Throughout the show, even if her bakes didn't quite hit the mark, she still maintained her easy-going nature and remained calm. She'll be missed!
We hope you enjoyed our review for Week Six of The Great British Bake Off! Leave a comment below to let us know what you thought of the episode.
While you wait for next week's episode, why not get yourself down to one of our Mecca clubs and unwind with a bingo session? You can also play any of our online games!