What's on at Mecca Luton?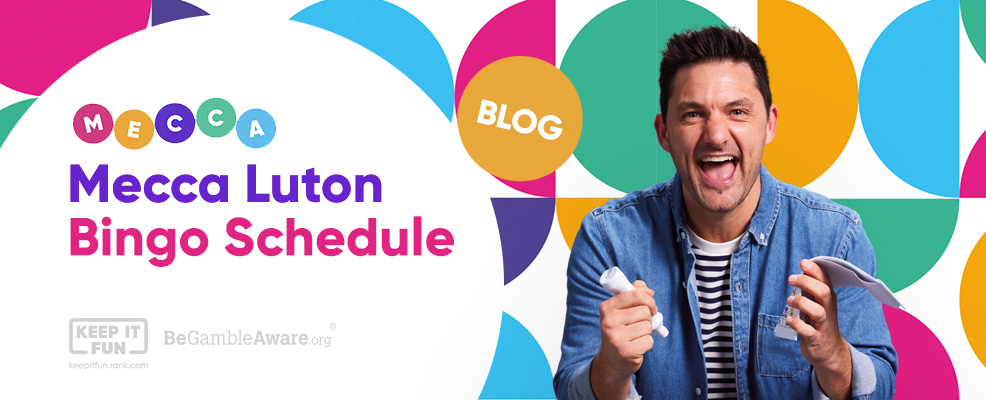 Let us introduce you to the brand-new bingo schedule at Mecca Luton. It's jam-packed with fun, and we just know you're going to love it!
---
Bingo like never before
For our new schedule we've kept things nice and simple. You can play for 15 minutes and then take a break for 15 minutes. This gives you the chance to join in at 30-minute intervals AND gives you plenty of time to take advantage of our fabulous food and drink menus. Plus, you'll have more time to play your favourite slots and interval games.
---
Big Prize Promise
Join in our best value games with guaranteed prizes for just £15! On Sunday we've got 4 x £1,000 games, with another 2 x £1,000 on Fridays and Saturdays. Plus, you can join us from 7 – 9pm every weekday for 2 x £500 games, 2 x £250 and 8 x £100 games!
---
Friday Fest
Here at Mecca Luton, Friday night means it's time for a boogie! Play bingo to the sound of your favourite songs with Bingo Beats. Come and show us your moves from 9pm until late! Best of all it's only £4!
---
Bottomless Brunch
We're doing bottomless bingo brunch every Saturday and you're invited! Choose your food from our brunch food menu, including waffles and brunch burgers! Select bottomless drink from our tantalizing drinks menu and we'll keep 'em coming for 90 minutes. AND of course, you also get to enjoy one hour of bingo, all for just £25pp, because you know we love a bargain!
---
A Big Night Out
Join us every Saturday for what we think is the perfect night out. For just £4 you can enjoy a fun-filled evening of bingo. Plus, from 9pm you can play our selection of the nation's favourite game shows!
---
For more information, head to our website or check out the Mecca Luton playlist on our YouTube channel and don't forget to like and subscribe for future content!