10 Reasons Why Britain Is Great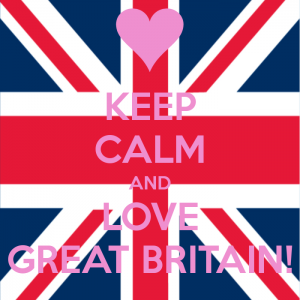 You may think that England crashing out of the World Cup after the first round would leave us feeling a bit deflated and hanging our heads in shame, but the truth is that us Brits are made of much stronger stuff than that.
We didn't win two world wars and one World Cup by crying over a bit of football! Being English means we've been born with a stiff upper lip and the ability to just keep calm and carry on.
So in true Blitz spirit we're going to hold our heads high and give you our ten top reasons why Britain is still GREAT:
1. Car Boot Sales
Brits just love a bargain, and the saying 'one man's trash is another man's treasure' was made for us car-booters.  Where else would you find people crazy enough to wake up at the crack of dawn on the traditional day of rest (usually whilst sporting a mean hangover) to proudly display our unwanted wares on rickety wallpaper-pasting tables?
Car boot sales are where we perfect the art of haggling and there is no better feeling than managing to get someone down from 50p to 20p for the 90s' power ballads CD you've ALWAYS wanted… and that will probably end up on your car boot table in a couple of months time.
2. Comfort food
Roast dinner, shepherd's pie, bangers and mash and steamed puddings.  There's nothing more heart-warming than solid British food, and no one cooks comfort food quite as well as us. It helps turn a cold British winter's day into something warm and filling, and reminds us of home no matter where in the world we happen to be.
3. Bingo
Whilst bingo actually started in Italy a looong time ago, us Brits have now embraced the game as our own and we just can't get enough of it.
Whether we're playing in a Mecca Bingo hall with our mates on a Friday night, or logging into our tablet or smartphone to play a quick game while the hubby's watching the footie, it's one of our favourite ways to pass the time.
4. Pubs
The great British pub is the envy of the world! Forget fancy wine bars or expensive nightclubs, there's nothing better than a good night out down the local.
Ok, our beer may be a bit warm and who knows what's lurking in the crisps on the bar (!) but there'll always be a friendly face and someone you can have a right good gossip with.
5. British Television
As anyone who has visited America will tell you, when it comes to TV channels quantity does not mean quality. British drama shows are unrivalled anywhere else in the world and our TV programmes are filled with actors who were picked for their acting ability rather than the whiteness of their teeth.
Yes, we all like the odd American show (Breaking Bad, Game of Thrones and Friends) but we wouldn't swap them with Eastenders, Corrie or Emmerdale for love nor money.  What else would we do on Monday nights?
6. Cuppa tea
We survived the Blitz on just a few cups of tea and a couple of biscuits and our nation's favourite drink still has the ability to cure us of most things.  Just had your house repossessed? Broken your leg in three places? Lost a winning lottery ticket? Don't worry love, put the kettle on and you'll feel much better after a lovely cuppa.
7. Gardens
British gardens are the best. Fact!
The Americans have concrete heavy 'yards' and in Europe they like to plant fruit and vegetables where the flowers should be.  English gardens are usually filled with beautiful roses, nicely mowed lawns and cheerful flowers.
8. Queues
It has been said that the British love to queue, and it's true! We'll queue for literally anything and we're really quite good at it.  If only there was a queueing world cup…
9. Full English
There is absolutely no competition when it comes to breakfast, the full English is the breakfast of kings (and queens!)
Bacon, eggs, sausages and black pudding, we like our breakfasts big and hearty.  You can keep your croissants and muffins thank you very much.
10. The Queen
Last but not least the great lady herself.  As a fantastic upholder of British values she embodies everything it means to be British; warm, gracious and dignified.
Isn't Britain great?
What are your favourite things about Britain? Let us know in the comments below.