Who Are The Best Celeb Friends?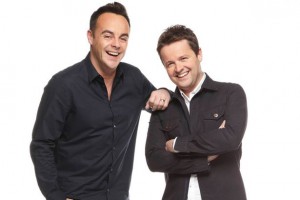 Ant and Dec really are the nation's favourite double act, with almost a third of people admitting they are most envious of their celebrity friendship followed closely by Holly Willoughby and Fearne Cotton and Strictly Come Dancing's Tess Daly and Claudia Winkleman.
The study of over 2,000 people, found the nation on average, felt most envious of the I'm A Celebrity Get Me Out Of Here hosts, due to how well they know each other followed by their success.
Top 10 Celebrity Friendships Brits Are most Envious Of
Ant McPartlin and Declan Donnelly
Holly Willoughby and Fearne Cotton
Tess Daly and Claudia Winkleman
Victoria Beckham and Eva Longoria
Rihanna and Cara Delevigne
Cheryl Cole and Kimberly Walsh
David Beckham and Gordon Ramsey
Daisy Lowe and Alexa Chung
Brooke Vincent and Michelle Keegan
Caggie Dunlop and millie Mackintosh
And it seems women really are from Venus and men are from Mars, as the study shows both have very different ideas when it comes to picking a celebrity best mate – with women choosing the comedy factor and guys preferring fame.   When asked who'd they'd most like to be friends with in the celebrity world, the much-loved comedian Miranda Hart was number one choice amongst females with the top reason being due to her comedy value and the hope she would make them look funny as a result. For men, David Beckham came up trumps with the top reason being, that he is always papped by the media which would help boost their social status.
Top 10 Celeb Friends (Women)
Miranda Hart
Lorraine Kelly
Holly Willoughby
Kate Middleton
Michelle Keegan
David Beckham
Prince Harry
Victoria Beckham
Sheridan Smith
Cheryl Fernandez-Versini (Cole)
Top 10 Celeb Friends (Men)
David Beckham
Bear Grylls
Prince Harry
James Corden
Holly Willoughby
Miranda Hart
Kelly Brooke
Sheridan Smith
Chris O'Dowd
Lorraine Kelly
Donna Dawson a psychologist specialising in Personality and Behaviour explains: "We look up to friendships such as that between Ant and Dec and Holly and Fearne because they represent what we think an 'ideal friendship' should be. Forgetting that the world of television is not real, we see in each couple two attractive, successful people who never seem to be jealous of each other and who never appear to row – something that we all aspire to in our own friendships.
"Because women are psychologically wired to be more interested in relationships than men are, women will appreciate a sense of humour, as it smooths the course of a friendship. Men, on the other hand, are more psychologically attracted to a strong self-image and social status – consequently, they would desire the ego-boost that basking in the limelight of a famous celebrity would bring".
Mark Jones comments: "Many customers attend our clubs with friends to get away from the everyday, have fun and catch up, so we were keen to learn more about friendships; why we choose our friends, what we envy most about our friends as well as the celebrity friendships we look up to. "It's really interesting to see that the celebrities that came out top (Ant and Dec and Miranda Hart) are known for being fun and having a good time together and our previous research shows that this is the top trait we look for in our friends."
The research also revealed that on average, Brits would rather be friends with X Factor's Simon Cowell (ranking 16) than One Directions Harry Styles (ranking 25) as Cowell is always on holiday and they would get the chance to tag along.
Tell us about your fab friends and you could win a fantastic night out for you both now.