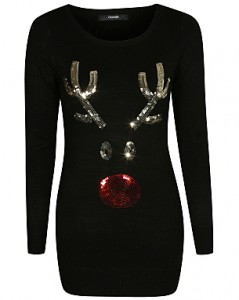 It's less than a month to Christmas and your bank balance is probably looking a little low and you still need a new dress for that Christmas party you've been invited to.
Don't decline the invitation, get down to your local supermarket and have a browse of what they have to offer. Tesco and Sainsbury's aren't just great for fruit and veg – you can get your fashion fix at the checkout as well.
We've taken a look at the top three supermarkets, which sell their own clothing range, and picked out the best Christmas dresses you can choose during your weekly shop. These dresses have all been compared with other similar, but more expensive versions, found online and on the high street:
Tesco
If you're looking for a simple but classy dress for the party season then a black and gold, jacquard print should help you get noticed at the Christmas do. This Alice Temperley Animal Jacquard Dress, available from John Lewis, is a perfect example, but costs £160.
So when you pop into Tesco for a pint of milk, make a detour to the F+F section, where you will find this gorgeous dress, which looks pretty much the same but for a more reasonable price of £25.
Asda
If you want to channel a cheesy Christmas vibe, think Colin Firth in Bridget Jones, then go for a dress featuring a fun reindeer design, like this one from Tipsy Elves, which costs £38. Not too expensive right? Well, if you head to George at Asda you can pick up one that looks just as good, for just £16. Every penny counts at this time of year, ladies!
If you're looking for glitz and glamour for this year's party then sequins are definitely your friend. This dress from River Island looks great, but will set you back £60 – you could buy half the Christmas dinner for that. Well, it's Asda to the rescue again! We actually prefer this stunning gold ensemble, with brighter coloured sequins and a zip down back, which makes it much easier to get into.
Sainsburys
This stunning blue pattern dress might not be the most festive, but it will look fantastic in a party setting, anyway who says you have to wear glitter and Christmas pudding earrings to be Christmassy?
You'll be set back £73 but Sainsbury's also offers a dress of a very similar design, which costs just £22. The supermarket also has the added bonus of top stylist Gok Wan designing its ranges, so you know that whatever dress you buy, it will be true to your size and shape.