The Best Things In Life Really Are Free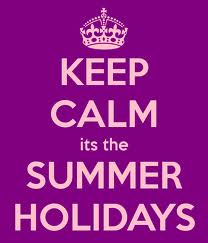 Well that's it for another school year! Your little darlings have broken up for the very long six-week holiday and you're probably feeling a mixture of emotions; relief that you have a few weeks break from packed lunches and ironing school uniforms, and sheer terror worrying about exactly what you're going to do with them during this time.
As all parents know, a bored child is a very dangerous thing.  While shouting, screaming and arguing gets on every single one of your few remaining nerves very quickly, a quiet house is a much more scary prospect and usually spells big trouble.
But unless you're planning to re-mortgage your home or take out a large bank loan, finding enough fun activities to fill each and every day without breaking the bank can be challenging.
And then you have the added problem of dealing with the 'brilliant' British weather. You can guarantee the forecast will be rain solidly from the end of July, right through to the beginning of September, and sitting on the beach with umbrellas and raincoats is not many people's idea of fun.
The great news is there are literally hundreds of things you can do for free (or just a few pence) this summer – from holiday clubs to online activities that will educate as well as entertain.
Here are just a few ideas from us helpful folks at Mecca Bingo – you're welcome.
With most kids permanently glued to their smartphone or gaming machine, getting them to sit down and read a book for fun can be as difficult as persuading them to eat sprouts!
The Summer Reading Challenge is aimed at children aged between four and eleven, and challenges them to read six books during the summer holidays in exchange for some fun goodies.  There's a different theme each year, and the dedicated website allows them to log the books they've read, find new books, take part in competitions and play games.
The best news of all is that it's completely free!
Play-schemes are fun activity 'clubs' that your child can join during the holidays to give you a much needed break for a few wonderful hours.
They're organised by local councils and situated in schools in your area – usually right on the doorstep.  They generally cost just a few pence each day and offer fun activities like sports, crafts and cooking.
Taking the kids to a museum might sound like your worst nightmare – all those precious artefacts for little fingers to touch (and break).  But in fact, most museums are now kid-friendly havens featuring fun and interactive activities that are both interesting and educational.
There are hundreds of free museums and art galleries all over the UK – why not check out a few this summer?
Playing online doesn't have to mean violent games that leave your kids running around like loons, hitting everything they come into contact with (usually their siblings).
There are some brilliant websites designed especially for children that promise to educate as well as entertain them.  Oxford Owl, Mathletics and My Story World are just a few of the hundreds of available websites and apps designed to make your life easier and your kids a little bit cleverer.