BGT Stars Bars And Melody To Release Anti-Bullying Song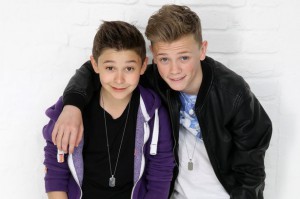 After capturing the heart's of the nation on this year's Britain's Got Talent, Bars and Melody are releasing their first single, Hopeful, on 27th July.
Charlie Lenehan and Leondre Devries, the teenage duo whose powerful anti-bullying rap has turned them into international sensations, were Simon Cowell's 'golden buzzer act' and finished third on this year's show.
Simon Cowell said:
"These guys have something very special. They have a message to put out there and they can connect with any audience."
Since appearing on Britain's Got Talent they have received 33 million views on YouTube; appeared on The Ellen DeGeneres Show in America and won an army of fans including One Direction's Liam Payne and Little Mix.
The Bars and Melody story is a lovely one of friendship, courage and the power of music to overcome major struggles and inspire a whole new generation. Bristol-born Charlie and Port Talbot-born Leondre, met on a social media site just a year ago through a shared interest in song-writing and performing.
Leondre says:
"I saw a video Charlie had posted where he was singing and I thought he had the most incredible voice. He was getting loads of hits but I posted him a message and sent him a link to some of the raps I'd been writing. He got in touch and it went from there."
Charlie, who likes Bruno Mars and Eminem, has an absolutely angelic voice that compliments Leondre's raps brilliantly. For their single Leondre has re-written the original verses with protests about bullying. He was relentlessly bullied – physically, mentally and verbally – by a group of boys in his class at school and since meeting Charlie, leaving his old school and getting through to the finals of BGT, Leondre's whole world has changed.
He says:
"For me, this whole experience has been about connecting with other kids who are going through what I went through. I've talked to so many people and it's given me an amazing confidence and strength and it just makes me amazingly happy to be able to be in this position to do so much more."
Charlie adds:
"We are both really enjoying the experience. But both of us have our feet on the ground because at the end of the day we are still at school and we are both told by our parents to tidy our rooms, clear the dishwasher and set the table!"
These boys were one of favourites in BGT and we think this is great news and what brilliant role models. Tell us below what you think.