Boxing Day Leftovers Recipe
Everyone loves a good Christmas dinner, and without a doubt there will always be leftovers.
So, why not get creative in the kitchen and also reduce your chances of wasting some incredible food?
We've got a delicious turkey fricassee recipe for you. You can use your leftover turkey to make an absolutely divine creamy stew, which will only take you about 20 minutes. It's quick and simple, and you won't need to use a whole bunch of ingredients. You'll most certainly have everything in your kitchen cupboards already, and you can serve the fricassee with anything of your choice.
This is also perfect if you'll be having family or friends round for Boxing Day, so you can all tuck into some delicious food and continue to enjoy the festivities.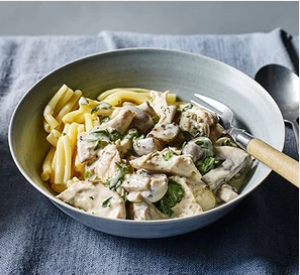 Leftover turkey fricassee
Difficulty: Easy
Make the most of leftover roast turkey with this creamy fricassee. It's delicious served with potatoes or pasta, and ideal for using up turkey from Christmas dinner.
Ingredients
50g butter

100g chestnut or button mushrooms, quartered

1 tbsp plain flour

100ml white wine or dry sherry

200ml chicken or turkey stock

150ml double cream or crème fraîche

800g leftover boneless cooked turkey, chopped into chunks or shredded

small bunch of parsley, chopped (optional)
Directions
Heat the butter in a deep frying or sauté pan until sizzling, then add the mushrooms and fry for 4-5 mins until softened. Sprinkle over the flour and stir until a paste forms. Cook for a few more minutes.
Splash in the wine or sherry and let it bubble for a minute, then stir in the stock and bring to the boil. Reduce the heat to a simmer and stir in the cream. Season, then stir in the turkey. Simmer until the turkey is heated through, then remove from the heat and stir in the parsley, if using. Serve with pasta, mash or rice.
We hope you've enjoyed our Festive Friday recipes as much as we have. Wishing you all a Merry Christmas and a fantastic New Year!