Calling All World Cup Widows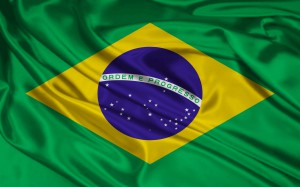 Unless you've been temporarily unconscious for the past few days, you'll be well aware that the 2014 FIFA World Cup has kicked off (pardon the pun!) with a vengance.  You've probably noticed because your menfolk have caught a terrible illness called 'football fever'.
It's the stuff of most women's nightmares – a month of wall to wall football accompanied by a backdrop of shouting at the TV, yelling out loud every time a goal is scored and a whole lot of swearing.  In fact, for the next few weeks you're probably going to feel like you've lost your partner to the 'beautiful game' forever.
Most of us really enjoy watching the England matches and in spite of the strange match times were getting well behind the country and cheering our boys on to hopeful victory. Never mind, eh? But why do the guys have to watch EVERY SINGLE GAME, even if they don't know or like whoever is playing?
As they can't actually play in any of the matches, men seem to like nothing more than adopting the role of armchair manager during the games, insisting that if they were given only half a chance they'd have the players passing better, scoring more goals and winning more matches than Roy Hodgson can.  And when it comes to the referees decisions…well, it's a wonder they haven't all left their jobs to join The FA as expert advisors, as the refs clearly know nothing about football!
For us women there's only one thing about World Cup 2014 that really interests us (apart from watching the muscly legs and bottoms) and that's WAGS.  We're absolutely fascinated by them and like nothing more than discussing what they're wearing, who they're dating and who has the worst fake tan.  Unfortunately when we try to discuss this with our beloved other halves during the game they just don't seem to appreciate it.
During this World Cup season if you're feeling in need of some respite, to discuss what Coleen Rooney has done with her hair, to share your disappointment in England's performance or simply because you have no-one else to talk to, why not log on to your tablet, laptop or smartphone and enjoy a game of online bingo?  Mecca Bingo is the friendliest bingo club on the internet and is bound to be full of fellow football widows you can happily pass ninety minutes with.
If you're a newbie to online gaming you'll be thrilled to know that registering is free and you'll receive a welcome bonus just for joining.  In addition, you'll be given access to our newbie room for seven days where you have the chance to win a £20 jackpot whilst learning the basics of playing online bingo before having a go for real – all for free.
In addition, whilst we won't be able to help England win the World Cup, we will be making one of you the lucky winner of a brand new Kia Picanto '1' car just for registering during the month of June.  All you have to do is create an account between now and Monday 30th June, deposit and spend £10, and you'll be entered into the amazing prize draw.
So look up ladies, things might not be so bad after all.