Celebrity Fantasy Dads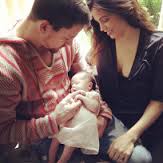 Today is Father's Day and over the past week or so I've been busy discussing all things 'daddy' related with my friends – male and female.  In between the usual last minute shopping trips to pick up something special for the fathers in our lives, we've been playing a funny little game called 'Celebrity Fantasy Dads'.
The rules are quite simple; pick one celebrity you would like to have as your dad, and another you would like to produce some offspring with.
There are no prizes for guessing the most popular man we wanted to father our children: David Beckham, of course. Not only is he smokin' hot, he's an all round nice guy and amazing dad to his four beautiful children. We certainly wouldn't mind going to watch him giving our kiddies a few swimming lessons or football coaching sessions.  And if he needed a back rub after all that activity we'd be only too happy to oblige.
Peter Andre was a very close second in the 'men we want children with' round of the game, predictably for very similar reasons (I think the summer heat was getting to us!) He's a genuinely lovely, kind guy who seems to have a really special bond with his children, both traits us ladies find very attractive in a partner.  He also looks pretty good without a top on – remember the Mysterious Girl video?
Finally, Channing Tatum's name kept cropping up. There's no need for any further explanation here, right?
There were some mixed results when it came to the celeb we most wanted to be our adopted dad, with the guys picking very different imaginary fathers to the girls.
The men seemed to want all-action-hero dads they could go and get some 'baddies' with, meaning that Liam Neeson and his 'very particular set of skills' was their popular choice, closely followed by Bruce Willis, Tom Cruise and Sylvester Stallone.
On the other hand, my girl friends had a very different set of criteria.  Our main priorities included whether they would; give good hugs, help us out when we needed it and make us laugh when we felt down.  With this in mind we thought Will Smith would make a pretty great dad; he ticks all the boxes…and of course he's the Fresh Prince, how cool would that be?
Gary Barlow also featured pretty high on our 'dad' list, and for some strange reason Channing Tatum's name kept cropping up again??  Well, they do say you're more likely to choose your partner if he reminds you of your dad, but in actual fact us ladies just needed an excuse to keep Googling his 'Magic Mike' picture again!
Anyway, whether you're a celebrity or not we would like to wish ALL dads a very happy Father's Day!