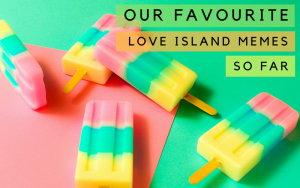 With drama reaching fever pitch in the villa, it's no wonder that, here at Mecca HQ, Love Island is all we can think about (apart from bingo, of course!)
So, to get you pumped for the next episode of melty make-ups and salty break-ups, we've found you the best Love Island memes for your viewing pleasure.
It's time to crack on…
When you have MAJOR gossip…
When someone asks why you split up with your ex… #LoveIsland pic.twitter.com/xRy2rgQRfv

— Love Island (@LoveIsland) June 11, 2018
When Adam was constantly 'keeping his options open'…
Adam every time a new girl walks into the villa #LoveIsland pic.twitter.com/WUZrWBXA4G

— Sam (@SByrne93) June 19, 2018
Jack displaying how all men deal with female problems…
when you open the exam paper and read the first question #loveisland pic.twitter.com/mKoZifpFZt

— Chris (@withchrisw) June 19, 2018
When Alex showed he's better at picking up cups than girls…
When your mum told you to put away your dishes when she left and you hear her pull up outside #lovelsland @LoveIsland pic.twitter.com/2mAJhijWy7

— Kate (@its_kaate) June 17, 2018
When Georgia showed the complex workings of the female brain…
girls: a summary #loveisland pic.twitter.com/Nh2AQb5Icd

— Elle (@eleanormaryjane) June 11, 2018
The whole of the UK celebrating Alex's first kiss…
The nation when Alex kissed Ellie #LoveIsland pic.twitter.com/qp4GKQ89QP

— Sam Hodges (@samhodges28) June 20, 2018
Adam before and after finding out about Casa A'mor…
Adam tomorrow night when he walks into Casa Amor and sees the five new girls.. #loveisland pic.twitter.com/WMUFoFMxqt

— Corrine (@corrinemegson) June 27, 2018
When Samira became the cutest contestant of all time…
Samira using Sam as a float #LoveIsland pic.twitter.com/vCxIuMQ6o3

— Rhèa' Rosana (@__RHEAL) June 24, 2018
When we discovered Eyal's spirit animal…
Seriously who makes these love island memes please pic.twitter.com/I4DS7Fcoii

— COURTNEY (@courtsnowball) June 13, 2018
And finally, when Twitter became almost poetic:
The Danny Dyer memes have started & I'm so here for it #LoveIsland pic.twitter.com/mykkznN3iw

— Frances Gough (@frances_gough) June 4, 2018

Which is your favourite Love Island meme? Let us know in the comments, below!