We Are All Going On A Summer Holiday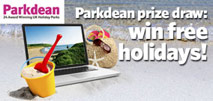 Around this time of year us mums with school age children start to break out in a cold sweat and get a look of sheer panic on our faces. No, not because we're worrying about the possibility of having to squeeze our pasty winter bodies into a bikini again, wishing we hadn't indulged quite so much at Christmas, but because the long school summer holidays are nearly here, which can only mean one thing: bored children!
Entertaining kids for a just a weekend can be difficult, let alone trying to find enough activities to fill six looong weeks. Bar taking out a bank loan or re-mortgaging the house, it's unlikely we'll be able to visit every theme park in the UK, go swimming, to the cinema, bowling and buy an ice-cream, every day, plus take a two week break at Disney World like they keep asking us for (and don't believe them when they tell you it's what all their friends are doing – they're not).
Instead we're faced with the prospect of carpets soggy with paddling pool water, a house that looks like a bomb has gone off inside it, and sulky kids while we drag them to the local park for the seventh time that week, all the while trying to convince them that the swings and roundabouts are just as good, if not better, than any of the rides at Alton Towers.
And as if that wasn't enough fun, there's the dreaded school uniform shopping trip to contend with, queuing for several sweaty hours to get your little ones feet measured, only to find they don't have any left in the right size anyway.
Aaaaarrrrgggh!
Thank goodness for Mecca Bingo, which we can escape to when things get tough. But If only we were able to afford a nice little break away somewhere…
Well this summer all your holiday wishes could come true with Mecca! We're holding two exciting prize draws and giving away two fantastic Parkdean holidays during each draw. Packed full with all the entertainment and activities they could ever want, just imagine the look on the kids' faces when you tell them you've won!
Entering couldn't be easier; simply deposit £5, enter the code PARKDEAN into the bonus code section of the bingo lobby and spend £1 on bingo and £1 on minigames to be entered into the draw. For every extra £1 you spend on bingo or minigames you'll get an extra entry into the draw.
However, if you're not lucky enough to win one of these great holidays, a getaway could still be on the cards, courtesy of Mecca. Between now and 1st June you can get £30 off the cost of your break by booking a holiday with Parkdean and quoting MECCA30 at the checkout stage. There are 24 award-winning holiday parks all over the UK to choose from, and you can be certain the kids won't be bored while you're there, giving you a well-earned break too.
Whatever you do this summer be sure to share it with Mecca. We'd love to hear your funny holiday stories and find out if you went to holiday heaven or holiday hell this year.