Christmas punch recipe
It's Christmas party season! A time to celebrate with your loved ones and enjoy a festive feast. To make it a party to remember, you need a fantastic drink to serve with all that yummy food, and we've got the perfect festive fizz for you to try. Introducing… Christmas Punch! Yes, that's right, it's a seasonal twist on the party classic and it's guaranteed to bring the wow factor to any festive get-together. The best part is, it couldn't be easier, you don't need a stove or any fancy bar equipment. Simply add all the ingredients together in a bowl, give it a good stir and you're ready to serve.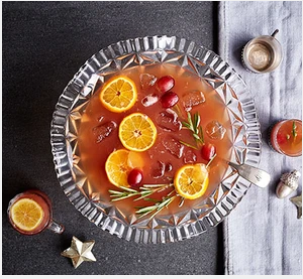 Christmas Punch
Difficulty: Easy
Treat your guests to a Christmas punch. It's a blend of prosecco, sloe gin, Jägermeister and apple juice, together with festive clementine and ginger.
Ingredients
a bunch of frozen red grapes

750ml prosecco

1L cloudy apple juice

ice

250ml sloe gin

50ml herbal liqueur (we used Jägermeister)

1 ball stem ginger, finely sliced plus 2 tbsp of the syrup

3-4 sprigs of rosemary

1 clementine, finely sliced
Directions
The day before you want to serve, put the grapes in the freezer for around 8-12 hrs or until frozen. Chill the prosecco and apple juice in the fridge. 
When you're ready to serve, put the frozen grapes and a generous handful of ice in a large 2-3 litre punch bowl and pour all of the remaining ingredients on top. Stir gently to combine, then serve. Sits well for up to 3 hrs before putting the ice in. 
Whatever the occasion, this fab recipe is worth a go. Don't forget to buy the grapes in advance so you can pop them in the freezer the day before serving. If you're looking for a non-alcoholic drink, this recipe can easily be adapted to create a delicious mocktail – just skip the alcoholic elements in the ingredients list. If you make this recipe, we'd love to hear about it in the comments or on social media. Be sure to come back next week for another fabulous festive recipe!