Great British Bake Off – Week Eight Round-up
There might have been no dairy, meat or gluten in the bakes this week, but the tent was far from free of tension as the bakers took on Free-From Week in this season's quarterfinal. If only Freya had made it this far.
And it has to be said, the bakers really stepped up, it must have been very tough to pick between everyone for who got star baker and who went home.
Highlights included Paul Hollywood doing his best Hulk impression, Crystelle breaking the handle on her freezer, Lizzie's doggie rolling pin, Matt and Noel playing with the 'free-from' idea with their time announcements.
Signature Bake – Dairy-free Ice Sandwiches
For this, to ensure there's some actual baking, the bakers needed to make biscuits to use as the outer part of the sandwiches. Jürgen decided to opt for macarons, as they are naturally dairy-free, but without enough time to rest his mixture, he ended up essentially creating some new kind of chewy biscuits. Colour us intrigued! But what would the judges think? And for the ice cream, the bakers needed to take into account the difference dairy-free milks and creams would have on the creaminess of their ice cream and how it would set. A challenge everyone seemed to rise to, with delicious looking and sounding desserts all round.
Winners: Ok, look, everyone did very well in this task – I mean Chigs's flavours weren't quite there and Lizzie was predictably not very neat, but really they all got good comments, so we're giving a big round of applause to all five bakers!
Could do better: For once, nobody! Hurray!
Technical Challenge – Vegan Sausage Rolls
Remember, it's all about that lamination! With a 'vegan block' in the place of butter and a mushroom-based filling in place of the traditional pork sausage, these savoury treats looked pretty great to honest. But with rough puff pastry to contend with, the bakers had a tough technical. But Crystelle could at least comfort herself with the presence of miso, her go-to ingredient for so many of her bakes. She did however seemingly go a tad overboard on the chilli in the accompanying onion chutney… For once, though, no one felt the need to start something again, so everything went along a fairly reasonable pace. Jürgen, however, flirted with disaster as he dropped his sausage rolls on the ground when taking them out of the oven! Oops #FiveSecondRule
Winners: Chigs finished 1st
Could do better: Crystelle landed in 5th place
Showstopper – A Two-tiered Highly Decorative Gluten-Free Cake
And highly decorative they certainly were! This round of the Showstopper was one of the best we've seen. Pretty much everyone impressed with beautiful, seemingly delicious cakes. Giuseppe took a risk by going with Black Forest Gateaux – one of Paul's favourites – and was forced to cover the somewhat messy mirror glaze with cream piped on the sides. Jürgen, typically, gave himself extra work by doing three sponges. And Crystelle had to wait for a breeze to pass before moving her cake, fearing it wouldn't stay standing. But from Chig's fancy chocolate collar to the incredible icing on Crystelle and Lizzie's cakes, we were blown away. With Lizzie's cake, in particular, proving to be a triumph – her multi-coloured celebration of neurodiversity (and just generally being different) looked absolutely amazing. And full of Finesse!
Winners: Jürgen, Lizzie, Crystelle and Chigs
Could do better: Giuseppe! (No, we can't quite believe it either)
Star Baker = Chigs👏
Going Home = Lizzie ☹
Next week it's the semi-finals, which means… it's Pâtisserie Week! Yes we're one week away from finding out who will make it to the final…Are you ready?
Feeling inspired to try a bake yourself? Why not try this gluten-free cake recipe!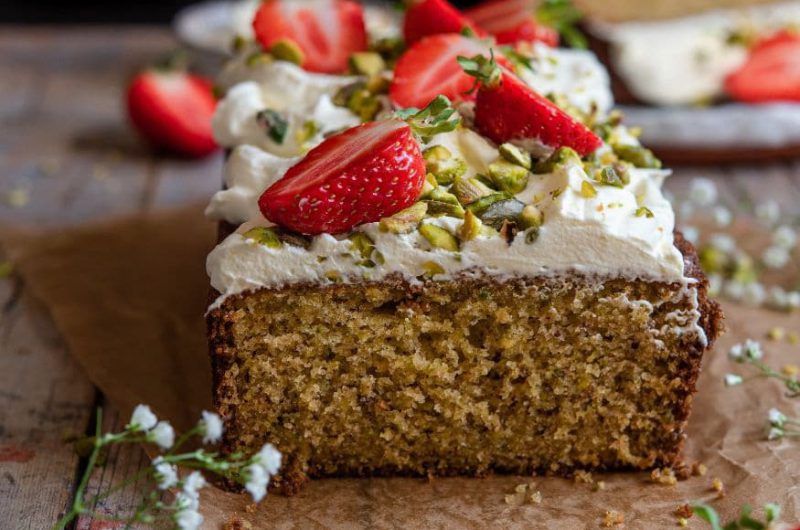 Strawberry & pistachio olive oil cake
Course: Dessert
Difficulty: Easy
Try this versatile strawberry and pistachio cake made with olive oil and polenta or cornmeal. Perfect for afternoon tea or dessert, it's also gluten-free
Ingredients
200ml olive oil , plus extra for the tin

225g shelled pistachios

200g caster sugar

3 large eggs

150g fine cornmeal or polenta

1 tsp gluten-free baking powder

200g strawberries , chopped, plus extra to serve

icing sugar and crème fraîche or yogurt, to serve
Directions
Heat the oven to 180C/160C fan/gas 4. Oil and line the base of a 23cm cake tin. Put 200g of the pistachios in a blender, and whizz until it looks like ground almonds.
Whisk the sugar and eggs together with an electric whisk until pale and fluffy – this should take about 5 mins. Add the olive oil, continually whisking, then fold in the ground pistachios, cornmeal or polenta and baking powder with a pinch of salt. Fold in the strawberries, then scrape into the tin. Roughly chop the remaining pistachios and scatter over the top.
Bake for 50-55 mins until golden and risen. Leave to cool in the tin to room temperature before transferring to a cake stand or plate. Dust with icing sugar and serve with crème fraîche or yogurt and extra strawberries.