Great British Bake Off – Week Five Round-up
This week in the tent, we said 'guten tag' to Bakeoff's first ever German Week!
Naturally the week was heavy on German references, such as Noel and Matt opening the show as a German pop-synth duo, and this provided much of the fun. Highlights include lots of bodged attempts at speaking Germans by the bakers (not Jürgen, obviously), Matt catching a runaway cake like a cricket legend, the friendly rivalry between our favourite European bakers continuing, and learning how to say 'break your leg and break your neck' in German – as Freya says: brutal!
Signature Bake – German Biscuits
The bakers had to make two sets of any kind of German biscuits – the choice was up to them. Being This led to a wide variety of scrumptious looking cookie. George, however, decided to make Springerles, which, whilst looking and sounding delicious, ideally take a day to prove… Amanda also had a slight issue with one batch and only produced 11 (instead of 12) of her Glühweinpläzchen. And Freya had a bit of a 'mare with her Zimsterne sticking to the baking paper, leaving part of the biscuit behind. But to be honest, it was a bit of a love in, with the judges generally loving everyone's biscuits, giving out 'sensational's and 'perfect's left, right and centre – making it hard to pick…
Winners: Giuseppe, Amanda and Jürgen – who got a Hollywood Handshake
Could do better: Lizzie (although with a few small improvements, she apparently would've gotten a handshake!), George and Freya
Technical Challenge – Prinzregententorte
Aka Prince Regent Cake. This complicated but incredibly delicious cake of chocolatey goodness was sure to put the bakers to the test. And, as it standard, the recipe was as light on detail as the layers of cake needed to be. Chigs adorably surprised himself by how much of an expert he sounded like when explaining why you have to be careful when folding your meringue mixture. Giuseppe was nearly doing the splits whilst trying to pipe his chocolate crowns. But the best bit was watching the bakers pouring their mirror-glaze ganache over their cakes – saucy!
Winners: Lizzie came 3rd, Chigs took 2nd place and 1st went to Giuseppe
Could do better: Crystelle was 7th due to her messy, melting cake, andwith split custard, bubbly ganache and plain cream instead of chocolate on top Amanda came last in 8th place
Showstopper – Two-Tiered German-Inspired Yeast-Leavened Cake
THE PROVING DRAW IS BACK! And, in a possibly more exciting twist, the booze was flowing with beer, red wine, gin and rum featuring in several of the baker's creations. Jürgen once again showed off his noisy kneading – a method known as the French Slap! Crystelle went with the classic 'dry cake/weird bread' that is the brioche. George's creation was a lovely tribute to his wife for their anniversary (even if he couldn't quite remember how many years they'd been married for…). Meanwhile, Lizzie came up trumps with a fantastic mix of flavours but, having been reminded by Paul of the need for 'finesse', had to disguise the fact that part of her cake had stuck to the tin and broken off – oops!
Winners: Lizzie (she pulled off her cover-up!), Crystelle, Amanda and Giuseppe
Could do better: Chigs, Freya and George
Star Baker = Jür… nah, it was Giuseppe! 👏 (although Matt did jokingly proclaim it was Jürgen at the very start!)
Going Home = Freya ☹
Next week the proof will be in the pudding with…Pastry Week!
(Final note: Noel Fielding was absent from the end of the show due to being unwell, so we hope he's feeling better soon 😊 )
Feeling inspired to try a bake yourself? Why not try this fab biscuit recipe!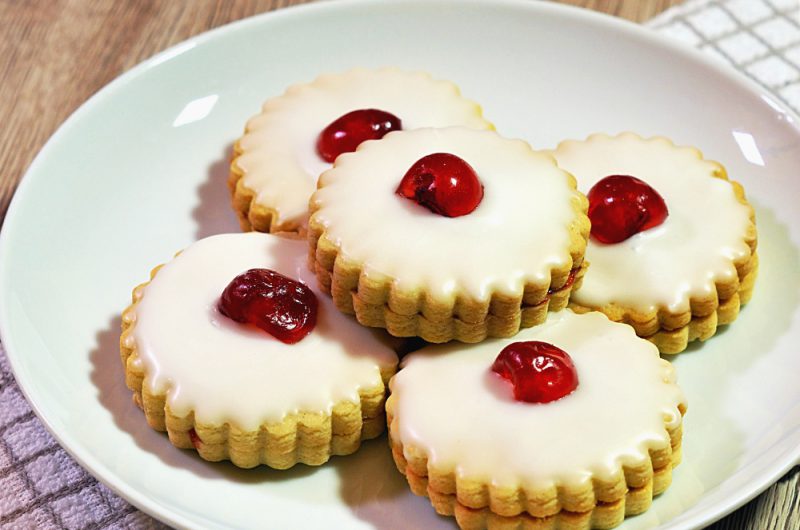 German biscuits
Course: Dessert
Difficulty: Easy
Make a batch of these easy empire biscuits and enjoy with a cuppa. Sandwich with raspberry jam and top with thick icing and a glacé cherry to finish. Makes 12-14 biscuits.
Ingredients
175g plain flour , plus extra for dusting

100g cold salted butter , cut into cubes

335g icing sugar

½ tsp vanilla extract

2 medium egg yolks

100g raspberry jam

50g glacé cherries , quartered
Directions
Put the flour, butter, 85g of the icing sugar, the vanilla and egg yolks in a food processor and pulse in bursts until combined (alternatively, rub together the butter and flour with your fingertips and mix in the sugar, vanilla and egg yolks). Add ½ tbsp water if the mix feels a little dry. Tip the rough mixture onto a work surface and briefly knead until the dough has come together. Wrap and chill for 30 mins.
Heat the oven to 180C/160C fan/gas 4. Line two baking sheets with baking parchment. Lightly dust your work surface with flour and roll the dough out to around 3mm thick. Cut 24 rounds from the dough with a 7cm cutter. Bring the remaining scraps of pastry together and reroll to make more biscuits. Line up the discs of dough on the baking sheets, then bake for 10-12 mins or until lightly golden brown around the edges. Transfer to a wire rack and leave to cool completely.
Mix the remaining icing sugar with 2-3 tsp of water to make a very thick icing. Spoon or pipe the icing over the top of half of the biscuits, leaving a border around the edge of each one. Top with a small piece of glacé cherry in the centre, then leave to set for 30 mins. Spread the jam over the un-iced biscuits and sandwich together with the iced halves. Will keep for two days in an airtight tin.