Great British Bake Off – Week Four Round-up
This week the proof was well and truly in the pudding as the bakers tackled desserts – you know, the best of the menu when you're at a restaurant.

Highlights included Noel and Matt 'Mmmm-ing' before every round, Freya using tuiles that she may have slightly dropped on the floor, Noel adding a few steps to Maggie's technical recipe sheet that included pushing Paul Hollywood in a ditch, Lizzie handing Paul a small bin as a gift and Chigs describing one of his dishes a 'tongue party'… on second thoughts, we're not sure that's a 'highlight'!
Signature Bake – Pavlova
'It's egg whites… and sugar – what can go wrong?' laughed Chigs as this challenge kicked off. But this seemingly simple dish can be fiendishly tricky, as the contestants soon found out. Freya had trouble with her vegan meringue, as the egg-white substitute aquafaba doesn't stay standing. And George tried a new technique to counteract some cracking – placing his meringue in the proving draw! It wasn't a great success. But that didn't mean there weren't some mouth-watering recipes like Crystelle's Kiwi Lime Pie Pavlova (a fun take on Paul's favourite dessert), which was inspired by her godmother – who, despite being somewhat of a pavlova queen didn't share of recipe!
Winners: Jurgen, Chigs – getting himself a coveted Hollywood Handshake!
Could do better: George and Freya
Technical Challenge – Sticky Toffee Pudding with Tuiles
Set by Prue Leith – who advised the bakers 'get organised' – this week's technical had several tricky elements. This included (for reasons we don't fully understand) 'tuiles' ie weird crispy triangles as pointless decorations for what is surely an outstanding classic pud on its own. Funnily enough, Lizzie had declared herself more of a sticky toffee pudding-person during the first round, and she certainly seemed at home here. Maggie, however, had never made one before and boy did that show when she neglected to include key ingredient flour…
Winners: Chigs came 3rd, Lizzie placed 2nd and Jurgen took 1st
Could do better: With raw sponges, burnt tuiles, scrambled custard and under-caramelised sauce, Amanda was 8th and Maggie – despite her creative claim that her blackish sludge was a 'gluten-free' sticky toffee pudding landed rock bottom in 9th place
Showstopper – A Celebratory Jaconde Imprimé Dessert
Firstly – what on earth is 'imprimé'?! These layered desserts could contain anything from mousse, bavarois, dacquoise and ganache etc inside but must be wrapped in a thin jaconde sponge featuring an intricate, imprinted design (we're reasonably sure this is where the 'imprimé' comes in). Easy, eh? Paul made a point to ensure Maggie knew where her flour was this time, but sadly, despite including it, she needed to cook her jaconde a second time. Freya, unfortunately also had some issues again with her alternative vegan version of the sponge. Jurgen's design featured music notation, allowing him to sing along with his cake. While Chigs – whose cake was based, somewhat bizarrely, on his sister's bathroom tiles (but it was STUNNING) – and George went all out by including two tiers instead of just one.
Winners: Jurgen, Guiseppe (who got 'a good 5 stars'!), Crystelle and Chigs – whose incredible creation won over black forest gateaux-sceptic Prue and featured bavarois that Paul described as 'perfection'!
Could do better: Amanda, Freya and Maggie – who, despite rescuing her jaconde, didn't really meet the 'two elements' requirement with her coulis (that leaked and caused a partial collapse of the cake)
Star Baker = Chigs 👏
Going Home = Maggie ☹
Next week will be all about precision but should be a doddle for Jurgen (in theory): it's German Week!
Feeling inspired to try a bake yourself? Why not try this tasty sticky toffee pudding recipe!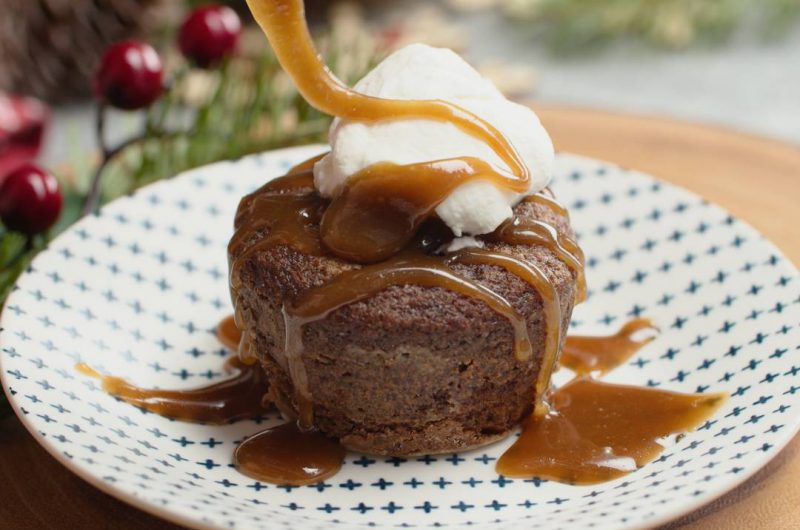 Sticky toffee pudding
Course: Dessert
Difficulty: Easy
Puddings don't get any better than this!
Ingredients
225g whole medjool dates

175ml boiling water

1 tsp vanilla extract

175g self-raising flour, plus extra for greasing

1 tsp bicarbonate of soda

2 eggs

85g butter, softened, plus extra for greasing

140g demerara sugar

2 tbsp black treacle

100ml milk

cream or custard to serve (optional)

For the toffee sauce

175g light muscovado sugar

50g butter, cut into pieces

225ml double cream

1 tbsp black treacle
Directions
Stone and chop 225g medjool dates quite small, put them in a bowl, then pour over 175ml boiling water.
Leave for about 30 mins until cool and well-soaked, then mash a bit with a fork. Stir in 1 tsp vanilla extract.
Butter and flour seven mini pudding tins (each about 200ml/7fl oz) and sit them on a baking sheet. Heat oven to 180C/fan 160C/gas 4.
While the dates are soaking, make the puddings. Mix 175g self-raising flour and 1 tsp bicarbonate of soda together and beat the 2 eggs in a separate bowl.
Beat 85g softened butter and 140g demerara sugar together in a large bowl for a few mins until slightly creamy (the mixture will be grainy from the sugar). Add the eggs a little at a time, beating well between additions.
Beat in 2 tbsp black treacle then, using a large metal spoon, gently fold in one-third of the flour and bicarbonate of soda mix, then half of the 100ml milk, being careful not to overbeat. Repeat until all the flour mix and all the milk is used.
Beat in 2 tbsp black treacle then, using a large metal spoon, gently fold in one-third of the flour and bicarbonate of soda mix, then half of the 100ml milk, being careful not to overbeat. Repeat until all the flour mix and all the milk is used.
Spoon it evenly between the tins and bake for 20-25 mins, until risen and firm.
Meanwhile, put the 175g light muscovado sugar and 50g butter pieces for the sauce in a medium saucepan with half the 225ml double cream.
Bring to the boil over a medium heat, stirring all the time, until the sugar has completely dissolved.
Stir in 1 tbsp black treacle, turn up the heat slightly and let the mixture bubble away for 2-3 mins until it is a rich toffee colour, stirring occasionally to make sure it doesn't burn. Take the pan off the heat and beat in the rest of the double cream.
Remove the puddings from the oven. Leave in the tins for a few mins, then loosen them well from the sides of the tins with a small palette knife before turning them out.
You can serve them now with the sauce drizzled over, but they'll be even stickier if left for a day or two coated in the sauce. To do this, pour about half the sauce into one or two ovenproof serving dishes.
Sit the upturned puddings on the sauce, then pour the rest of the sauce over them. Cover with a loose tent of foil so that the sauce doesn't smudge (no need to chill).
When ready to serve, heat oven to 180C/fan 160C/gas 4. Warm the puddings through, still covered, for 15-20 mins or until the sauce is bubbling. Serve them on their own, or with cream or custard.