Great British Bake Off – Week Nine Round-up
Precision and pressure were the main ingredients in the tent this week as the bakers took on the traditional semi-final, Pâtisserie Week. With all the bakers having had handshakes and being named star baker at least once, the expectations were high.
And what a week it was. Honestly, we thought the judges should throw out the rule book and put everyone through to the final. But alas, someone was sent home.
Highlights included a three-handshake signature, Chigs' glasses getting steamed up AGAIN, Noel's 'friend' Sharky Sharkerson, Noel and Crystelle planning a limbo-off and Giuseppe proving just how Italian he is but saying 'mamma mia!' at the end of a task.
Signature Bake – Layered Slices
This task involved the bakers making little slices with three or more layers of either cake, mousse, curd, Italian meringue, buttercream, and so forth. The key being that they must be identical and look like they should be the window of a French bakery. A boy did they deliver! Although Giuseppe got off to a rocky start by putting his butter in the oven without adding the all-important flour to the sponge mix… thankfully he realised straight away and rescued it. Jurgen, meanwhile, went for a dramatic take on the opera cake with little daggers sticking out of the top and a beetroot-flavoured buttercream to make them look like tiny murder scenes… erm, yum? Chigs, having picked a mousse for his soft layers, was ahead of the rest when it came to assembling, and it was a very close call for the other three to finish on time.
Winners: Chigs, Giuseppe and Crystelle ALL GOT HANDSHAKES!
Could do better: This feels almost as mean as Paul's handshake snub, but Jürgen (although Prue said she'd have given him a handshake)
Technical Challenge – Sablé Breton Tart
Prue, you are fiendish! This dessert features a biscuit-like pastry base that has no sides, a raspberry JAM (although they gave it a fancy French name) and a crème mousseline… no, we don't know either. Then add in the elaborate decorations involving gold leaf, this couldn't look or sound more complex. Jurgen, thankfully, had heard of it, but Chigs, having only been baking for a year only recognised the words 'pistachio' and 'fruit' from the description. And this challenge went about as well for these two as you would expect. Timing, as always, was key. Which lead Jürgen to give Noel the most polite 'please leave alone' brush off we've ever seen. But, unfortunately for Chigs, his mousseline had set and was dripping done the sides of his tart.
Winners: Jürgen finished 1st
Could do better: Chigs came 4th
Showstopper – Banquet Displays with Entremets and Edible Centrepieces
Because would it even be the showstopper if it didn't a long, complicated name with things we've never heard of? And as Crystelle says "entremets are about multi-tasking until you almost faint". FUN. Both Giuseppe and Jürgen took inspiration from architecture – Giuseppe looking once again to his Italian roots and recreating the leaning tower of Pisa out of marshmallow and puffed rice, while Jürgen built a Japanese Shinto temple gate from gingerbread, surrounding it with his little boat entremets, filled with no less than three types of Bavarian creams (of course). Meanwhile Crystelle's bake was in honour of her sister's wedding, with elegant piped flowers and tropical entremets. Chigs however admitted upfront to the judges that one part of his bake had never worked in practise, but carried on boldly, before nearly giving us a heart attack by breaking part of his gingerbread tree centrepiece! (It's ok, he fixed it #phew!)
Winners: Crystelle and Chigs
Could do better: Jürgen and Giuseppe
Star Baker = Crystelle👏
Going Home = Jürgen ☹ NO WE CAN'T BELIEVE IT EITHER! WHERE IS THE PETITION?!
Next week it's… THE FINAL! Yes, this year's epic baking journey is coming to an end – join us next week for one last joyous episode to see who's crowned Bakeoff Champion.
Feeling inspired to try a bake yourself? Why not try this layered cake recipe!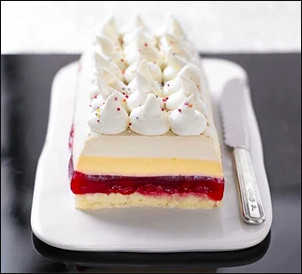 Trifle Slice
Course: Dessert
Difficulty: Intermediate
Try this versatile strawberry and pistachio cake made with olive oil and polenta or cornmeal. Perfect for afternoon tea or dessert, it's also gluten-free
Ingredients
Flavourless oil, for greasing

1 shop-bought large madeira loaf cake

250ml double cream

2 tbsp icing sugar

Few sprinkles (optional)

For the cream layer

2 gelatine leaves

200ml double cream

3 tbsp sweet sherry

100g mascarpone

4 tbsp icing sugar

For the custard layer

2 gelatine leaves

3 tbsp custard powder

3 tbsp icing sugar

400ml milk

For the jelly layer

135g pack raspberry jelly

350g frozen raspberry, defrosted
Directions
Grease a 900g loaf tin, then line with cling film – as smooth as you can get it. Use 1 long strip of baking parchment to line the base and ends of the tin, leaving some sticking up at each end to help you pull the loaf free later. Criss-cross another piece of parchment to line the base and longer sides.
For the cream layer, soak the gelatine in cold water. Gently warm the cream and sherry in a saucepan. When the gelatine is softened, squeeze out excess water, take the cream off the heat and stir in the gelatine until dissolved. Gently whisk in the mascarpone and icing sugar until smooth, then scrape into the tin and bang a couple of times to level. Chill until set – about 1 hr.
Start each following layer while the previous layer is chilling. For the custard layer, soak the gelatine in cold water. Make up the custard following pack instructions, but using the quantities we've given. When the gelatine is soft, squeeze out excess water, remove the custard from the heat and stir in the gelatine until melted. Lay cling film directly on the surface of the custard to stop a skin forming, then cool. Once room temp, scrape into the tin on top of the set cream layer, as above. Chill again until set.
Make up the raspberry jelly following pack instructions but using 300ml water. Whizz with 150g of the raspberries, then sieve. Cool to room temp, then scatter the remaining raspberries over the set custard layer in the tin. Pour over the raspberry jelly and chill until the jelly is almost set.
Trim the brown edges from the Madeira cake, then cut it lengthways into big slices 1.5-2cm thick. Cover the jelly with sponge, like a puzzle, using as few bits as possible. Push slightly into the jelly to stick, then cover in cling film and chill until completely set, ideally overnight.
To serve, turn the tin upside-down onto your serving plate. Ease the loaf from the tin using the overhanging parchment and gently peel off the cling film, then the parchment. Whip the final 250ml cream with the sifted icing sugar until thick enough to hold its shape. Spoon into a food bag, snip off the corner and pipe onto the top. Scatter with sprinkles, if you like.