Great British Bake Off – Week Six Round-up
The rain was pouring outside the tent this week as the bakers tackled Pastry Week – oh yes, hold on to your hats, we're sounding the 'soggy bottom' alert!
Highlights include Amanda and George trying to teach Noel and Matt a traditional Greek dance, Chigs valiantly trying to help Amanda plate up her pie, Matt helping himself to a little extra bite during some of the judging and the return of the innuendoes, which were out in full force this week. Prepare to commence giggling…
Signature Bake – Decorated Choux Nuts
First, there were doughnuts. Then there was The Cronut. Now there are Choux Nuts. Yes, your favourite deep-fried dessert has been given a puffed pastry upgrade! And the bakers were tasked with making two sets, one filled and one glazed or iced. Chigs was keen to get going, almost starting before Matt had declared 'bake'! Jürgen took a leaf out of Giuseppe's book with his baking stance before producing the purple-y-est custard we've ever seen. Lizzie, not a fan of choux, really wasn't loving this task though – 'even me elbows are sweating!'. And with a risk of the pastry falling flat and scary fryers on the go, we can understand why. Meanwhile, George struggled to open his tongs and Crystelle forgot to set her timer.
Winners: Lizzie and Jürgen
Could do better: Amanda and George
Technical Challenge – Baklava
Why? Why would they ask the bakers to make notoriously tricky filo pastry? FROM SCRATCH?! WHYYyyy? But, alas, of course they were. And it's fair to say no one seemed happy about it. On top of that, they asked for a complicated pattern on top of the baklava, and this proved to much faff for Lizzie (honestly, fair). Whereas this played into Jurgen's precise engineering skills perfectly. Crystelle almost appeared to be dancing whilst kneading her dough. While Chigs seemed to be asking the heavens for a bit of help. Then Lizzie realised she hadn't set her timer… That's two timer-debacles in one episode!
Winners: Chigs took 3rd place, Crystelle was ecstatic to come 2nd and Jurgen was 1st
Could do better: George came in 6th with his slightly clumsy baklava,and in 7th place, thanks to her lack of 'finesse', was Lizzie
Showstopper – Terrine Pies
This. Was. TENSE. The bakers needed to create a decorative pie with a pattern revealed when you cut into it. Sounds simple, eh? Well as long as you create the pie shell quickly enough so that the pastry stays pliable, and you rest your pie for long enough so that it sets. Otherwise it could collapse and leak. Eek! Unfortunately for George and Amanda, their pies went into the oven later that was ideal, leaving little time to cool and meaning they both had issues trying to remove the tins. Crystelle was determined to honour her grandmother with a pie built like Nana Lily's cottage, filled with two delicious Kenyan-inspired curries. A risky move given the sloppiness of curry, but would it pay off?
Winners: Lizzie,Guiseppe and Crystelle – who got a Hollywood Handshake (rare in the Showstopper challenge!)
Could do better: Chigs,Amanda and George
Star Baker = Crystelle 👏
Going Home = Amanda ☹
Next week will be full of sweet treats (and probably tricks) with…Caramel Week!
Feeling inspired to try a bake yourself? Why not try this baklava recipe!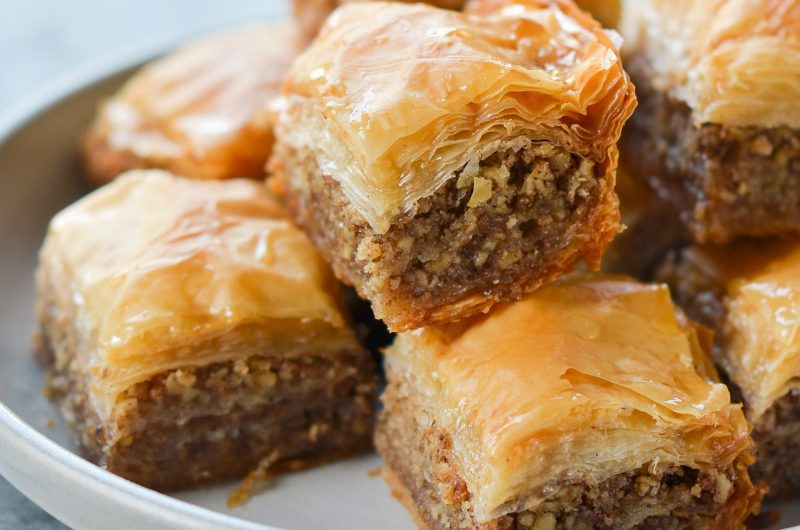 Baklava
Course: Dessert
Difficulty: Intermediate
Cooking time
1
hour
5
minutes
Our version of syrup-soaked baklava is gently spiced with cinnamon and cardamom, and has a blend of pecans, pistachios and walnuts.
Ingredients
200g butter, plus extra for greasing

200g pistachios

50g walnuts

50g pecans

3 tbsp honey

2 x 270g pack filo pastry

For the syrup

250g golden caster sugar

50g honey

2 tsp orange blossom water

½ tsp ground cinnamon

¼ tsp ground cardamom (from 3 pods)
Directions
Heat oven to 180C/160C fan/gas 4 and grease a 21cm x 21cm square cake tin with butter. Chop the nuts into small pieces using a food processor, taking care not to blitz them to a paste. Put them into a bowl, stir in the honey and a pinch of salt and set aside.
Melt the butter in a pan over a low heat. Cut the first pack of filo pastry sheets in half (so that they fit the tin). Put one sheet in the tin and brush with the melted butter. Lay another sheet on top and brush with butter again, keep layering like this until the whole pack is used up.
Spread the honey and nut mixture over the pastry and press it down lightly with the back of a spoon. Open the other pack of filo, cut in half and continue the layering and buttering process. When you reach the last sheet pour any remaining butter over the top to finish. Use a sharp knife to cut deep lines into the pastry to create either squares or diamond shapes then bake in the oven for 20 mins.
Reduce the heat to 150C/130C fan/gas 2 and bake for a further 45 mins. While the baklava cooks put all the syrup ingredients into a saucepan and add 200ml water. Heat gently until the sugar has dissolved then boil the mixture for 8-10 mins or until it has reduced to the consistency of runny honey.
When the baklava comes out of the oven, pour the warm syrup over the top, allowing it to run into the lines you have cut. Leave it to soak in and serve when it's completely cold.