Great British Bake Off – Week Ten Round-up: THE FINAL!
12 bakers. 10 weeks. And it all comes down to these three bakes. Yes, this week it was the final of The Great British Bakeoff!
With our final three bakers having shone so brilliantly in the weeks leading up to this – with each receiving two Hollywood Handshakes and two star bakers – we think it's fair to say this was one of the closest finals in years. Who would triumph?
Highlights included the heart-warming messages from the bakers' friends and families, Noel introducing the bakers to Mr Spatula (who we presume is a cousin of last year's Mr Spoon?), telling them that kissing the spatula would help them win – Crystelle and Chigs refused, but Giuseppe went for it! Would it really bring him luck? – and, of course, the end of show party! This year, once again, it was held with everyone who'd been part of the Bakeoff bubble for the whole series. We too want to say a big well done and thanks to all the crew and staff that make this cake-tastic show happen.
Signature Bake – Carrot Cake
But not just any old carrot cake. Oh no, this is the final after all. These cakes have to be 'exquisitely decorated' (sure) and involve mixing in some complementary flavours to make a carrot cake with a difference. The trickiest part about this task would once again be timing, as if the bakers don't give their cakes long enough to cool before trying to frost them, the traditional cream cheese will simply melt. Which is why Giuseppe immediately put everyone on the edge of their seat with his plan to cook one BIG cake and slice it into layers – therefore taking longer to bake and longer to cool – rather than cook smaller sponge sandwiches and building it up. But with his Italian flavours, complete with fig jam, once again coming into play, his twist the classic cake sounded delicious. For Chigs, however, the biggest challenge of the signature bake was simply that he'd only ever made a carrot cake once before – in practice! And in loading his with 900grams of carrot, that showed. But his delightful teeny tiny baby carrots proved to be fab decorations. Crystelle, meanwhile, needed to use bits of dowel to stop hers from sliding around.
Winners: Ok, look everyone got some positive feedback…
Could do better: …and everyone's bake had a flaw, so we saying it was a three-way tie!
Technical Challenge – Belgian Buns
So, you know how usually a recipe has the method part, laying out all the steps you need to take to create the bake? And you know how the technical is usually… light on those details? Well Paul, in the ultimate act of Bakeoff Technical madness gave the bakers a recipe with NO METHOD AT ALL! It essentially read: 1, Bake buns; 2, decorate buns. I mean talk about testing the contestants! Even Prue said it was unkind. Chigs, still being a bit of a baking newbie looked like a deer in the headlights and struggled with how to form his buns. Giuseppe, meanwhile, wasn't familiar with lemon curd and, despite some top-level oven-watching, left his in a little too long. Crystelle, however, used her experience making cinnamon buns and orange curd as inspiration. Would it help her win her first ever technical? Spoiler alert: Yeeeaaaah!
Winners: Crystelle finished 1st – finally!
Could do better: Giuseppe was in 3rd and last place (but honestly it was all pretty close)
Showstopper – A Mad Hatters Tea Party Display
Going into the final-final challenge, it was all fairly much even-stevens. And tasked with creating a mix of sweet and savoury Alice in Wonderland-themed afternoon tea treats, they worked their little socks off! Cue everyone running around like mad… well, hatters. Crystelle went for a clock made out of focaccia as the centre piece of her display, but the dough, having looked incredibly wet and oil-soaked during preparation, came out basically raw. Would that seal her fate? Meanwhile Chigs paid tribute to Jürgen (WE STILL MISS YOU, JÜRGI-POPS!) using a technique everyone's favourite German teddy bear showed him to make the brioche base of his crème pâtissière-filled mushrooms – would this be the thing that helps him clinch the title? But the biggest stress-inducing moment came when Giuseppe went to put his muffins in the oven, only to find the door had been left slightly open and so it wasn't NOT ON! What a time for the curse of the cold, not-turned-on-oven to strike! Would he have enough time to complete his bakes or would he have to rely on a classic Italian pannacotta to save him? Only time would tell.
Winners: Giuseppe
Could do better: Crystelle  (we're sorry, you were sailing through, but just… raw bread, eep!)
That was that, the final three bakers could do no more, it was simply left to the judges to announce: The winner of The Great British Bakeoff 2021 is…
Giuseppe!
🥳 CONGRATULATIONS 🥳
The Britalian stallion has been one of the most consistently good bakers throughout the series and was well-deserving of the win. Following the Bakeoff, he's planning on creating a cookbook of family recipes in collaboration with his father, who inspired his love of baking to begin with. Ah, nice.
That's it for this year! What a fantastic series it's been. We hope you enjoyed it as much as we have.
Feeling inspired to try a bake yourself? Why not try this carrot cake recipe!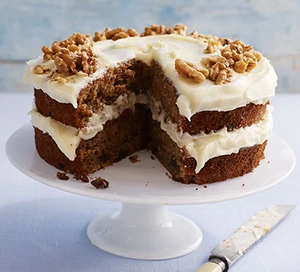 Carrot Cake
Course: Dessert
Difficulty: Easy
Top this classic carrot cake with moreish icing and chopped walnuts or pecans. Serve as a sweet treat with a cup of tea any time of the day.
Ingredients
230ml of vegetable oil, plus extra for the tin

100g natural yoghurt

4 large eggs

1 1/2 tsp vanilla extract

1/2 orange, zested

265g self-raising flour

335g light muscovado sugar

2½ tsp ground cinnamon


¼ fresh nutmeg, finely grated

265g carrots (about 3), grated


100g sultanas or raisins

100g walnuts or pecans, roughly chopped (optional)

For the icing

100g slightly salted butter, softened

300g icing sugar

100g soft cheese

Directions
Heat the oven to 180C/160C fan/gas 4. Oil and line the base and sides of two 20cm cake tins with baking parchment. Whisk the oil, yogurt, eggs, vanilla and zest in a jug. Mix the flour, sugar, cinnamon and nutmeg with a good pinch of salt in a bowl. Squeeze any lumps of sugar through your fingers, shaking the bowl a few times to bring the lumps to the surface.
Add the wet ingredients to the dry, along with the carrots, raisins and half the nuts, if using. Mix well to combine, then divide between the tins.

Bake for 25-30 mins or until a skewer inserted into the centre of the cake comes out clean. If any wet mixture clings to the skewer, return to the oven for 5 mins, then check again. Leave to cool in the tins.
To make the icing, beat the butter and sugar together until smooth. Add half the soft cheese and beat again, then add the rest (adding it bit by bit prevents the icing from splitting). Remove the cakes from the tins and sandwich together with half the icing. Top with the remaining icing and scatter with the remaining walnuts. Will keep in the fridge for up to five days. Best eaten at room temperature.