Great British Bake Off – Week Three Round-up
This week's Bake Off once again mixed giggles with grimaces as Week Three = Bread Week. That meant lord of the loaf Paul Hollywood was the main man setting the challenges.
Highlights included Prue Leith nearly kissing a breadstick whilst enjoying its scent, Matt Lucas (jokingly) declaring the technical a 'waste of time' and contestant Freya arm-wrestling with Noel Fielding – who was sporting a delightful Where's Wally-esque jumper. Meanwhile, we got some top oven-watching moments as the bakers anxiously waited to see how their bread was baking.
The question was: Who would prove themselves this week?
Signature Bake – Focaccia Bread
This should have been a win for Guiseppe, being a traditional Italian bread – and he went to town with olives and olive oil shipped from his family back in Italy. George, however, had some issues when his dough wasn't wet enough, and after a 'look' from Paul Hollywood, decided to start again.
Winners: George (he rescued it!), Crystelle, Lizzie and Guiseppe – who got the series' first Hollywood Handshake, with the judge asking for the recipe
Could do better: Amanda, Chigs and Jurgen
Technical Challenge – Olive and Cheese Ciabatta Breadsticks
Paul was typically reticent in his advice, and, as is often the case, many of the bakers hadn't made ciabatta breadsticks before. Several of them initially struggled with the stickiness of dough, with Lizzie likening it to 'troll bogies'. And once again, Guiseppe felt the pressure of another Italian bake – although George, with his Cypriot background, was equally up against it, as the bakers needed to make Tzatziki to accompany their breadsticks.
Winners: Lizzie came 2nd – a prospect which left her delightfully shocked – and Guiseppe's Italian heritage helped him storm it again as he landed a coveted technical 1st place (and whilst George came in 7th, they did rate his Tzatziki!)
Could do better: Raw bakes resulted in Crystelle coming 9th, having failed to give her breadsticks long enough in the oven, and Rochica coming 10th, after she realised part way through her bake that her oven wasn't hot enough
Showstopper – A Themed Milk Bread Display
A soft, enriched-dough bake, Milk Bread may be a bit old-fashioned, but that didn't stop the bakers from planning an incredible array of displays – many of which were sea-themed. Then there was Jurgen's bread baby, which was… yeah, a bit odd. But our favourite concepts were Lizzie's porky banquet and George's super cute koala.
Winners: Crystelle, Guiseppe, Amanda and Freya
Could do better: Maggie and Rochica
Star Baker = Guiseppe – congrats to the Italian Stallion!
Going Home = Rochica ☹
Next week the proof will be in the pudding with…Dessert Week!
Feeling inspired to try a bake yourself? Why not try this fab Focaccia recipe!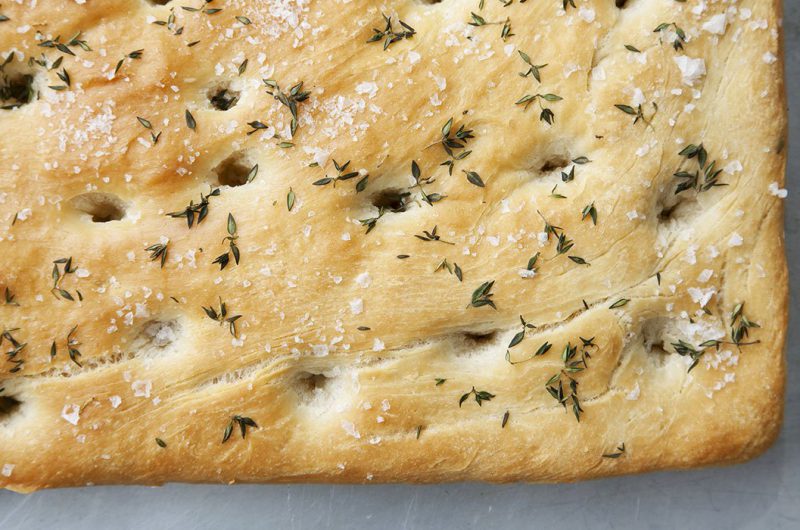 Focaccia
Course: Side dish
Cuisine: Italian
Difficulty: Easy
Make a simple, homemade version of this classic Italian bread. Serve our rosemary focaccia alongside pasta dishes or enjoy with green salads
Ingredients
500g strong bread flour , plus extra for dusting

7g dried fast action yeast

2 tsp fine sea salt

5 tbsp olive oil , plus extra for the tin and to serve

1 tsp flaky sea salt

¼ small bunch of rosemary , sprigs picked
Directions
Tip the flour into a large mixing bowl. Mix the yeast into one side of the flour, and the fine salt into the other side. Then mix everything together, this initial seperation prevents the salt from killing the yeast.
Make a well in the middle of the flour and add 2 tbsp oil and 350-400ml lukewarm water, adding it gradually until you have a slightly sticky dough (you may not need all the water). Sprinkle the work surface with flour and tip the dough onto it, scraping around the sides of the bowl. Knead for 5-10 mins until your dough is soft and less sticky. Put the dough into a clean bowl, cover with a tea towel and leave to prove for 1 hr until doubled in size.
Oil a rectangle, shallow tin (25 x 35cm). Tip the dough onto the work surface, then stretch it to fill the tin. Cover with a tea towel and leave to prove for another 35-45 mins.
Heat the oven to 220C/200C fan/gas 7. Press your fingers into the dough to make dimples. Mix together 1½ tbsp olive oil, 1 tbsp water and the flaky salt and drizzle over the bread. Push sprigs of rosemary into the dimples in the dough.
Bake for 20 mins until golden. Whilst the bread is still hot, drizzle over 1-2 tbsp olive oil. Cut into squares and serve warm or cold with extra olive oil, if you like.