House decoration ideas on a budget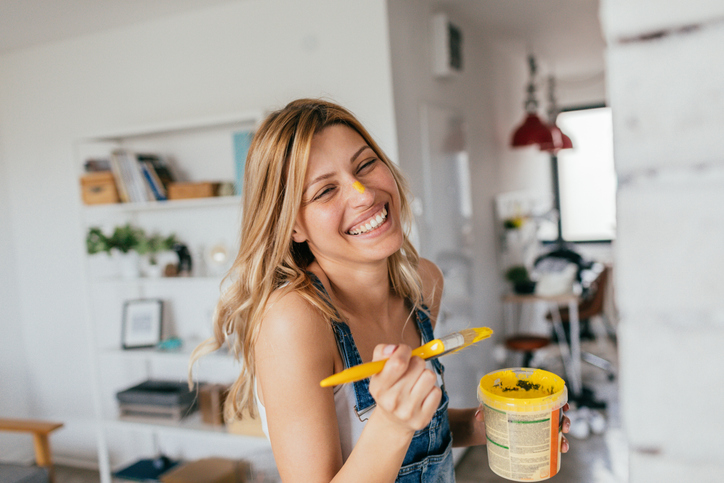 We're giving away an amazing home makeover as part of Mecca Dream Come True. You can win entries to weekly prize draws where we've got money can't buy prizes from celebrity styling to TV soap experiences. But if you aren't lucky enough to win a home makeover on Friday night, we've got a handful of top tips that can help to transform your home.
Declutter
Look around your living room. Are there things on the shelves that have been there for years? Decluttering is a great way to make your space feel fresh. If you've got lots of photos that you want to display, buy a large multi-photo frame to hang on the wall. This will help you clear some space if you have lots of frames. Any ornaments or trinkets that have sentimental value can be kept in a pretty memory box.
Change your cushions, curtains and throws
Changing the soft furnishings in your home is a cheaper way to create a new look for your home without completely redecorating. Pick a colour that goes well with your sofa or carpet and get curtains, cushions and throws in the same colour or complimentary shade.
Choose your lighting carefully
The way a room is lit has a huge impact on how it feels. Bright white lights can make a space feel cold and clinical, so choose some nice lamps with warm bulbs to create a cosy atmosphere. With the longer nights drawing in, there's nothing better than snuggling on the sofa with a fluffy throw, a hot cuppa and playing bingo in the lamp light!
Use mirrors to make a room seem bigger
Mirrors make rooms look bigger and brighter by reflecting light. The bigger the mirror, the bigger the space will feel. Even on small walls, hang the biggest mirror that the space will allow, and you'll be surprised by the results.
Try a designer paint effect
Wallpaper can be expensive and a bit of a pain to hang if you haven't done it before. Create that designer décor feeling for a fraction of the price with some painter's tape and tester pots of paint in 3 – 4 colours. Use the painter's tape to create geometric shapes on the walls then paint the sections in the colours you've chosen. You can even add a metallic paint in smaller sections for some real wow factor home decoration!
Upcycle your furniture
Got some dated wooden furniture? Bring it up to date with a coat of chalk paint. Chalk paint gives a brilliant shabby chic finish and sticks to almost any wooden furniture without the need for sanding and hours of prep. Just slap it on and sand down any drips once its dry! You can go a step further by changing the knobs on the drawers and cupboards. Most DIY and home decoration shops sell a great selection that you can just screw in to existing holes.
Create artwork
If the front of your fridge is adorned with masterpieces, why not frame some of them and create a family art wall? Grab some inexpensive frames in different sizes and create a collage on the wall. This will add a pop of colour and help to declutter your kitchen.
Put down some new vinyl
You can totally transform your kitchen or bathroom on a budget with some funky flooring. Rolls of vinyl can cost under £40 from shops like B&M, and you can easily fit out a small space with just one roll. With a huge selection of monochrome patterns, mosaic tiles and geometric shapes your imagination is the only limit!
Claire Sweeney's Top Tip
Move your furniture around and give it a different space.
Don't be afraid to mix things up and make changes to your room's layout. Moving the position and placement of your furniture can have a huge impact on a room.
Just by simply moving your sofa or the angle of your coffee table, you can give to your living room a completely different vibe and use the space in a totally new way. Plus, it's free and takes very little effort to revamp your room!
We hope we've given you some house decoration inspiration! If you're looking for more tips on how to make your house beautiful, check out our spring cleaning hacks.
If you've got entries for the Mecca Dream Come True prize draw – we wish you the best of luck. If not, head over to Meccabingo.com where you can spin for free to win a host of prizes including bonuses, free spins and of course money-can't-buy prize draw entries.