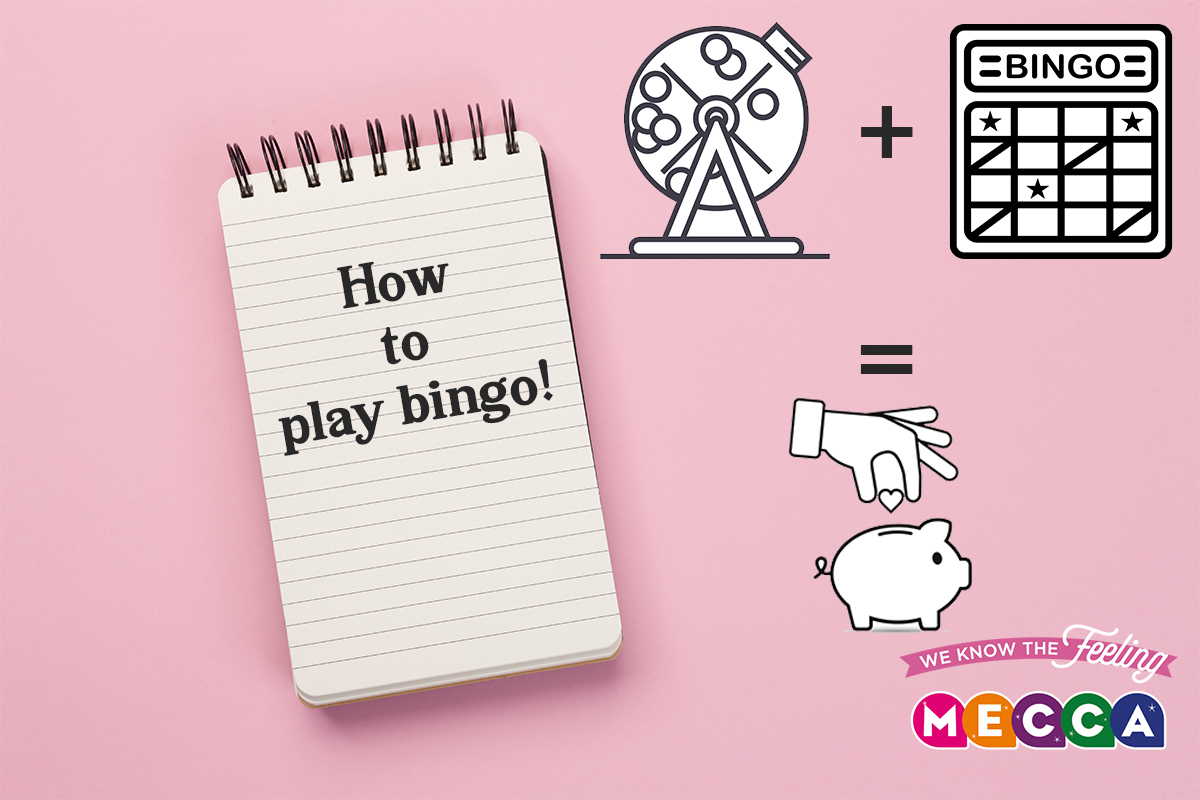 Bingo dates back as far as the 1500's where there are examples of a game called 'beano' which saw players mark off numbers on their cards against those drawn from a sack.
While technology has moved on just a little bit since then, the principle of the game is largely the same. In bingo, you cross off the numbers on your cards – or tickets – as they are called out.
If you're new to the game and want to learn how to play bingo, read on! If you've read enough and want to get started – go play bingo now!
How does bingo work? 
Bingo is played by crossing off the numbers you have on your tickets when they are called out. The aim of the game is to cross off all your numbers before anyone else. The type of bingo game you are playing decides how many numbers are on your ticket.
The numbers on your ticket will correspond with the possible numbers than can be drawn by the bingo caller. The numbers used to be printed onto balls – which is why bingo games are described as 90 ball, 75 ball etc. However, many bingo games in clubs – and all bingo games online – are now electronic.
There can be several opportunities to win in a bingo game, with prizes given for one line completed up to a full house – which means your whole ticket has been covered.
Bingo rules 
The rules of bingo are fairly simple whether you are playing bingo online or playing bingo in a club. First of all, you will need to buy your tickets. Our online bingo tickets cost from as little as 1p and are available before the start of the game in the bingo lobby
The game will start when the first number is announced. If this is on your ticket(s), cross it off. If you are playing online, our clever system will mark the numbers off for you. However, if you're playing in club for the first time – pay attention! The pace can take a bit of getting used to, but it's all part of the fun and gets your adrenaline pumping.
Numbers will continue to be called until someone has crossed off all the numbers they need to get the first prize, often by completing one line. If there are further prizes to be won, these will be announced and the numbers will continue to be called until 2 lines and full house has been found – the latter is where all the numbers on a ticket have been crossed off.
Different types of Bingo 
There are many different types of bingo. The main differences are the amount of numbers on each ticket and the amount of numbers than can be called.
90 ball bingo
There are 15 numbers on each 90 ball bingo ticket. The numbers are arranged in a 9 x 3 grid. Numbers 1 – 9 can be found on the first column, numbers 10 – 19 are found on the second column and so on, with numbers 81 – 90 appearing in the fifth column.
Numbers 1 – 90 will be called at random and there are three opportunities to win in 90 ball bingo:
1 line win
Players try to cover off a complete horizontal line on their card.
2 lines win
Players go for two horizontal lines. These don't have to be on the same tickets where 1 line was crossed off, but they have to be on the same ticket as each other.
Full house win
Players aim to mark off all the numbers on their ticket.
Mecca's online 90 ball bingo rooms include Clickety Click, and Legs Eleven.
75 Ball Bingo
Just like in 90 ball bingo, players cross off the numbers on their ticket(s) as they are called. Each 75 ball bingo ticket has five horizontal lines and five columns. Each column is headed by a letter spelling BINGO.
The 'B' column has numbers 1 -15, the 'I' column has numbers 16 -30 and so on. There is a space right in the centre of the card that is free. This has no number on it and is counted as already being covered.
There are a number of ways to win 75 ball bingo, including line wins as in 90 ball bingo and patterns:
Coverall
Players try to cover all 24 numbers on their card.
Line wins
Players can win by covering a complete horizontal, vertical or diagonal line.
Bingo pattern wins
Pattern bingo is often played in 75 ball games. A pattern or shape will be declared at the start of the game and players are aiming to cover their numbers to make this pattern on the card. There are lots of different pattern wins available including crosses, chevrons and diamonds.
Our exciting 75 ball online bingo rooms include Deal or No Deal, Jump & Jive and Sunset Strip.
80 Ball Bingo
A relative newcomer to the bingo block, 80 ball games are played with a ticket that has 16 numbers arranged into a 4×4 grid. Each column is a different colour and there are many ways to win:
Line wins
Players can win by marking off horizontal, vertical and diagonal lines.
Pattern wins
Players can also win by making patterns, like in 75 ball bingo. You'll find out which patterns you need to make before the game starts.
Special bingo games
At Mecca, we have some unique and rather special variants of online bingo. Instead of using traditional bingo cards, you can cross off emojis in Emoji Bingo, pop balloons in Burst Bingo and mark off the numbers on your four-leaf clovers in Rainbow Riches bingo. While the games look different, the rules are essentially the same – you just need to cross off what you have against what has been called.
Playing in Bingo Halls Vs Online Bingo
Playing bingo online and playing bingo in a bingo hall or club is very similar. The main difference is that you don't need books of bingo tickets when you play online and you don't have to dab all your own numbers.
Many of our members preferring playing online bingo as it offers the same excitement of bingo in a club, but you can do it anytime, anywhere. Games at MeccaBingo.com play round the clock so if you work night shifts or are an early riser – you'll always be able get into a great game of online bingo!
How to play online bingo
Playing online bingo is really simple as the hardest part – keeping up with the bingo calls – is done for you!
First of all, you need to be signed in to MeccaBingo.com and have a cash balance or bingo bonus funds to spend. If you don't have an account yet, click the 'Join Us' button and follow the instructions.
Pick a bingo room
Enter the bingo lobby by clicking the 'Play bingo now' button or select which room you want to go to from the bingo tab.
In the bingo lobby, you will see how much tickets are for each game, what the prizes on offer are and when the next game starts.
Decide how many tickets to play in each game 
Click the game that you want to play and select how many tickets you would like to buy. The more tickets you have, the more chances you'll have to win.
Don't worry about keeping up with the numbers, they will be marked off automatically on all of your tickets.
You will be notified if you have won a prize and any cash winnings will be credited to your balance immediately.
When the game has finished and all winners have been found, you will have the chance to buy more tickets for the next round.
 Check the bingo schedule 
Ready to play? Let's go! Check the bingo schedule and grab your tickets for the next bingo game!