How to register with Mecca Bingo: Step-by-step guide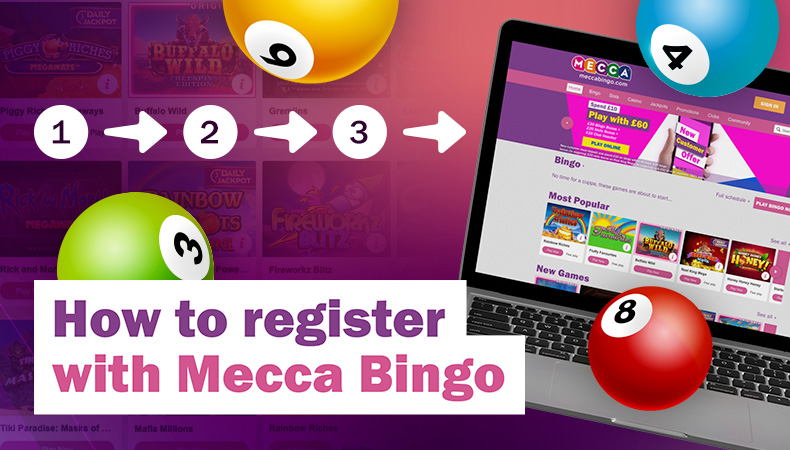 Heard about Mecca Bingo and ready to get cracking with playing some of your fave online games? Signing up online for an account couldn't be easier. All you have to do is follow the steps below, and Bob's your uncle! Get ready for some Mecca fun!
Step 1: First of all, visit the Mecca Bingo homepage and click on the green 'Sign up' button in the top right hand corner.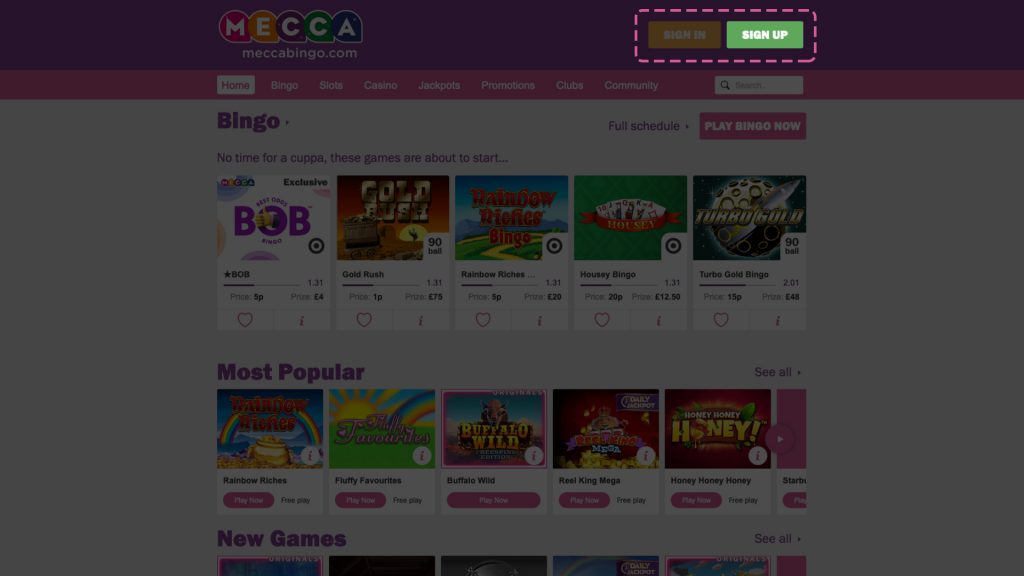 Step 2: Select 'No, I'm a new customer' before clicking on the pink 'Next' button to continue with your registration.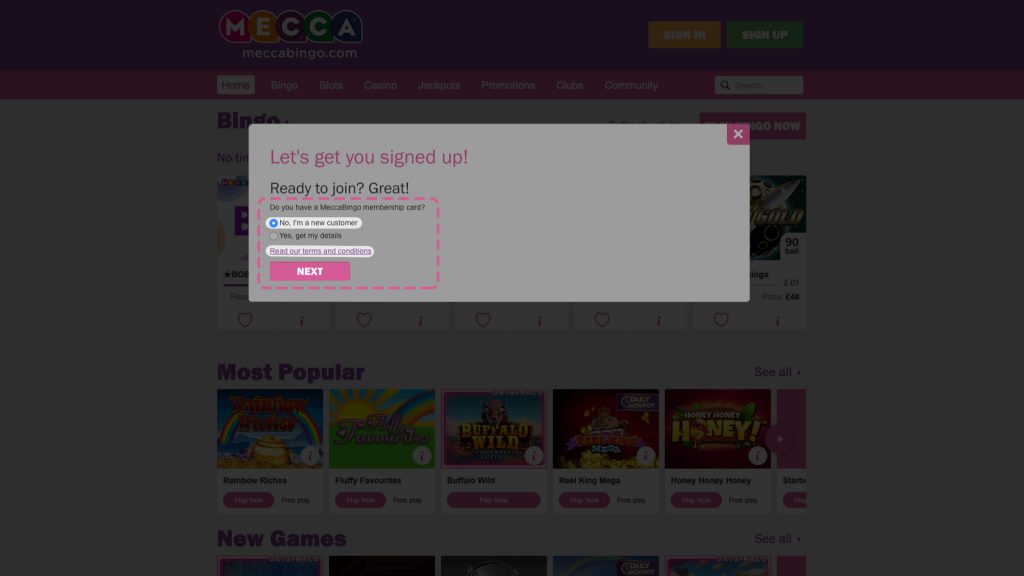 Step 3: A form will appear for you to fill in. Simply enter your email address, name, date of birth, address details and telephone number. Then create a username and password, and choose your marketing preferences by selecting the appropriate boxes.
Tick the box that asks you to confirm you're over 18 years old and then hit the green 'Register' button.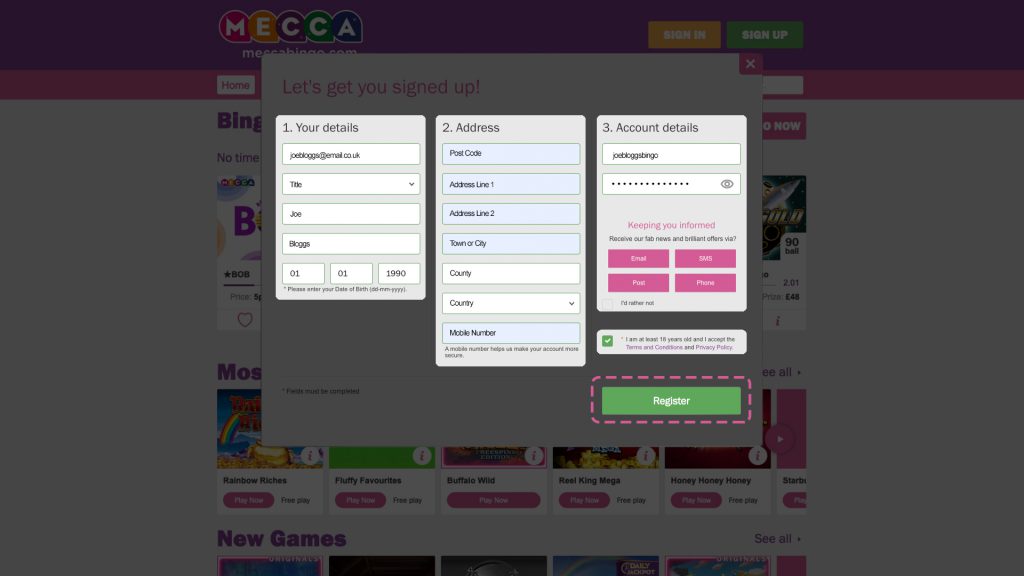 Step 4: Pause for a quick sip of tea (and a biscuit or 3) while the system gets you set up!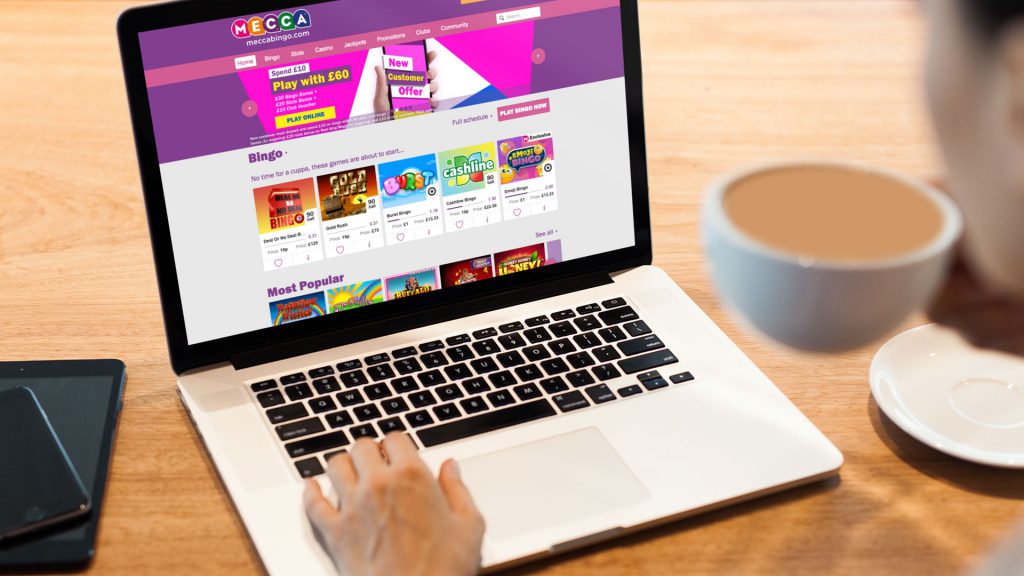 Step 5: We need to verify all accounts in the next step, but it doesn't take long. The vast majority of these get automatically verified but on occasions, it may be required to upload documents. If you're not sure what to do simply click on the "Live Help" button and one of our friendly team members will pop up to give a helping hand.
Step 6: Attach scans or photos of your personal ID (driving licence, passport or birth certificate) and proof of address, as outlined in the screenshot, below. Attach these files and then click the pink 'Upload documents' button.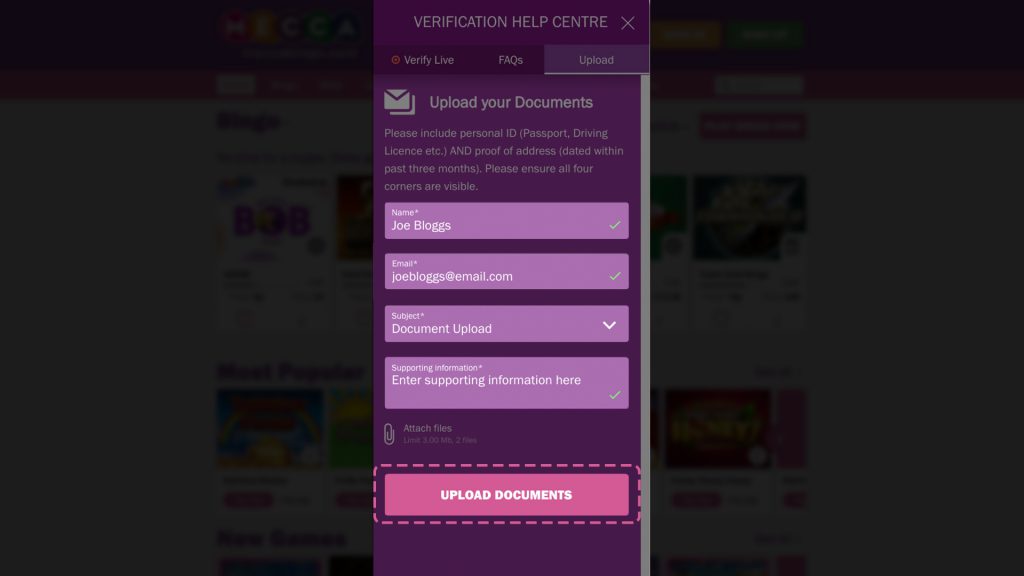 Step 7: Once you've uploaded your verification documents, you'll receive an email asking you for confirmation of your identity. Follow the 'verify me' link and once that's all approved, it's job done. Account created. Welcome to our world!
Step 8: You can choose to deposit funds if you wish, but this is not essential. You are welcome to create an account without depositing so you can have a good look around our amazing platform. We even have plenty of free games that you can play. If you do wish to deposit funds however, make sure you are signed in (top right-hand corner), click on the pink piggy bank icon called 'Deposit'.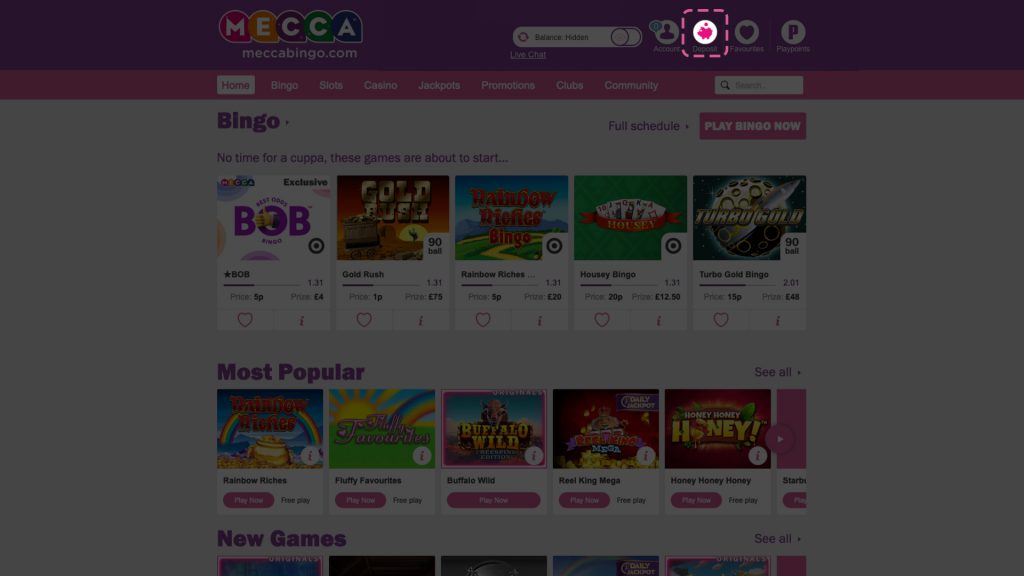 Don't forget, If you'd like to know more about our approach to responsible play online, there's loads of great stuff to read and watch over at Keep it Fun – our dedicated website packed full of resources and info to help you. Or, you can go to your account preferences, then click the 'Responsible Gaming' tab to get more info, set your limits, take a break and more – it's all there. You can also find out more information about this on our blog.
Step 9: You'll be taken to the 'Deposit' section, where you can choose one of 3 ways to add funds to your account (card, PayPal or Visa Checkout). Fill in your details, select or enter the amount you wish to deposit and click the pink 'Deposit' button to continue. See the screenshot, below, to demonstrate.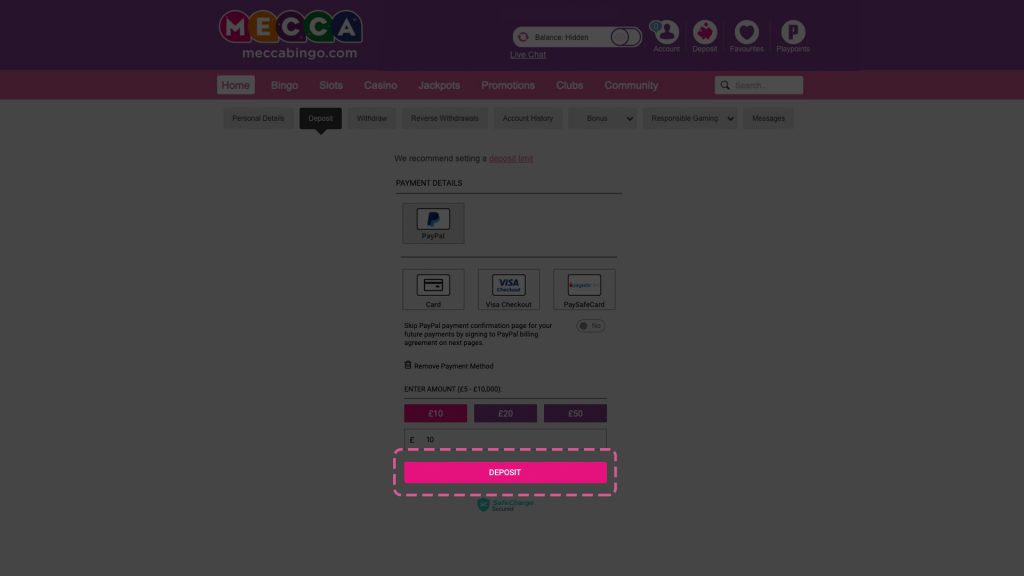 Step 10: Once you've deposited, you'll see this 'success' window appear and you can 'Close' the window.
You're now ready to get playing! Mecca Bingo has a super range of scratch cards and slots, to suit every budget and taste. It's entertainment at its best, with options to upgrade to our Rewards membership scheme, attend live events and enter competitions galore. We can't wait to see what you think!
We're here to help you keep it fun – remember to set your deposit limit. Click here for more details on the safer gambling tools available including reality checks and the ability to take a break from your gaming.
Share your thoughts
What most excites you about Mecca Bingo? Tell us in the comments section, below!