Want to say #BallsTo2020 with FREE bingo online? Here's how!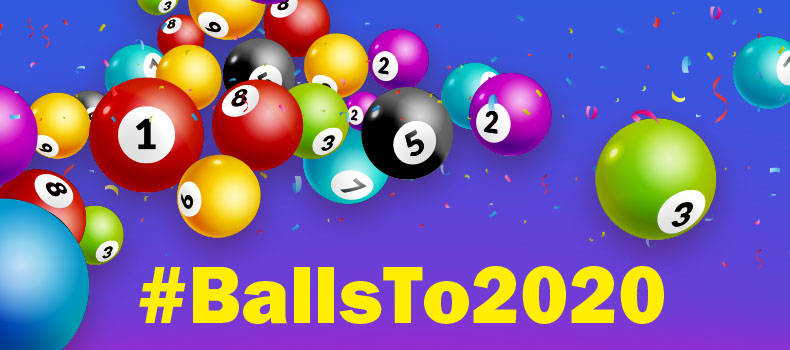 Ah, 2020. I think we can all agree that this year hasn't quite turned out the way we all thought it would, right? A bit of a balls up of a year, you might say. That's why we're here to combat some of the lockdown blues with FREE bingo! Yep, you read that right. We're grabbing life by the (bingo) balls, saying balls to 2020 and offering you lovely lot £2020 in cash every single day this month for absolutely nothing.
So, whether you're a regular on meccabingo.com and want to find out exactly how to claim your free bingo or whether you've only just arrived (welcome!) and need a step by step guide, then you've come to the right place. Get ready to keep your eye on the ball… the bingo ball.
How do I sign up to meccabingo.com?
We're so excited for you to join the Mecca family and signing up to us couldn't be easier.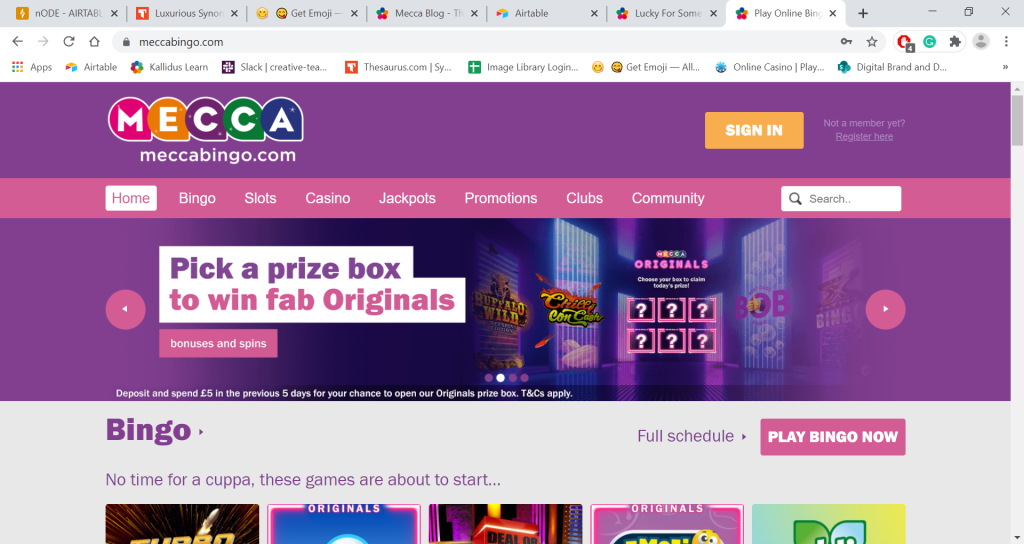 See that big orange 'Sign In' button? Well, head next to that and click on the 'Register here' button to get started.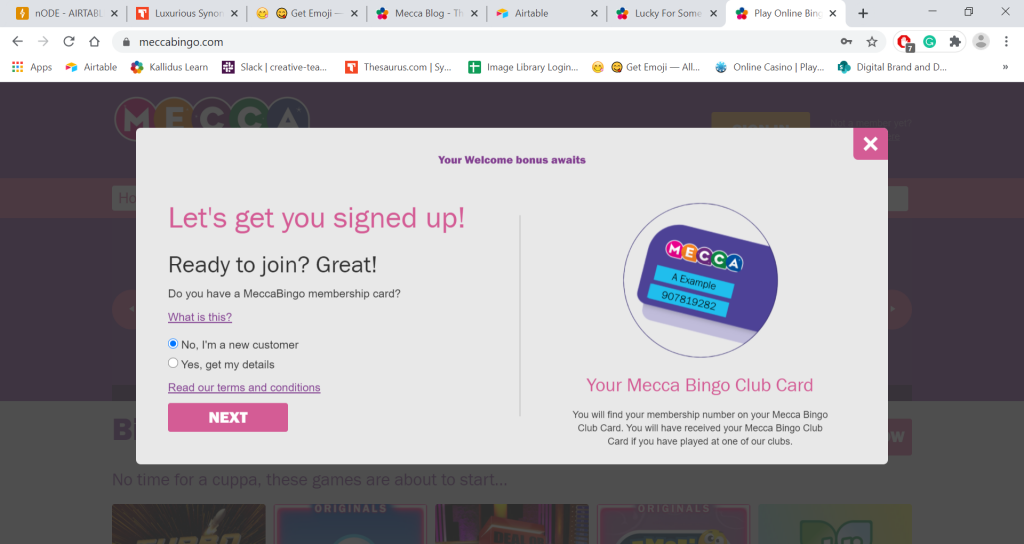 If you're brand spanking new, then make sure the top part is selected, or if you've already played at one of our clubs and have a membership card, then you select the bottom option, enter in your membership card details and your date of birth then we'll find the rest of the information for you.
For new joiners, you'll see something like this: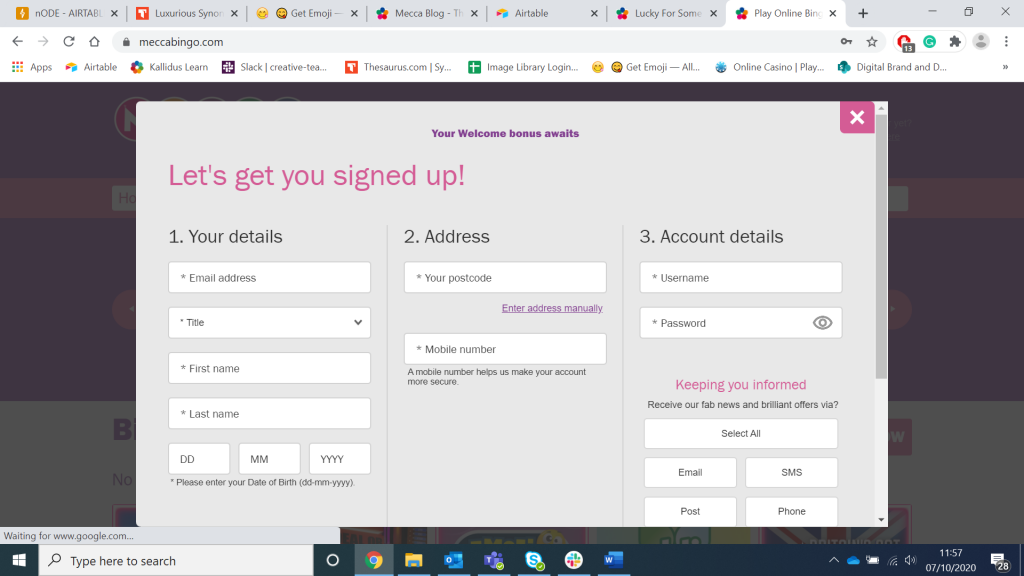 Just type in the details or information it asks for and you're good to go. It should only take a few minutes, so pop the kettle on before you start, and it will be ready to pour by the time you're done.
The best part is, as an extra warm welcome (we mean, aside from the free bingo) we're also offering you a whopping £60 in bonuses to use on bingo, slots and in-club when you deposit your first £10 – if you so choose. If you're just here for the free bingo, then that's cool too.
How do I find the bonus section of the bingo lobby?
Occasionally, you might receive, find or claim a bonus code with some money to put towards your bingo games. Once you have the code, whether it was through an email, social media, on our website or by paper plane (just kidding) then head to the bingo lobby and click the 'Bonus Code' icon at the top of the screen. It looks a bit like a barcode, as shown here.

Once you've clicked that, you'll get a screen like this: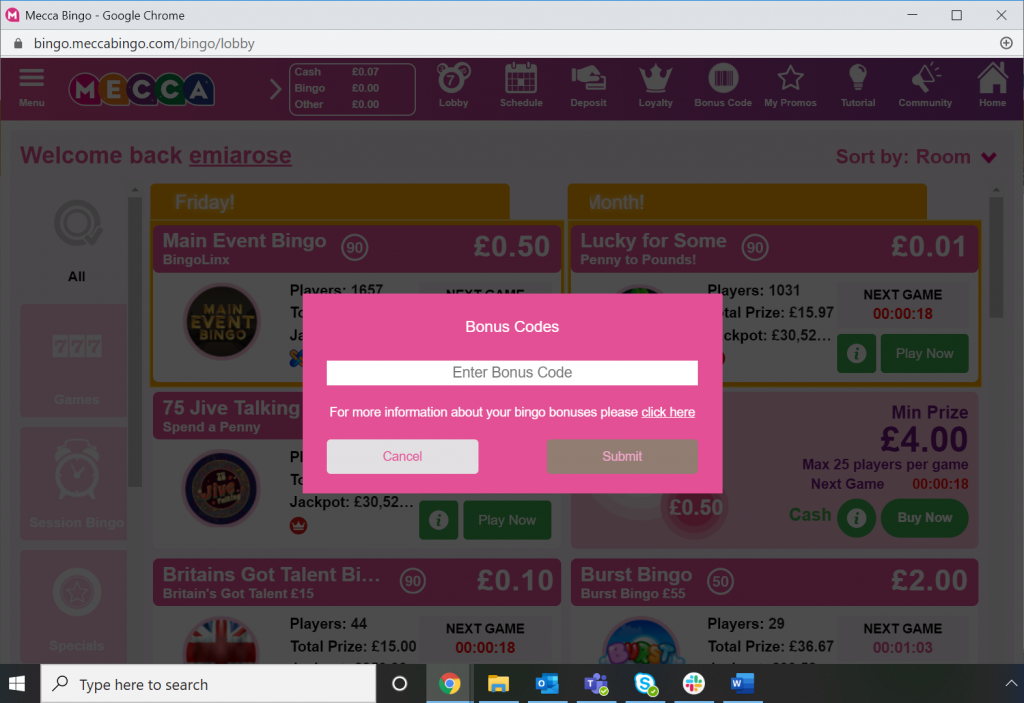 Just pop the code (it's usually one word) into where it says, 'Enter Bonus Code', click submit and you're good to go! Easy peasy.
What and where is the free bingo room?
We know this is the one you've been waiting for. All of our free bingo sessions will be taking place from 7am until 11pm every day in the Lucky for Some room. It should be at the top of your bingo lobby as shown below, or you can find it from the homepage by typing the bingo room name into the search bar and pressing 'Join Me'.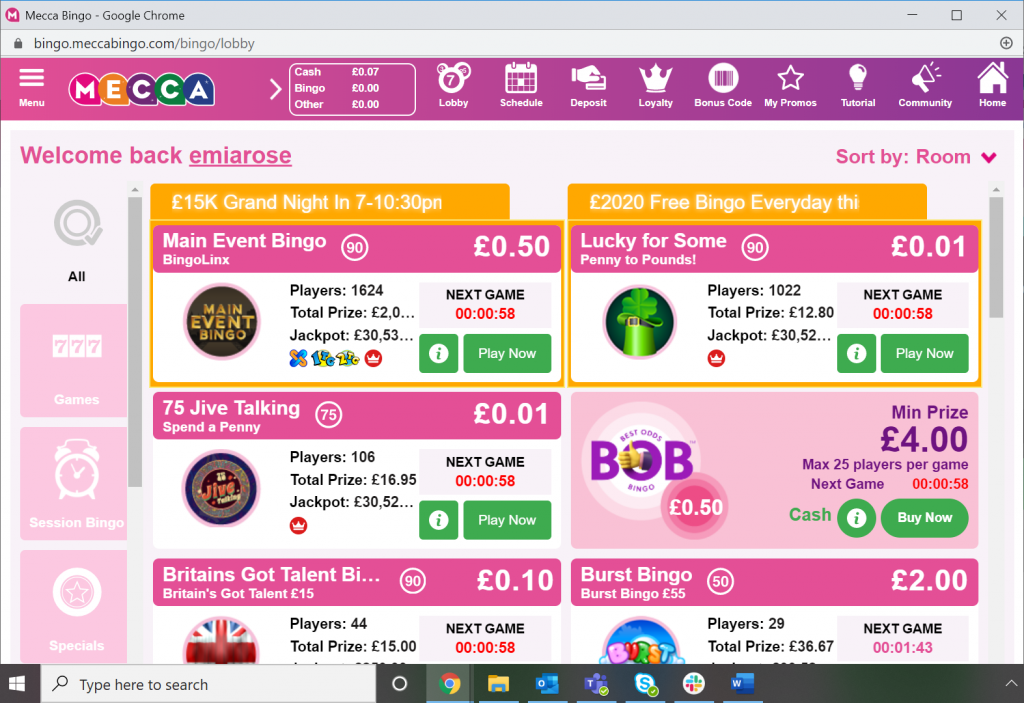 We hope you have an absolute BALL with your free bingo. Just think, you could be one of our 17,000 free bingo winners this month, and only a few minutes ago you we're wondering if we were really giving out bingo for absolutely nothing! Oh, and why not invite your friends to like us on Facebook? It's totally free and means more people to have a natter with whilst you're waiting for your numbers to roll in.