How To Survive MeccaFest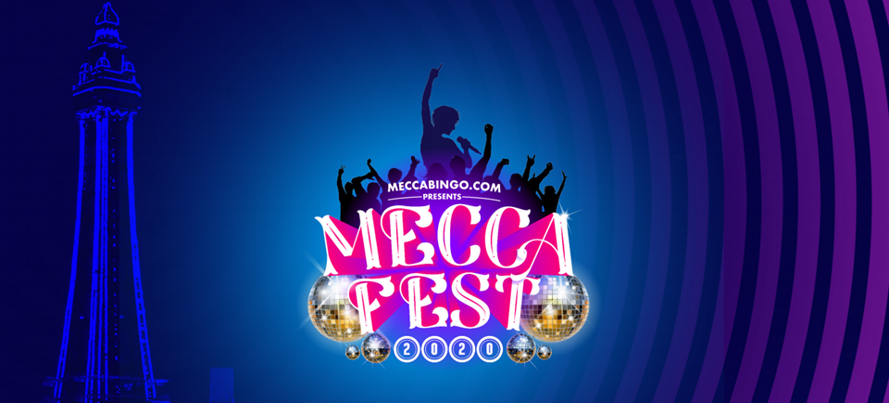 How to survive Mecca Fest – the most exciting bingo party of your life!
On Saturday 30th May 2020, Mecca Fest opens its doors for the first time. This incredible night will be packed with celebrities, dancing, the chance to win a share of £100,000 and much, much more.
Doors open at 5pm and chucking out time is sometime after midnight, so you're going to need to pace yourself. Here are our top tips for making sure that you enjoy every second of this incredible evening.
Practice your selfie smile
Along with our sensational performers, Joe Swash and a selection of famous faces from the telly will be hanging out on the night. It's going to be selfie central, so make sure you've perfected that pout! There'll even be the chance to win 'meet and greet' experiences – keep your eyes on our social channels and meccabingo.com for more info.
Handbag essentials
While there will be loads of chances to win on the night, you'll want a bit of money to spend and the bar so make sure to bring your purse or wallet. With all the singing and dancing you're going to be doing, you'll probably need to reapply your lippy, so chuck that in as well. If you've got a lucky dabber, bring that along too. There'll be some huge bingo games playing with physical cards and extra-special ball-callers. Put some plasters in just in case your dancing shoes rub. There's nothing worse than having to sit one out because your feet are sore.
Stay hydrated
Drink plenty of water during the day and don't forget to grab a few soft drinks throughout the night. Dancing, chatting and screaming with joy is thirsty work. We don't want any sore heads on Sunday!
Eat all of the carbs
Partying hard is just like marathon running. Sort of…. Anyway, while there will be some yummy food available on the night, make sure to have a hearty breakfast and a good lunch. You don't want to end up passing out in front of Kelvin Fletcher because you've only had a packet of crisps and a white wine spritzer all day.
Wear comfy shoes or pack a spare pair
Did we mention there will be dancing?! From Sister Sledge's 'We are family' to Peter Andre's 'Mysterious Girl', you're going to smash your step count. With Scott Mills hitting the decks to end the night, you'll have been on your feet for a good while, so make sure you've got a comfy pair of shoes on or at least bring a pair to change in to.
Suitcase checklist
All Mecca Fest tickets include an overnight stay – so here's a handy checklist to use while you pack your bag:
✔ Party outfit
✔ Party shoes and comfy shoes
✔ Going out jewellery
✔ Toothbrush
✔ Toothpaste
✔ Glitter
✔ Underwear and socks
✔ Shampoo
✔ Conditioner
✔ Shower gel
✔ Backup glitter
✔ Deodorant
✔ Hairbrush
✔ Hairdryer and straighteners / curling tongs
✔ Makeup and brushes
✔ Hairspray
✔ Second back-up glitter
✔ Makeup remover
✔ Pyjamas
✔ Paracetamol
✔ Plasters
✔ Outfit for travelling back in
✔ Phone charger
What are you most looking forward to? Tell us in the comments below or on our social media channels.