Incredible Store Cupboard Recipes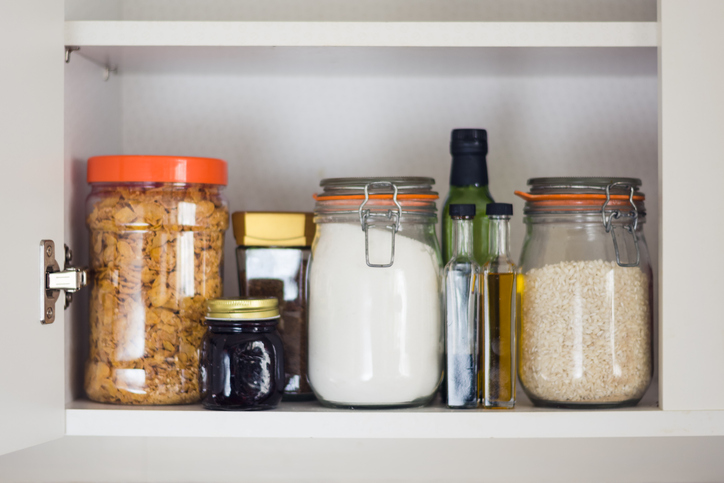 We've all been there – you need to head to the shops but can't be bothered/ it's too late/ it's a Sunday and everything's closed/ other very important reasons for not going out. And before you know it, it's dinner time and a gaggle of hungry children and an increasingly hangry spouse are all looking in your direction for nurturance and nourishment.
Well, don't panic! Because we've come up with some utterly delicious recipes you can put together using only the most common cupboard staples.
For more invaluable information on feeding the hungry household masses at a moment's notice, read on.
1). Tuna Pasta Bake
Difficulty: Easy Peasy
Arguably the easiest and most satisfying-for-your-belly recipe in our list. Tuna pasta bake is a staple dish that can be thrown together with minimal time and effort required. And if you don't already have these ingredients in your cupboards, then we'd suggested adding them to your next weekly shop, just as a favour to your future self!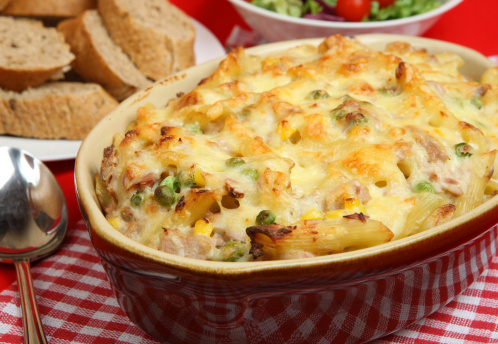 Ingredients:
500g rigatoni (or basically any kind of pasta)
2 x 400g cans chopped tomatoes
300ml double cream
280g of sundried tomatoes, drained and chopped
198g can of sweetcorn, drained
3 x 120g cans of tuna, drained
Cheddar, parmesan or whatever you've got to grate!
Method:
To get started, heat your hob on its highest setting and put a large saucepan of salted water on to boil. Throw in your pasta and cook for about a minute less than recommended on the packet.
While that takes care of itself, start putting your sauce together. Simmer the tinned tomatoes in a pan with some seasoning for about 5 minutes. Then pour in the cream, give it a stir and simmer on a mid-heat for another 5ish minutes.
Once you're happy with the bite on your pasta, drain the water – but reserve a small amount for your sauce. Done? Now pour your creamy tomato sauce over your pasta. Then throw in the sundried toms if you've got 'em, tuna and sweetcorn and give it a quick mix.
Then, just grab a large baking dish and evenly distribute the delicious pasta mix. Spread whatever cheese you've got in the fridge over the top and grill it for about 5 minutes, or until the cheese is golden and bubbling.
Quick, easy, delicious. We love it and think you will too!
2). Spaghetti Puttanesca
Difficulty: Standard skills
This is a dish that really ticks all the boxes for us! It's pasta-based – there's a slight theme starting here – it's delicious and it's great if you're on a budget or low on stock in your cupboards. Give this classic Italian dish a go. Here's everything you'll need: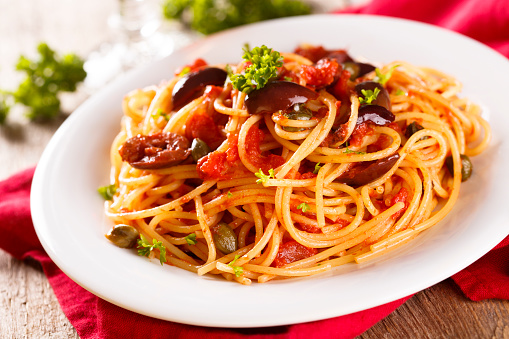 Ingredients:
3 tbsp olive oil
1 diced onion
2 large garlic cloves, crushed
400g can chopped tomatoes
5 anchovy fillets, chopped
120g pitted black olives
2 tbsp capers
300g spaghetti
Small pinch of parsley chopped
Method:
To kick things off, start to heat your oil in a decent-size pan over a medium heat. Whack in your diced onion along with a generous pinch of salt and cook off for 10 minutes until they're nice and soft. Add in the garlic, maybe some chilli flakes in you're feeling fiery, and cook for a further minute.
This might be the most gratifying part of the process – it's guaranteed to make your kitchen smell sensational! Stir in the tomatoes, anchovies, olives and capers with the onion, then bring it all to a gentle simmer and cook for about 15 minutes. Remember to add a little seasoning to your own taste.
While you crack on with all that, bring a large pan of salted water to the boil and throw in your spaghetti. Once it's cooked to your own preference on the al dente scale, drain and toss with the sauce and parsley.
And bada bing! You're ready to serve. This is a real family favourite which can be ready in no time at all. Want our advice? Don't skimp out on some parmesan to top it all off!
3). Beef & Broccoli Noodles
Difficulty: Easy Peasy
This might be the ultimate mid-week meal! It's quick, easy and can be made with some basic cupboard essentials. It really ticks all the boxes and could well become a regular favourite in your weekly dinner plans. Check out this awesome Asian-inspired dish: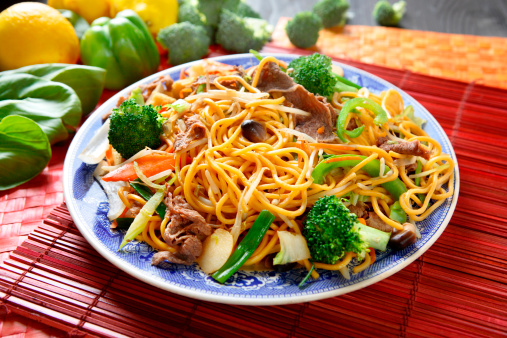 Ingredients:
Egg noodles
1 head broccoli, cut into florets
1 tbsp sesame oil
400g beef cut into strips
Chopped spring onion
For the sauce:
3 tbsp soy sauce
2 tbsp oyster sauce
1 tbsp tomato ketchup
2 garlic cloves
1 thumb-sized knob ginger, peeled and finely grated
1 tbsp white wine vinegar
Method
To say this is an easy dish might actually be an overstatement! We almost added a new difficulty to our 'Mecca meals levels of difficulty' – you could do this one blindfolded! (But obviously we'd advise you don't). It will smell good and look amazing – like a dish way more complicated than it actually is!

First up is your sauce. In a small bowl, mix together all the ingredients listed above. Easy peasy!
Then, boil your noodles. No need to get fancy, just follow the instructions on the packet. About a minute before you think they'll be ready, tip in your little broccoli florets.
To finish up, heat the oil in a wok or large pan on a high heat. Then stir-fry the beef for 2-3 minutes until it's well browned and smelling good. Tip in your sauce, give it a little mix together and let it simmer for a couple of minutes. Then turn off the heat.
Drain your noodles and then throw them in with your beef and sauce. Make sure all the noodles get a fair scattering of sauce and other goodness in the pan. Serve immediately! And you can top it off by chopping some spring onion or even fresh chillies on top.
Bosh! Done.
4). Frozen Fruity Yoghurt
Difficulty: Easy Peasy
Always got leftover fruit in the bowl and not sure what to do with it? We've got a cunning solution to your bad banana woes! This fruity little number is nutritious and delicious and is great for feeding hungry kids. Get ready to give this simple and sensational recipe a whirl!
Ingredients:
2 mugs Greek yoghurt
½ banana
Loads of chopped soft fruit (strawberries, raspberries, blueberries, blackberries – whatever you've got!)
Method:
This is a super simple recipe, and whilst it doesn't constitute a whole meal, it can be handy to throw together to get rid of fruit on the turn or to keep your kids quiet (if only for a brief moment)!
To start off, put the yoghurt and banana into a blender and whiz them together until the mixture is smooth. Grab yourself something like a rectangular baking tray and cover with clingfilm. Then spread the mix into the dish, making sure you get even coverage. Scatter your berries or any fruity odds and ends you want to include. Press some into the mix and leave some on the surface for a bit of depth.
Then simply place it in the freezer for at least 2 hours. Don't worry, you'll be able to use the clingfilm you placed at the bottom of your tray to lift out your fruity frozen mix.
To eat, just smash up into shards in a bowl and enjoy!
5). Moroccan Chickpea Cakes
Difficulty: Standard skills
Chickpeas are often an unloved shelf staple, so if you've got a few jars gathering dust at the back of your cupboard, dig 'em out and give this great recipe a go! It can take a little patience and time to perfect, but it's one well worth putting some effort into.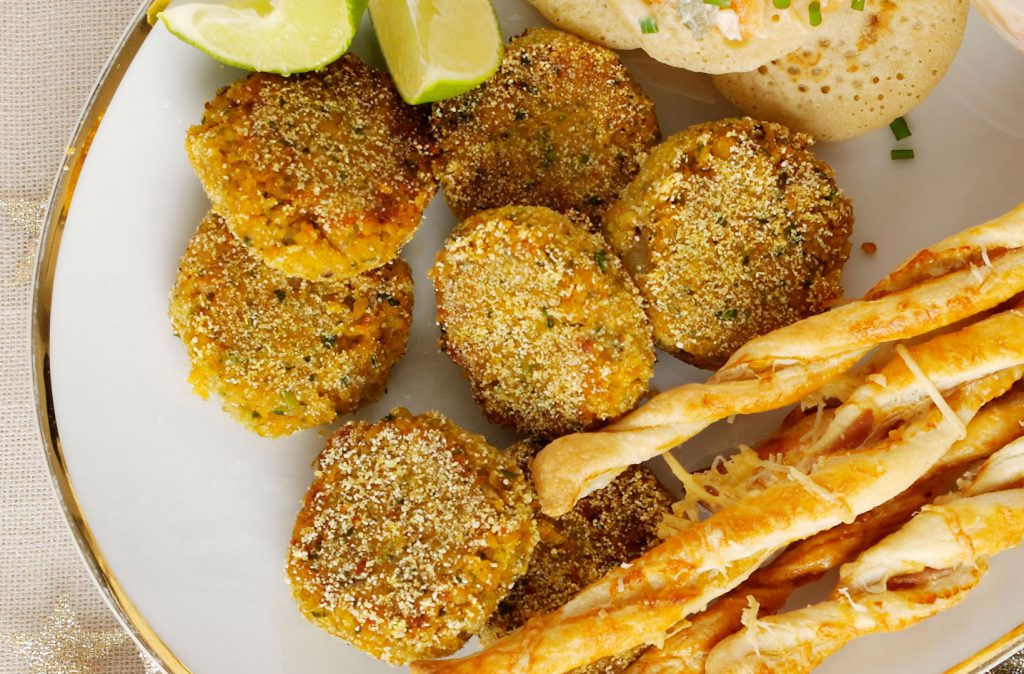 Ingredients:
1 onion, peeled and sliced
1tbsp oil
2 garlic cloves
400g can of chickpeas, rinsed and drained
2-3 spring onions, chopped
4tbsp breadcrumbs
4tbsp fresh coriander, chopped
½tsp ground cumin
½tsp paprika
Salt and pepper
2-3tbsp polenta
Method:
We've broken down this awesome north-African dish into 3 simple steps. Time to show chickpeas some love!
Start by frying your onion in oil for about 5 minutes until it's softened. Throw in your garlic and fry for a further minute. Then, in a food processor, whip together chickpeas (drained and rinsed), spring onions, breadcrumbs, coriander, cumin, paprika and a little salt and pepper for good measure. After a good whizz, it should turn into a coarse paste.
Divide the mixture into about 16 portions. Make them into little balls, then flatten them out to make cakes. Dip your uncooked chickpea cakes in 2tbsp polenta to coat them.
Heat the oil in a large pan on a medium/ high heat. Once the pan is roasting hot, fry your cakes for 2-3 minutes per side. You might need to do a couple of batches.
And you're done! To serve, we'd recommend a bit of minty yoghurt – just made with mint sauce and some Greek yoghurt if you've got any knocking around!
So, are you ready to give some of these creative cupboard recipes a go? If you've got a family favourite you love to throw together, let us know on Facebook, Instagram, or drop us a comment below. The more pictures included the better! Happy eating.