It's Prize Draw & Party Time at Mecca Dream Come True!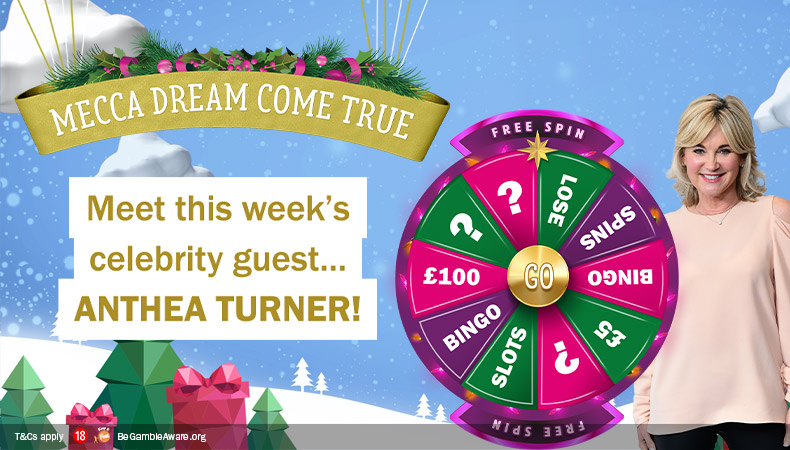 It's time for our week 2 prize draw as part of our seasonal, special edition of Mecca Dream Come True! We hope you've got your entries stacked up and ready to go for tonight. Tune in from 10pm to watch it LIVE, with this week's celebrity quest host, Anthea Turner!
A true household name
This week, our lucky prize draw winners will be chosen by none other than TV royalty, Anthea Turner. You might recognise her from, well, anything on the box! Anthea has had a long broadcast career, starring in everything from Top of Pops to Blue Peter and GMTV to name just a few. Tune in on Friday night to find out if Anthea will be calling out your name.
Plus, we've got another special guest joining Anthea this week… TV star and no stranger to the red carpet, Craig Stevens, will be making an appearance during Friday's live stream. Craig will be serving up some top Christmas tips; including how to pick the very best mince pies and chocolate buying advice ahead of the big day. Want tips on how to make your Christmas extra sweet? Tune in to find out more!
Win amazing prizes!
There are some incredible prizes to be won with every weekly draw. Fill your stockings with top tech, including iPhones and iPads. Pack your bags and jet off abroad with vouchers towards your dream holiday. Experience London's West End in a whole new way – grab a backstage pass, meet the cast and even pick up a walk-on role! Plus, drumroll please… our top tier prizes include a makeover by a stylist to the stars, OR a stay at Mecca's exclusive Celebrity Hotel. Want to know more about these amazing prizes? Take a look at this.
£6,000 Bingo Hour
Don't forget! Right before Friday's prize draw each week, we've got an epic £6,000 session for you to enjoy. Join the fun in the Main Event or Two Little Ducks rooms from 9pm, where we're bringing you an hour-long session with a sled-load of cash that MUST be won. Tickets start from just 10p each – that's some proper bargain bingo!
Then, straight after our £6,000 Bingo Hour, head over to the live stream where Anthea will be announcing this week's wonderful winners.
Individual T&Cs apply to separate elements of the promotion. Please see promotions page for full T&Cs.