It's Safer Gambling Week! Join us for the conversation between 19th – 25th November.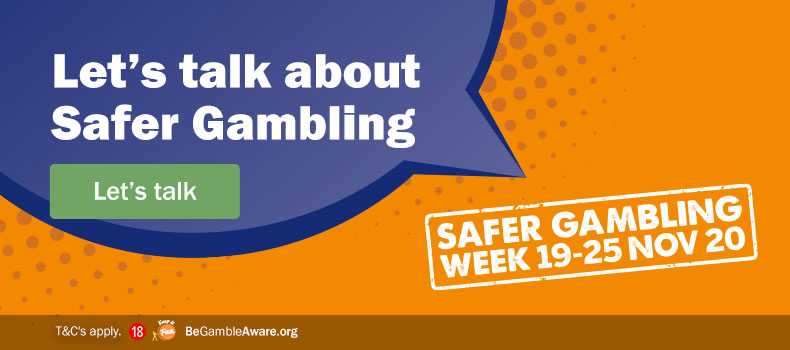 Let's talk about Safer Gambling.
It's something that's really important to us, as it's a way to make sure the time you spend with us is always enjoyable – which is our main priority!
So, in light of Safer Gambling Week, we want to get the conversation flowing about how we can work together to make sure your time spent playing with us is always as fun as possible.
Our responsibility to share information about how to play safely and have the tools in place to keep it fun doesn't stop after this week – we'll always be here to make sure your time on meccabingo.com and in our clubs is as enjoyable as possible.
What is Safer Gambling Week?
Safer Gambling Week is an initiative designed to promote safer gambling across the United Kingdom and Ireland. It aims to open up conversations and drive awareness of how you can gamble safely, the tools we have in place to help you set yourself limits and where you can find any advice and support you might need. Every part of the gambling industry is taking part, from amusement arcades, bookmakers, casinos and (you guessed it) bingo clubs, to help keep you safe and connected as you play both online and in our clubs.
How is Mecca committed to Safer Gambling?
We're so glad you asked! We take safer gambling very seriously at Mecca Bingo and we've got loads of options in place for you to keep it fun with us, whether you play online or in our clubs.
Playing Online
If you're an online player, then you might know that we've got a helpful range of tools for you to set limits on your gameplay.
The easiest way to make sure you're only spending what you can comfortably afford is to set a Deposit Limit. You can set daily, weekly or monthly limits to manage your spending and make sure you never go over the amount that's keeping your play fun.
We also have Reality Checks, a handy tool that automatically lets you know when you've been playing for an hour, although you can change your settings so that you get a reminder after 30 minutes. We know that time really does fly when you're having fun, so it just makes sure you're not missing anything important.
Finally, there's the option to Take a Break from us. We promise we won't be offended if you choose this option, but it's a great way to take a holiday from playing with us, from 24 hours to 6 weeks. It's only temporary and everything will be exactly as you left it when you come back.
To set up any of these tools, you can go to your account preferences, click the 'Responsible Gaming' tab to get more info and make any changes you need.
Playing In Club
We hope that heading to a Mecca Bingo club is a way to have some fun and socialise. However, sometimes it can be easy to spend more than you can comfortably afford or play for longer than you had planned. You might not even consider bingo as gambling – but for us it's still crucial to make sure your enjoyment is the most important thing when you play with us.
In our clubs, we strive to provide a safe environment for everyone who visits us by training our teams to assist customers that need it, giving help on how to Self-Exclude yourself if you want to stop playing for a long period of time and by providing information to help you understand what problem gambling is.
How can I learn more?
If you want to know more about how we champion safer gambling, then head over to Keep it Fun, our dedicated website which is packed full of resources and info to help you. You can also head to safergamblinguk.org for more information about the initiative and campaign – and if you need any help and support then you can call a trained advisor 24 hours a day, 7 days a week on 0808 8020 133. It's completely free and confidential, but if you prefer not to speak to someone on the phone, then you can also speak to an advisor via Live Chat at GamCare.org.uk.