Mecca Dream Come True : What You Need To Know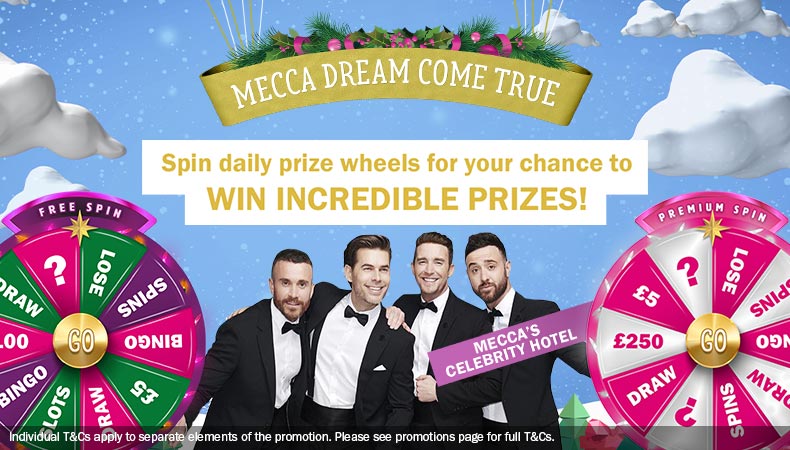 AT LAST! Mecca Dream Come True is back with a bang, and there's nothing we love more than watching you lovely lot scooping up our money can't buy prizes – so we're here to tell you exactly what you need to know, and how to play to win.
A quick and easy guide to Mecca Dream Come True
• The Free Spin Wheel – First up it's the free spin wheel – you heard us, free! This one runs every day, just log in and take one free spin on the Dream Wheel for a chance to win £100 and be entered in to the Mecca Dream Come True ultimate prize draw, with the winner revealed by a famous face every Friday evening in a Facebook Live Stream…Simple, easy, fun and did we mention, FREE!
• The Premium Spin Wheel – All you need to do is deposit and spend £10 a day on online bingo to take a spin on this one. You'll be able to play on the Premium Wheel the following day after the deposit is made to be in with a chance of winning a boosted prize. Want to know what the prizes are? Wait until Thursday and we will tell you all about them..
• Mecca Dream Come True £6K Bingo Hour – Every Friday night before our live stream at 10pm you will have the chance to take part in an exciting hour of Mecca Dream Come True Bingo, with TEN games with prizes of up to £6,000 from only 10p a ticket!
And if that wasn't enough, every weeknight in The Main Event and Two Little Ducks rooms we'll have Mini Dream Come True for all to join in! We hope you're all as excited about the return of Mecca Dream Come True as we are – and remember, all you need to do to be in with the chance to win one of our fabulous prizes is head to our special Mecca Dream Come True hub.
So, we are guessing you may want to know who the first celeb is? Obviously, it's a closely guarded secret, but we can give you a clue…
The clue is – "when the sun is shining, the sky is ****?"
It's a person but you will have to figure it out from there. Think you have got it? Let us know on our Twitter feed using the hashtag #meccablog
Individual T&Cs apply to separate elements of the promotion. Please see promotions page for full T&Cs.