PREPARE TO ENTER THE SPLASHZONE!
Mecca Bingo launches waterproof helmets to protect customers seated in the 'SplashZone' at the all-new Mecca Men male revue show
20 February 2023: Move over Magic Mike, there's a new male revue show in town! If the conclusion of Channing Tatum's stripper saga has left you wanting more, Mecca Bingo has the answer – in the form of a hot new show, Mecca Men: The Elements Tour, which launches this Saturday (25th). And it's good news for front row fans, who are now able to get all the action without the worry of getting wet, as Mecca has revealed the perfect gadget to protect customers' blushes and blow dries during the show – 'SplashZone' helmets.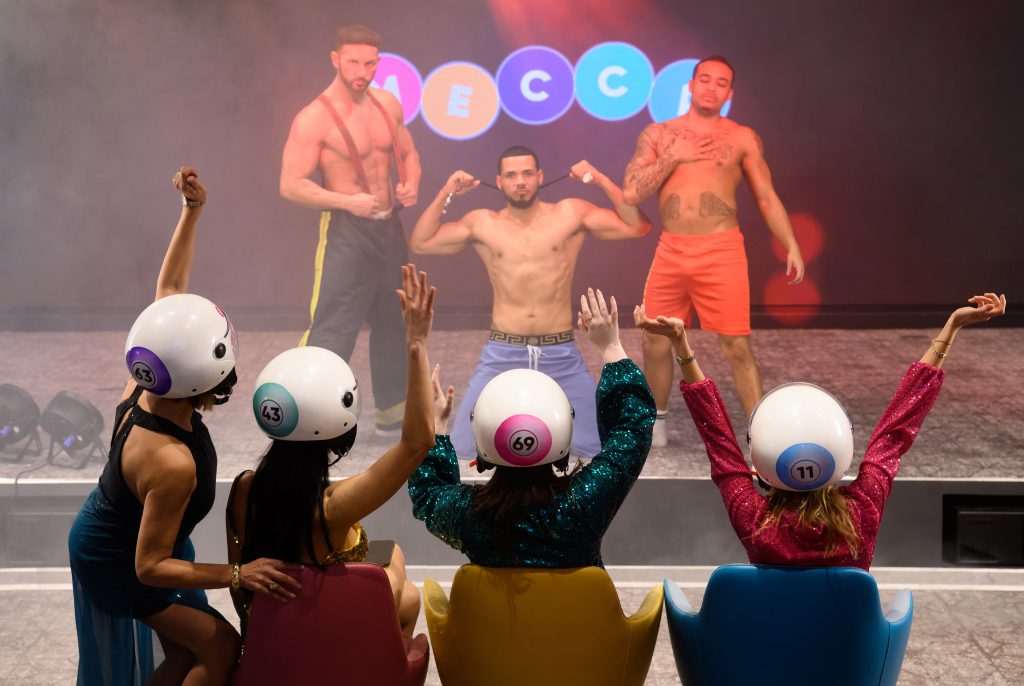 Seats in the premium SplashZone area, directly in front of the stage, allow customers to get up close while the perfectly honed hunks get busy with the body lotion and include a personal meet and greet opportunity! With allocated seating, guests can choose their vantage point and how close to the fluid firing line they want to be, when they book.
Created especially for Mecca Men: The Elements Tour, key features of the helmets include:
Windscreen wipers on the visor so audience members always have a clear view of the steamy show, no matter how wet things get
A sleek design, ideal for repelling the spray from the Mecca Men's body oil
Cushioned liner for keeping curls and blow dries intact
A series of cheeky bingo ball number designs; 'legs 11', 'down on your knees – 43', 'tickle me – 63' and 'anyway up – 69'.
Mecca Men: The Elements Tour will be touring 22 clubs across the UK from this month until July. Guests can enjoy breath-taking action, captivating choreography, tantalizing muscular bodies and six-packs with the Mecca Men troupe, not to mention pulsing dance beats, captivating light shows and costumes designed to tease.
Melody Munday, show producer and director, commented: "We know our guests like to get wet and wild at our shows. With our new SplashZone helmets, customers can get right in on the action while keeping their make up and hair styles intact. With 22 dates to choose from up and down the country, our Mecca Men are guaranteed to get pulses racing nationwide!"
A limited number of SplashZone helmets have been created and will be available to hire on the night. Audience members are encouraged to arrive early to secure their helmet and take a seat 30 minutes before the show kicks off and the action begins at 9pm. For those who want to get those dabbers out, there's the opportunity to enjoy a game of bingo at 6pm, before the night's entertainment begins.
Dates for catching the Mecca Men at Mecca Bingo clubs across the country include:
Luton – Saturday 25th February
Oldham – Saturday 4th March
Bilston – Friday 10th March
Acocks Green – Saturday 11th March
Leicester – Friday 17th March
Leeds Mayfair – Saturday 25th March
St Helens – Friday 31st March
Stevenage – Saturday 1st April
Knotty Ash – Saturday 15th April
Oldbury – Saturday 22nd April
Thanet – Friday 5th May
Dagenham – Saturday 6th May
Brierley Hill – Saturday 13th May
Wood Green – Saturday 20th May
Bolton – Friday 26th May
Blackpool – Saturday 27th May
Hull, Clough Road – Sunday 28th May
Chesterfield – Friday 2nd June
Romford – Saturday 3rd June
Wakefield – Saturday 10th June
St Helens – Friday 14th July
Croydon – Friday 21st July
Burton – Saturday 22nd July
Tickets start from £12. To find out more and reserve your seat, visit www.meccabingo.com/mecca-men
Guests must be aged 18 years or over and new customers must bring photo ID. Show includes nudity.