Mecca's got sandwiches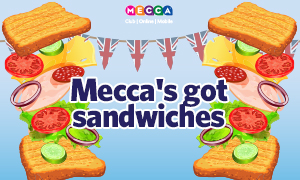 We love sandwiches, you love sandwiches, we all love sandwiches! They're really are the best thing since sliced bread! Britain loves them so much there's a whole bloomin' week dedicated to them! Here's some fun facts you might not know about this most marvelous of creations:
1) There's a place called Sandwich – We want to live there. Who's with us? Does everyone live in loaves of bread with cucumber sliced windows?
2) Meat and two slices of bread – The sandwich is named after the man credited with creating the first sandwich, John Montagu, the fourth Earl of Sandwich.  During a poker session, he couldn't free up his own hands (God forbid!) to make food, so he asked his servant to put his meal between two slices of bread. And voila – the sandwich was born! John we salute you!
3) We eat A LOT of sandwiches – We love sandwiches so much in the UK that we eat nearly 11 billion sandwiches per year! That's a helluva lot of bread.
4) Say cheese! – Britain's favourite lunch is the humble cheese sandwich? Who knew? Followed by ham and then chicken. Personally we like a combo of all of the above!
We may be biased but we love a good Mecca sandwich. Have you tried out tasty sarnies in club? Five lovely fillings to choose from, it's difficult not to eat 'em ALL the time. We asked you to choose your favourites on Facebook and our randomly picked winner is….*drum roll* Gill Slinky Calderbank. Congrats, you win a free main game and meal for two at your local Mecca!