Meet this years Mecca Dream Come True celebs
MeccaTV has been up and running for over a year now, and we've been over the moon to see how much our Mecca community has loved it, just like they love to play online bingo! And it just gets better – for the very first time, Mecca Dream Stream will be available exclusively on MeccaTV every Thursday and Friday night.

We've got some amazing celebrities in the pipeline for Mecca Dream Come True. Are you ready to meet them?!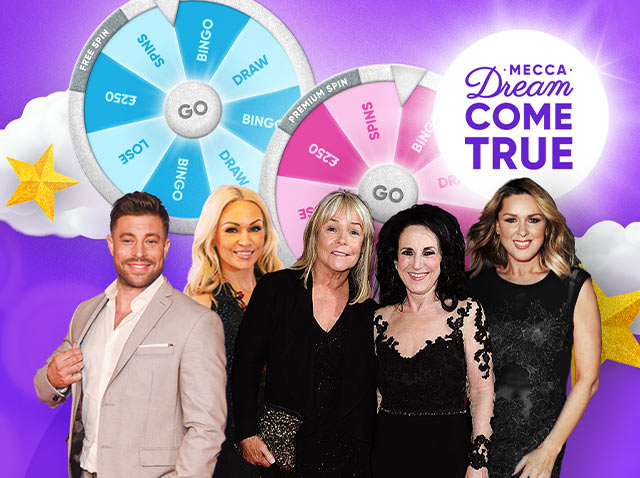 Lesley Joseph & Linda Robson: 3rd September
Lesley Diana Joseph (born 14 October 1945) is an English actress and broadcaster. She's best known for playing Dorien Green in the television sitcom Birds of a Feather. She's also made TV appearances in Absurd Person Singular and Night and Day.
Linda Patricia Mary Robson (born 13 March 1958) is an English actress and television presenter. She is best known for playing Tracey Stubbs in the sitcom Birds of a Feather and has had appearances as a weekly panellist on Loose Women.
We had such a great time working with Lesley and Linda last year that we couldn't resist asking them to join us again for more dreamy action!
Kristina Rihanoff: 10th September
Kristina Rihanoff (born 22 September 1977) is a world finalist professional ballroom dancer, instructor, choreographer and author. In other words…is there anything she can't do?! We had so much fun with her over the Meccarena that we thought we'd bring her back for more.
Duncan James: 17th September
Duncan James (born 7 April 1978) is an English singer, actor, and television presenter. We're confident you'll remember your favourite member of the iconic boy band, Blue! He's also starred as Ryan Knight in the beloved Brit soap opera Hollyoaks. Duncan's been in the mix for plenty of Mecca celebrity fun – the most recent being Junemas!
Claire Sweeney: 24th September
Claire Jane Sweeney (born 17 April 1971) is an English actress, singer and television personality. TV-wise, she's best known for playing Lindsey Corkhill in the Channel 4 soap opera Brookside. Claire also has a few hugely successful musicals under her belt, including the role of Roxie Hart in Chicago in London's West End and the West End revival of Guys and Dolls, the musical – where she starred opposite Patrick Swayze! Claire was a huge part of Mecca Dream Come True 2020 and we can't wait for her to join us for this time round in 2021!
We hoped you liked the lowdown on some of the fantastic stars we've got coming up for you on MeccaTV. There's so much more to see and so many amazing prizes you could win! Ready to discover your dreams? Head to our Mecca Dream Come True hub for the full lowdown.

Register as a member of Mecca Bingo to enjoy the best of bingo and online slots. Throughout your membership, you get to stay up to date with the latest games, claim awesome bingo offers and be part of our online raffle! Let's get started!