Mums Glorious Mums
Gosh they're great aren't they; whether it's your birth mum, adoptive mum or someone who has always looked after you like a mum, we couldn't live without them. Fortunately, once a year there's a whole day where we can show our appreciation. They deserve to be showered in love and affection, not to mention hand-made cards, flowers and anything else you can think of that your mum might love. But that doesn't have to mean breaking the bank, even the smallest of gestures means a lot. The main thing is to make your mum feel special, appreciated and loved.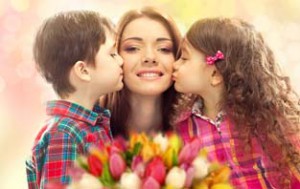 Saying that, I'm usually all about mums taking it completely easy, not lifting a finger, but this year there's something I think all mums just have to do… hear me out. We have just launched a lovely competition for all you yummy mummy bloggers out there. We want you to get creative and print a collage of pictures of you with your beautiful children. We'll be giving away £250 Amazon vouchers to the mummy with the winning collage – Happy Mother's Day indeed!
How many photo albums or phone snaps of you and your kids have you collected up over the years? Now you can put them to good use in a really lovely way. Not only can you get the kids involved and make a family afternoon of it, but also to take some time to really think about how important your family is.
So, what style and design would you go for? Bold and striking with flair or neat, tidy and well-ordered? If you're not quite sure, don't panic, there's plenty of time to decide how you want to present your family snaps for the competition. Plus, before that, you have the fun of rummaging through old photos and reminiscing with your little ones. All you have to do is post the pictures on your blog and send a link to your page to anna.morrish@zazzlemedia.co.uk. The winner will be announced in the second week of April.
If you're still trying to think up cheap and cheerful things to do for your mum, I've picked a handful of nice ways to surprise her this Mother's Day:
Make her tea or coffee in bed (simple, effective and the perfect way to start Mother's Day)
Bake cakes (and lots of them!) – You could do this as a surprise or as something to do together, not only will you have fun together but you'll both get to enjoy the finished product!
Book her in for a facial – pampering is always a winner and let's be honest, she deserves it.
Hand-make a card. Sure it might seem a little old school but try it; draw, sew, print and cut – the more personalised the better. The effort and sentiment is guaranteed to mean the world.
Last but not least, give lots of hugs. They're entirely free and pretty addictive. After all, 'the best things in life are free' and 'Love makes the world go round'… I could go on, but you get the idea! Happy Mother's Day!