Oh, Those Summer Nights!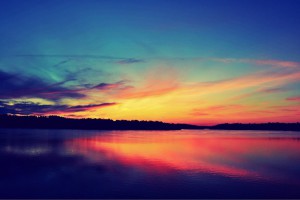 In the words of what is probably the best film of all time (Grease in case you didn't know!) Oh those summer nights! Don't we just love them?
Those balmy days of summer where day stretches lazily into night and we can sit in our gardens until long after 10pm with just a small cardie for warmth.  Where the kids can happily 'play out' with their mates giving us at least ten precious minutes of peace and quiet. Where cooking Sunday dinner means nothing more than throwing a salad together while the man of the house goes all caveman on us with fire and meat.
Dreaming about summer is what gets us through the long winter nights, and even though we all know the appearance of the sun will be very short, sweet and probably over within a few days, we live for the time when we can moan that 'we like it hot, but not this hot' and sport summer related injuries such as mosquito bites and slightly pink shoulders like badges of honour.
However, sometimes the longer nights and seasonal humid weather can make the day seem very, very long and by 11pm you're wondering what else you can do to pass the time as sleep is unlikely to happen any time soon.
If this sounds like you, then here are a few suggestions for how you can pass a couple of clammy hours from us kind folk at Mecca.
You're welcome!
Get online
The internet is a truly wonderful thing, and available to us 24 hours a day, seven days a week. There are a multitude of fun and useful things you can do from your trusty tablet or smartphone; from ordering next week's groceries to making new friends in one of Mecca's super friendly chat rooms.  If you download the Mecca Bingo app you can enjoy a fun game of bingo anytime anywhere, and who knows, you might just win enough money to book a summer family getaway.  That really would be time well spent!
Water the garden
There's something about the sound of running water that makes us feel instantly cooler and calmer.  Watering the garden at night when everyone else has gone to bed is one of summer's great pleasures; taking five minutes out of your busy day to appreciate nature is very relaxing. It doesn't matter if you've got nothing more than a tiny patch of football damaged grass, fill up your watering can and show it some love.  You'll feel much better for it.
Catch up with celeb gossip
You may not be able to jet off to Marbella anytime soon, but you can enjoy reading about the celebs who do.  Who's breaking up, who's making up, who's expecting and what is Katie Price up to now?  The answer to all these questions and more can be found within the pages of celebrity gossip magazines. So pull up a garden chair, pour yourself a glass of something nice and prepare to immerse yourself in a world of perfect tans, teeth and teeny tiny swimming trunks.
What's your favourite way to spend the long summer evenings? Let us know in the comments below.